Swim with Dolphins in Marmaris
The 'Swim with the dolphins' tour, is one of the top children-friendly activities. This is because it allows families to spend some quality time in a modern and fun facility. In addition, the dolphin show prior the swimming session is the perfect way for children to observe how intelligent and friendly dolphins and sea lions are. Swimming with the dolphins is also associated with many positive impacts in a child's mentality. More precisely, a child is able to create positive feelings during this experience, and learn how to take care and love the dolphins. Furthermore, this activity also helps parents to raise environmental awareness by teaching their children how to protect these smart and cute sea creatures. Please also remember that, during the swimming session, professional lifeguards will be there along with the dolphins' instructors in order to ensure the smooth flow of the activity.
In order to enjoy this unique experience without any worries, a professional photographer will be in charge to take some photos and videos of you and your loved ones. The experienced photographer is in charge to capture the moments while you interact and swim with the dolphins. By the end of the swimming session, you may preview and purchase these photos at an extra cost.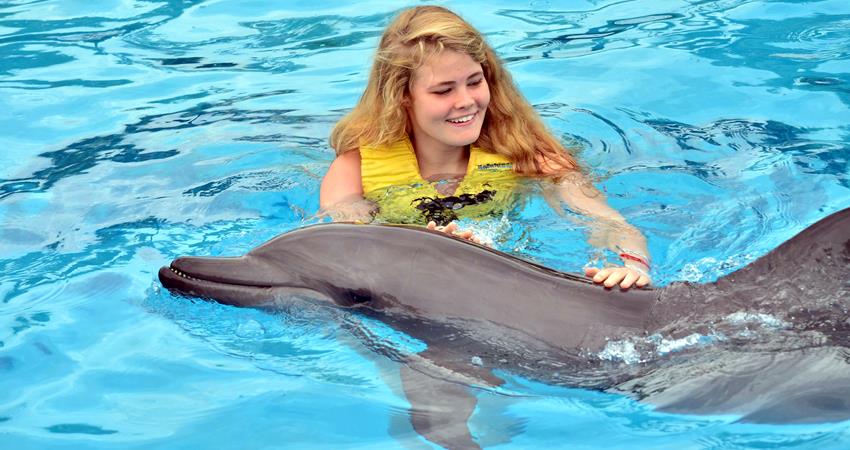 Can you swim with dolphins in Marmaris?
Yes, you can swim with dolphins in Marmaris Turkey. This is a unique tourm arranged for you at the
Dolphinarium in Marmaris
. You will be able to spend 15 minutes swimming with the dolphins, learn all their behaviors and their interesting world. Interact with dolphins and explore a new world for yourself! See also the other programs like '
Meeting the Dolphins
' , '
Watching the Dolphins
'.
The Dolphin Park in Marmaris, or the Dolphinarium as it is also known, is one of the greatest and most exciting facilities to visit. The park is the perfect getaway for those who want a break between sightseeing as it combines perfectly a relaxing, yet fun atmosphere. Visiting the park enables participants to get an in-depth understanding about dolphins that are hosted there. In addition, visitors are able to experience unique feelings by joining an ultra-fun swim with the dolphins.
How much does it cost to go swimming with the dolphins?
The price for swim with dolphins in Marmaris is 70 £ for the year 2020. The Dolphin Park is in a short distance from the city centre. More precisely, it can be found 5km away from the centre. The facility is at a beach front location close to some well-known hotels. For your own comfort, a fully air conditioned and modern vehicle will pick you up from your hotel and drive you there. The transfer service includes also your return back to the hotel.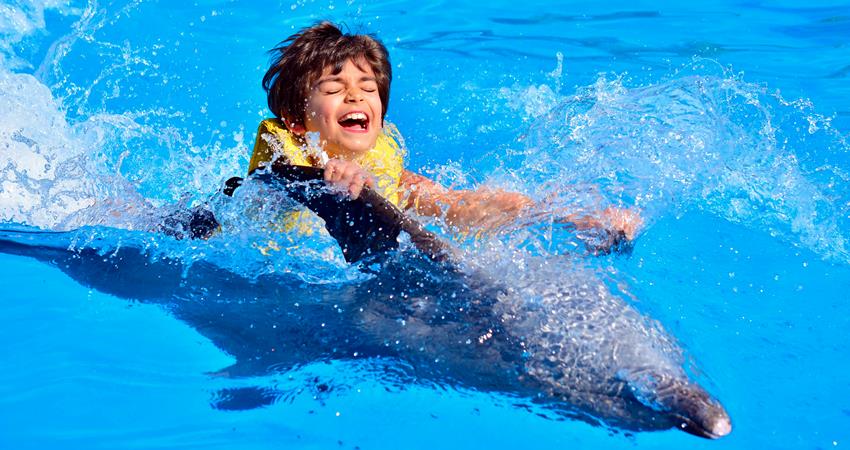 Swimming with the dolphins in Marmaris is an ideal activity for all. However, for your own safety there are some restrictions. Firstly, pregnant women can not do the swim program. Secondly, people experiencing physical disabilities or other health-related problems will not be allowed to enter the pool. In general, this particular activity is ideal for all, above 8 years old, who are able to swim. In what regards children above 8 years old, they must have their parents with them in order to be eligible to enter the pool.
Swim with the dolphins is a half-day activity with an approximate duration of two hours. According to the itinerary, this activity includes two-way transfer services from your hotel in Marmaris to the Dolphinarium. In addition, the package price includes the entrance fee to the facility, a dolphin show and a swimming session. For your safety and comfort, a full insurance is also included in the price. Please note that the following are not included in the price: food, beverages, professional photos and DVD, and other personal expenses.
Holiday makers who are interested in joining this activity should wear a life jacket. The life jackets are necessary in order to ensure your safety and that you will enjoy this experience at its maximum. In addition, participants are instructed to bring their swim suit and a towel. Due to the high temperatures during the summer season, participants are also instructed to wear a hat, sunglasses and comfortable clothes and shoes.
Departure :
Pick up from your Hotel
Duration:
2 hours (Halfday Tour)
A Pick-up and Drop-back service
Swim with the Dolphins Program
Entrance Fee Dolphin Park
Day With The Dolphins
Full insurance
Instructions
Drinks & Food
Tips and Gratuities
Personal Expenditures
Marmaris Swim With Dolphins Price
Marmaris Swim With Dolphins Tour starts in the beginning of March and organized regularly every day until the last days of October.
| | | |
| --- | --- | --- |
| Adult (Swimmer) | 69 £ | 01.03.2020 – 31.10.2020 |
| Child (Swimmer) | 69 £ | 01.03.2020 – 31.10.2020 |
| Visitor (Non - Swimmer) | 14 £ | 01.03.2020 – 31.10.2020 |