Marmaris Dolphin Show
Alternative Experiences in Marmaris
Are you tired of being among the crowds and want a break from sightseeing? During your holidays in Marmaris there is a variety of things to do and places to visit where you can spend a day full of fun, laughter and avoid the masses of tourist. An amazing option is to visit the countryside and explore the hidden beauties of nature while enjoying an adventurous excursion. Alternatively, the city has many thematic parks to visit where you can spend some quality time with your loved ones. Among the many things you can do is to watch the Marmaris Dolphin Show. Learn some interesting facts about dolphins and watch them performing for you with an amazing show.
The Dolphin Show takes place on a daily basis, including weekends during the afternoon. Your experience begins when a fully air conditioned and modern vehicle pick you up from your hotel in Marmaris. After a very short road trip you will arrive at the Dolphin Park. The show is an amazing opportunity for you and your friends or family to watch these beautiful sea creatures and understand how intelligent they are. In a specially designed pool, the dolphins accompanied by their experienced trainers, will demonstrate their best skills. During the show they dance, jump, play with balls and loops, and practice many other performances. If you are seating at the first rows of the stadium, be prepared to get wet as the dolphins jump in front of you.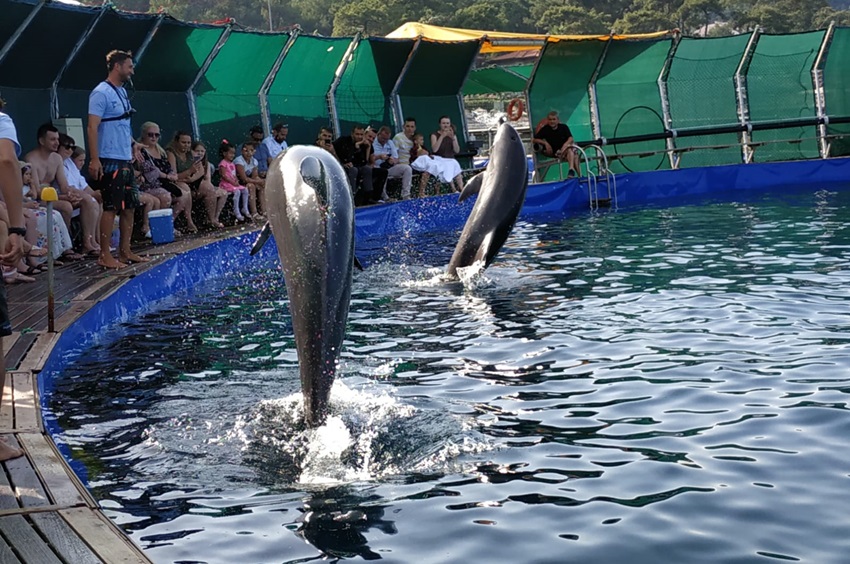 The show is performed at Marmaris Dolphin Park which is located as a very short distance from the hotels and the city centre. A comfortable car will drive you there so that you enjoy every moment of this tour. The facility has an enormous size and an interesting interior design. As it hosts multiple themes it is divided into different halls and venues. The main aim of the park is to serve an educational purpose and teach people many interesting things about dolphins, sea lions and the underwater world. Researchers and experienced trainers are responsible for taking care of the sea creatures hosted there. The park has 3 different programs to participate according to your interests and preferences.
The show lasts for 30 minutes and ensures some fun and excitement for all. You will enter the specially designed pool, that has seats around it and make yourself comfortable for the show. Professional dolphin trainers will enter the pool and offer you a briefing of what the show includes. The dolphins are extremely friendly and capable of presenting a truly fun show. Their abilities in proceeding with multiple exercises and tricks will excite you and offer you long lasting memories.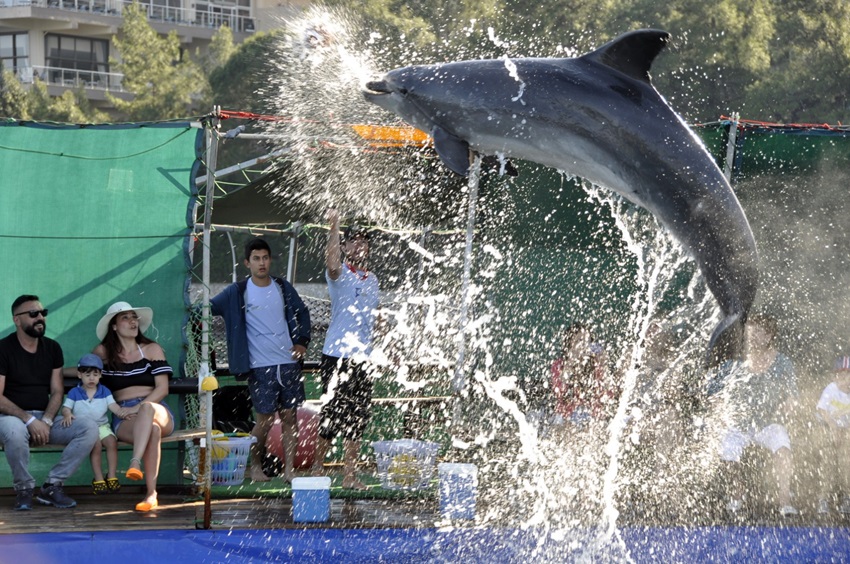 Marmaris Dolphin Show is an amazing option if you wish to get away from the crowds. It is also ideal for people of all ages as dolphins are amazingly intelligent and cute. In what regards families, this show is a perfect children-friendly option. Except from the fun part of the show during which kids can have fun and enjoy an ultra-entertaining time, there is another great feature. More precisely, visiting the Dolphin Park in Marmaris can be entertaining for your children. During your visit, kids can learn many interesting things about the dolphins and learn how to treat and care them.
During your holidays in Marmaris you can visit the Dolphin Park and watch a spectacular and ultra-fun dolphin show. The price of this excursion includes two way transfer services from and to your hotel in Marmaris. All transfers are made with fully air conditioned and comfortable vehicles so that you can enjoy every single moment of the show. A full insurance is also included for the whole duration of the tour. The price includes also the entrance fee to the park and the ticket for the dolphin show. Please note that food, drinks, tips and other personal expenses are not included.
Do not forget to bring your own camera during this amazing activity. As there are multiple fun and exciting moments, you can capture every moment with your camera and create some long lasting memories.