Marmaris Turkish Night
These eventful Turkish nights in Marmaris offer much more than you expect. Apart from rich food, drinks and live entertainment, frequent guest participations add more charm and enthusiasm to these nights. Guests can compete in belly dance competitions and get rewarded as well. The 4 hour Turkish night trips are arranged from Marmaris, Icmeler and Armutalan from May to October. These trips begin with picking you up from your hotel at about 19:30 pm.
Hotel Transport
Full insurance
Dinner
All Enterence Fees
Unlimited Soft Drinks, Wine and Beer.
Turkish Night in Marmaris
The trip fee includes the pick-up and drop-back services, entertainment, dinner and local house wine. You will have to pay the expenses incurred on other drinks. You arrive at Kervansaray about 20:00 pm, where live performances are about to begin. The show begins as the Turkish folk dancers enter the stage and give a beautiful dance presentation. The waiters in the show serve you the main course made of chicken and rice, unlimited alcoholic and soft drinks and appetizers.
The traditional dancers dressed as brides in beautiful red dress dance in the center of the stage. Grooms also dance and perform various feats to impress their brides. After this enactment, all the guests are invited to the stage and join them to dance. You can enjoy many such folk dance presentations during each night trip. After this, the belly-dancers arrive on the stage. They give a breathtaking performance and mesmerize everyone present there. They move about all the places in the restaurant and pick one man at a time to dance with her. It is very entertaining to watch how men try to learn the secrets of belly dancing from them. Following this, the party comes to an end after the fire dance and the drum show. You are taken back to your hotel at about midnight but we bet you will continue the show in your dreams and remember this exciting experience for long!
Avaliable Days: please check the calendar
Dont Forget: Cameras.
Restrictions: None.
Marmaris Turkish Night
A Great Show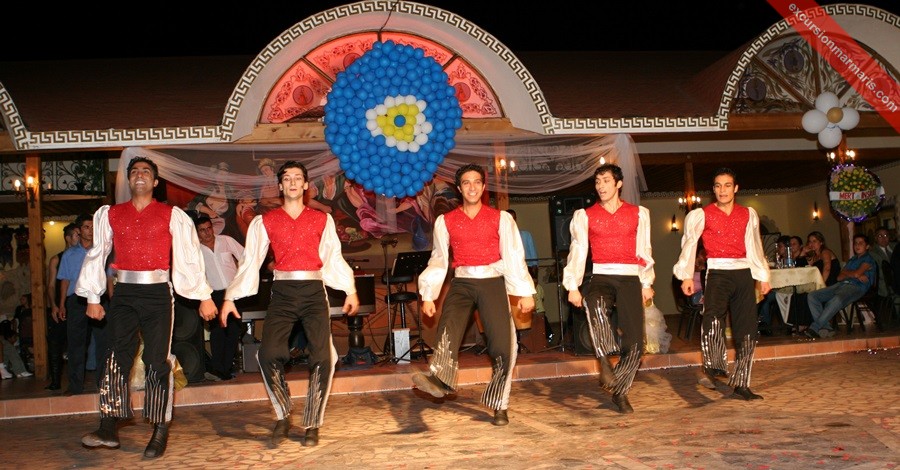 Marmaris Turkish Night Excursions is not only a great because of the food and drinks but the show that you will attend that night is really breath taking . You will for sure enjoy all the folk dances from different regions of Turkey. You will have the chance to see a traditional wedding show as well.
Unlimited Drinks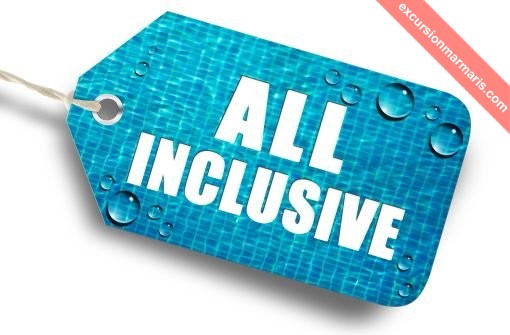 During Turkish Night you will be served a delicious dinner with starters ,main course , fruits , the price of tour also cover unlimited soft drinks , beer and wine .
Belly Dancers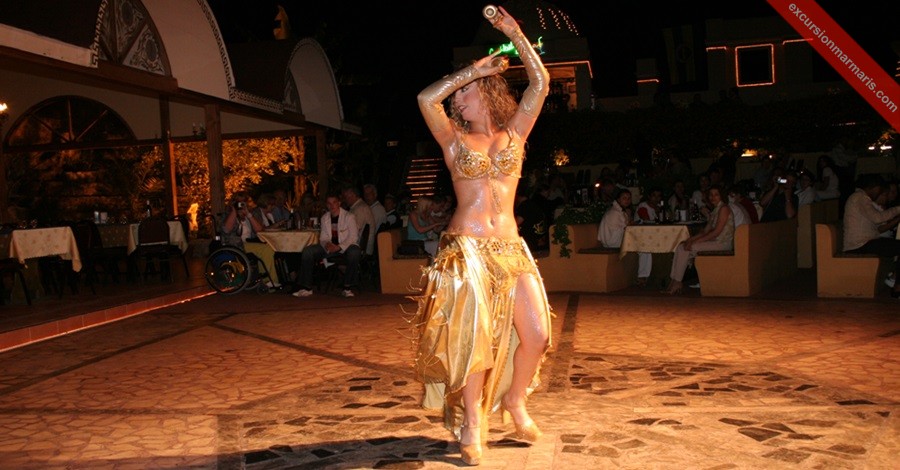 You can't imagine a Turkish Night with out belly dancers , there will couple of different belly dancers male but also female . Turkish night can be the night to gain some skills of traditional Turkish Belly dancing.
Fun for Everyone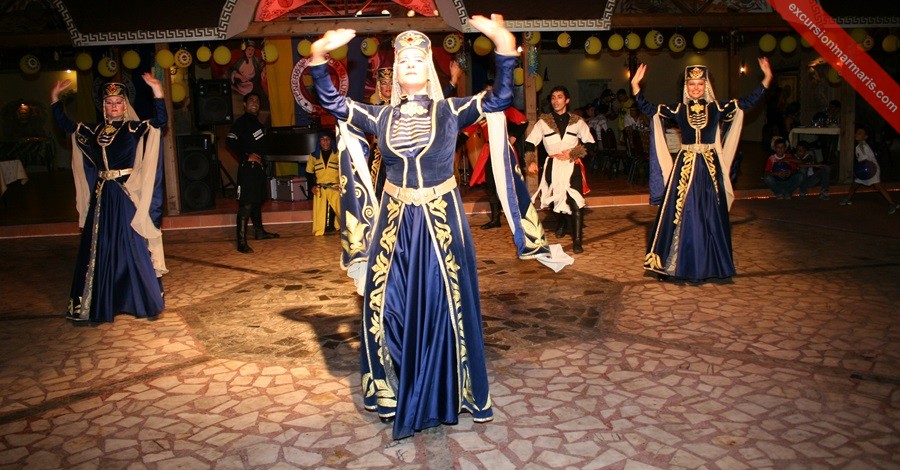 Absolutely a great night everybody in the group will enjoy the Turkish Night , its fun for every age group . There is always enough food , drinks for everybody.