Mamaris is a seaside resort located in Mulga Province, Southwest Turkey. Famous as a yacht port and cruise ship, Mamaris offers tourists and fun lovers abundance of Marmaris Water Sports and Activities. It is definitely the perfect place to experience the best of Marmaris Water Sports. From jet-skiing and para sailing to rafting and canoeing, in Mamaris, you'll find a lot of water sports that is just perfect for all experiences level. This place attracts thousands of tourists yearly and it is fast becoming a haven for lovers of water sport. Water sports activities is absolutely amazing in Mamaris. Below is a list of some water sport you can enjoy here.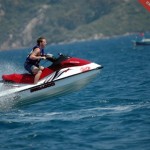 JET-SKIING
If you've been on a jet-ski before, then you already know the massive fun that comes with it. It is a high-powered water sport that you'll definitely love. It is more like ice-skating on the water as you can either go as slow or as fast as you want. It is very easy to learn and whenever you are on it, you will keep calling back for more of such experiences. If you are not scared of getting wet and love traveling fast then definitely give a try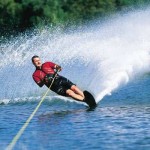 WATER SKIING
Experience massive fun when you engage yourself in water-skiing whenever you are in Mamaris. It can be done by anyone so long as you can keep your balance. It is one of the most popular water sports in Mamaris. On getting it, you'll definitely get addicted to it and as you progress you'll be able to learn and do some moves and tricks. Water-skiing in Mamaris is usually a fun-filled and remarkable activity to do.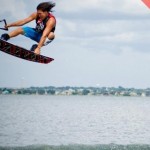 WAKE-BOARDING

Wake-boarding is getting more popular by the year. It has been around for some time now. This is an action packed and a high-speed sport that gets your adrenalin rising. Wake-boarding is like water-skiing but with a short surf board tied to your feet. This activity offers great excitement because it allows you do all kinds of stunts and tricks and allows you get some cool air whilst doing it. You are definitely going to love it.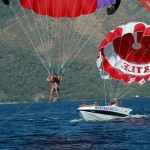 PARASAILING
This is another fun filled activity on water. Parasailing is using a parachute that is specifically designed to be pulled behind a powerful speed boat. Regardless of your age, you can experience a breathtaking view of the horizon and water with a fun-filled ride. Experience massive fun whilst flying like a bird. Please click on book now button to make your reservation.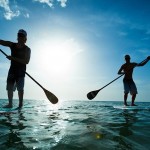 PADDLE BOARDING
Paddle boarding is a popular Marmaris water sport that's challenging yet very relaxing. Unlike surfing, you do not have to wait for the waves before trying outthis fun filled activity. You can also decide on the pace at which you want to go, be it fast or slow. Paddle boarding often requires a good balance skills as it has to do with a lot of body placement and great foot work skills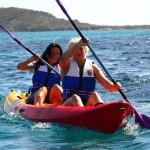 KAYAKING
Kayaking is a great Marmaris water sport that promises to be fun for everyone. It can be relaxing yet strenuous if you are not in good physical condition. Kayaking is very easy to learn and can be done in places where there is water. If offers you the opportunity to play actively in water and catch magnificent views of the beautiful coastline.
Marmaris Water Sport Prices
Jet Ski – 1 person 10 minutes 40£
Jet Ski – 1 persons 15 minutes 50 £
Parasailing – Single 7-10 minutes 50£
Parasailing – Double 10 minutes 75£ (2-People)
Banana – per person 10 minutes 15£
Ringo – per person 10 minutes 15£
Fly Fish 3 round 25£
Fly Board 15 minutes 100£
Water Ski 15 minutes 100£
Pedal Boat 1 hour 20£
Canoe for 1 person 1 hour 15£
SPEED BOAT RENTAL PRICES in Marmaris
150 Horse Power – Max 6 people 1 Hour 250£
115 Horse Power – Max 6 people 1 Hour 175£
50 Horse Power – Max 4 people 1 Hour 150£