Antalya Rafting & Zipline Tour
Our aim is to offer you a day full of fun. For this reason, the price includes everything you need for a pleasurable and joyful day. The price includes two-way transfers from and to your hotel in Antalya, as well as full insurance during the day. Moreover, it includes all necessary equipment and instructions for rafting and zipline. A lunch is also part of the price. Please note that, drinks, professional photos, and other personal expenses are not included.
Do I need prior experience?
If this is your first time joining such activities, there is nothing to worry about. Before going for rafting or before trying the zipline, professional instructors will offer a detailed briefing. More precisely, they will explain to you everything you need to know for a smooth and safe experience. The instructors will also provide all the safety equipment that is necessary for such activities. Therefore, the only things you have to do is set yourself free to enjoy the day.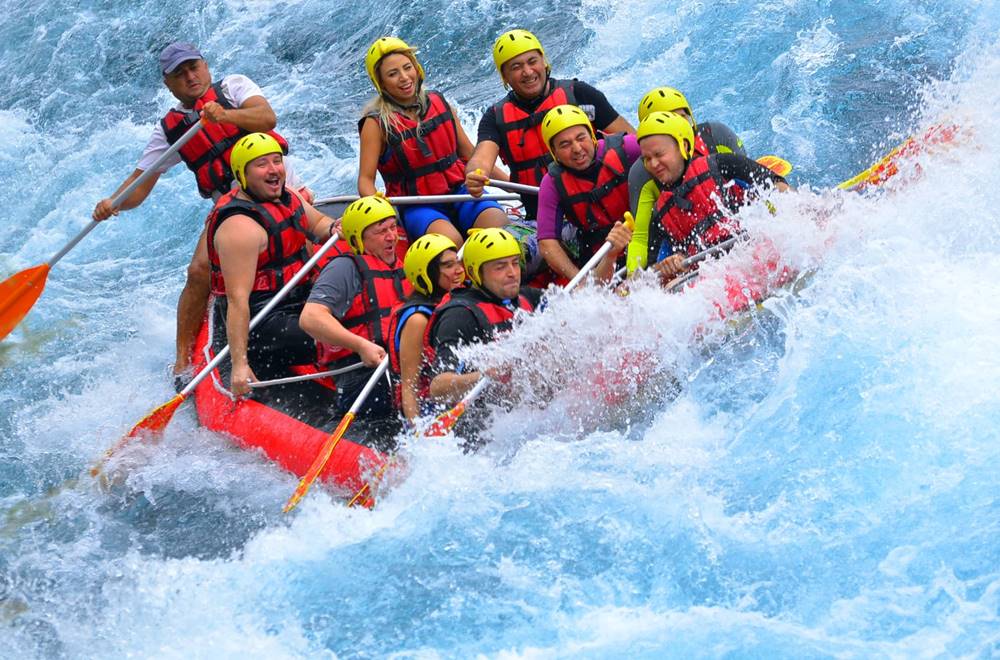 The Antalya Rafting and Zipline Tour is one of the most fascinating and enthusiastic activities you can enjoy while on vacations. As this is a full day excursion, you can expect to be surrounded by the beauty of nature, in the tranquil countryside. You can also expect to have some ultimately fun 2-hour rafting in Kuprucay river, and enjoy zipline. This full day experience is able to fill you with positive emotions, increase your adrenaline levels, and, of course, let you create some unforgettable memories with your beloved ones.
Our Rafting and Zipline tour in Antalya tour is ideal for people of all ages. This is because it promises fun memories, adrenaline boosts, incredible views, and a joyful day in a tranquil setting. Families with children are also welcomed to join, as rafting and zipline are activities suitable for kids. Please note that, for safety reasons, pregnant women and people experiencing mobility problems are not allowed to join.
In order to enjoy this full-day tour at its maximum, please wear comfortable shoes and light clothes. As temperatures can be high, especially during the summer months, you may also bring a sun cream, sunglasses, and a hat. An extra set of clothes is also recommended after the rafting session, as well as a swimsuit and a towel if you are wishing to swim into the river. Do not forget you camera, your positive energy, and your biggest smile!