Pirate Boat Marmaris
Why joining a pirate boat trip?
Marmaris is one of the most popular summer destinations in Turkey. The area's increased popularity is definitely not a coincidence as it combines everything needed for pleasurable, relaxing and joyful holidays. When thinking of summer holidays the first thing to come up is beautiful bays and Marmaris has a lot of them. Joining a pirate boat trip during your time in Marmaris is one of the highly recommended activities. The boat trips take you to secluded, idyllic and beautiful beaches around the coastline. Participate in a boat trip and get the chance to explore magnificent and tranquil bays around Marmaris while relaxing on the boat.
Marmaris Pirate Boat Trip takes place on a daily basis during the morning. Members of our team will pick you up from your hotel and drive you to the port, from where the boat departs. In total, this boat trip will take you to four different bays in order to swim, enjoy the serenity of the landscape and explore the area. During the cruise, participants can relax on the decks and enjoy sun bathing. Alternatively, the boat has an amazing variety of entertainment options for those who love to party and enjoy some drinks. Marmaris Pirate Boat Trip finishes during the afternoon. By that time, you will be transferred back to your hotel.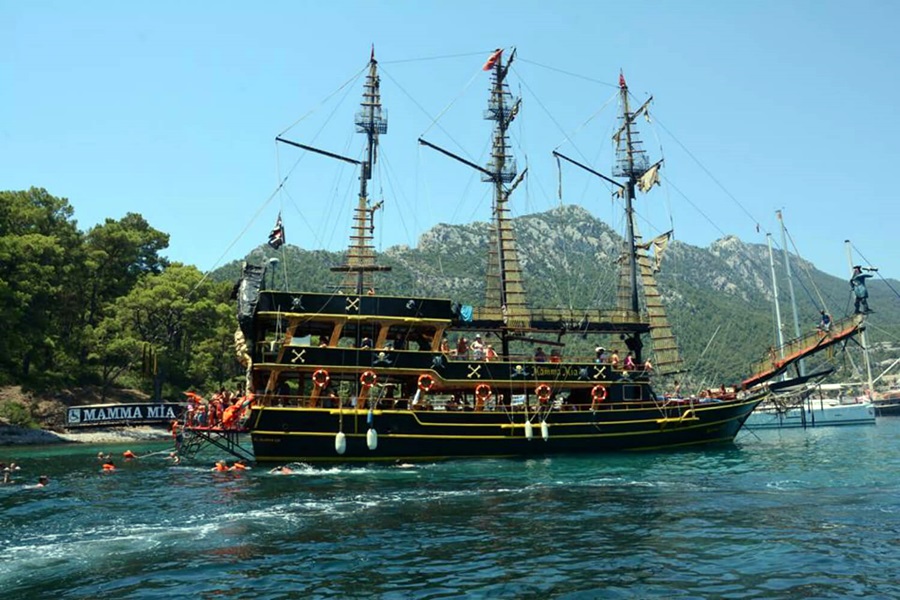 For the purposes of this amazing boat trip around Marmaris, you will be travelling with a spacious, pirate-themed boat. The boat has multiple decks and is specially decorated in both, indoor and outdoor areas to give you an incredible pirate atmosphere. In what regards the outdoor areas, there are decks ideal for the sun-seeks with comfortable cushions and lounges. In addition, the boat features a restaurant, bars. The experienced staff of the boat are ready to accommodate your needs and pumper you in order to enjoy the most of your experience.
There is nothing like sailing into the blue waters of the Mediterranean Sea. As the boat starts to sail, get ready to experience unique feelings as you leave the coast. During the first moments, you will be able to enjoy nice views over Marmaris. Then, as you approach the four different bays, the crystal clear waters and the beauty of the landscape will take your breath away. Before jumping into the sea, make sure that you have snapped some beautiful photos of the bay. From the upper deck, you may observe some panoramic photos and enjoy the unlimited clue colour of the sea. This boat trip will make you release the stress and rejuvenate your senses.
Families wishing to participate in the pirate boat trip in Marmaris are also welcome. Adults can enjoy an incredibly relaxing atmosphere in the cosy and comfortable setting of the upper deck that has lounges for the sun seekers. As the purpose of this boat trip is to offer you pleasurable and enjoyable moments, there is no reason to worry about your children. Our professional staff will offer a variety of children friendly activities, including dance parties and games. Your children will also enjoy an incredible boat trip full of laughter and fun.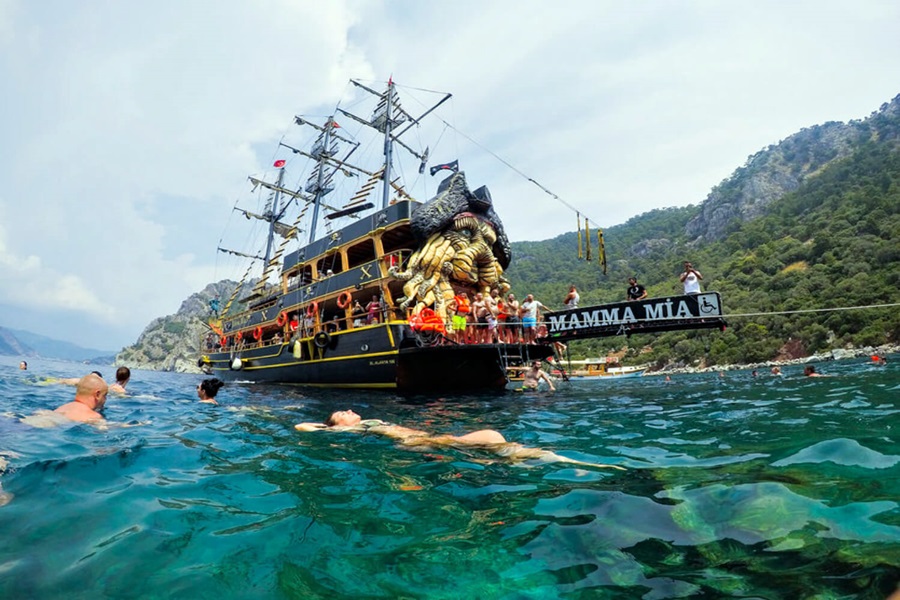 By joining this ultra-fun and exciting boat trip around Marmaris, it means that you embark in an all-inclusive experience. The price of the excursion includes a two-way transportation service from and to your hotel. For your own safety and comfort, a full insurance is also included. This all-inclusive experience includes also a delicious and freshly made lunch that will be served aboard. During your boat trip, you will be also able to enjoy unlimited tea, coffee, soft drinks. Please note that, tips and other personal expenses are not included in the price.
Sailing around Marmaris for almost 7 hours with the pirate boat allows you to observe and swim in some stunning bays, relax and sunbathe, and party with a fun foam party. Due to the high temperatures in Marmaris during the summer season, participants are instructed to wear a hat, sunglasses and bring their sun cream. In addition, you should wear your swimsuit and bring your own towel. Finally, do not forget to bring your camera in order to make the memories last forever.