Marmaris Mega Diana Boat Trip
Why book Mega Diana Boat Trip?
One of the best available ways to explore the magnificent bays around Marmaris is to join a full day boat trip. Holidays in Marmaris are all about relaxing into beautiful beaches, swimming to refreshing crystal clear waters and enjoying an upgraded exclusive service. Although there are a lot of options regarding boat trips, there is a particular excursion that achieves to combine all the above mentioned aspects. The Mega Diana Boat Trip in a perfect getaway from the crowds and an excellent option for those who wish to combine relaxation and excitement in an all in one package.
For the purposes of this full day excursion, participants will be sailing around Marmaris with the Mega Diana boat. Once aboard, you will be thrilled by the exclusive setting and design of the boat. More specifically, the Mega Diana boat is spacious enough to accommodate up to 68 guests each day. The decoration and equipment of the boat aim in offering a truly relaxing and comfortable experience. The decks have sunbeds, one for each guest, where you can enjoy sunbathing. On the lower deck, you can also find some shade, while on the upper deck you may observe views over the sea. The boat features also a fully equipped kitchen, bar and well-trained crew that is ready to pumper you and meet your expectations.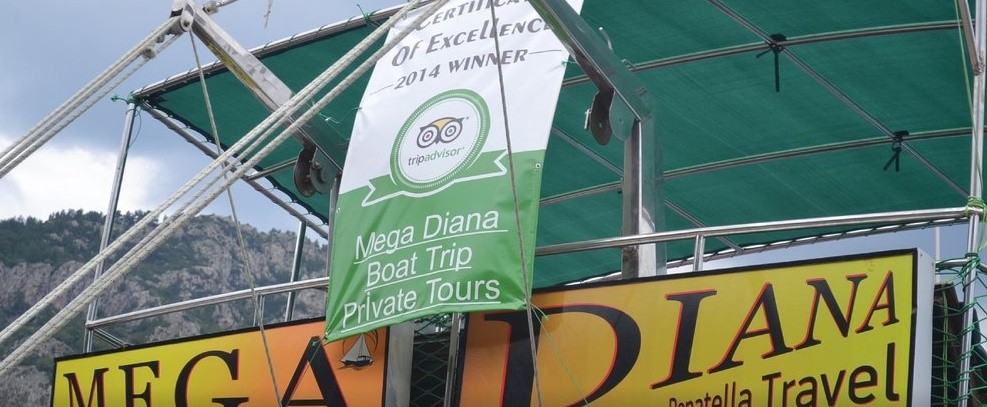 The key characteristic of the Mega Diana Boat Trip is the exceptional service that guests enjoy. Often characterized as a 5-star service, the crew makes sure with all possible ways that your expectations will be met. The captain, as well as the crew members, is professionals, fully licenced and experienced in offering upgraded vacation experiences with boat trips. Thus, allow yourself to relax and recharge your batteries as you will be sailing around the most stunning bays in Marmaris, and let the crew take care of you and your loved ones.
The Mega Diana Boat Trip includes all the features needed for a pleasurable and enjoyable experience and for a day full of laughter, joy and excitement. For the purposes of this boat trip and for your own maximum pleasure, the Mega Diana excursion is an all-inclusive boat trip. More precisely, participants are able to enjoy a delicious and freshly made breakfast and lunch aboard. The breakfast includes platters of cheeses, salami and mixed toasties. The lunch includes a mix grill variety, pasta and salad. It is important to note that, a vegetarian meal option is also available. Throughout the duration of the boat trip, participants will also be able to enjoy unlimited consumption of soft drinks, juices, tea and coffee. Moreover, there is also unlimited consumption of alcoholic drinks, i.e. beer, wine, gin, vodka, brandy and Turkish raki.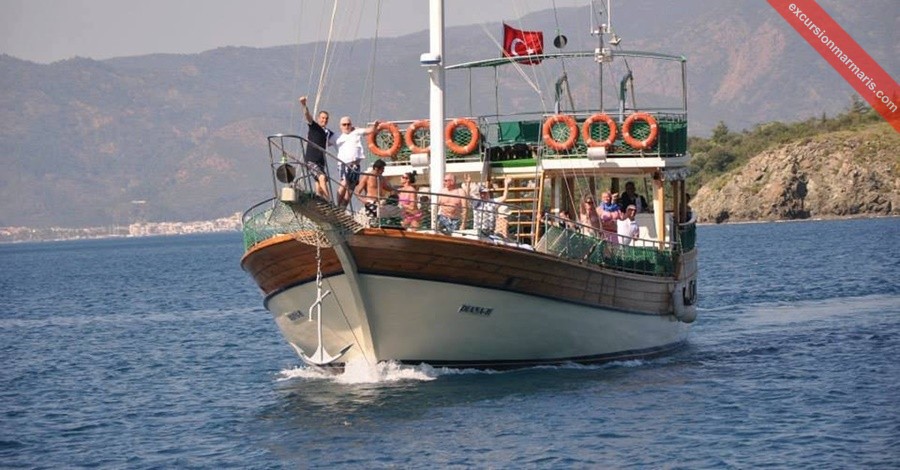 This all-inclusive boat trip around Marmaris takes place on a daily basis and has an approximate duration of 7 hours. During this time, the boat will offer you an incredible sailing experience around Marmaris. The boat trip includes several swimming stops in secluded bays and beautiful locations. During these swimming stops you can jump into the blue waters of the sea and enjoy swimming. Those who are interested in snorkelling these locations as ideal. This is because of the high visibility of the crystal clear waters that allows you to explore the underwater world.
This particular activity is characterized as family and children friendly. Families are welcome to join with their children as the boat trip is able to offer unique experiences and memories to all. The professional and well-train crew of the boat will assist you and your kids if needed. Therefore, there is nothing to worry about. Just relax and allow yourself to enjoy an incredible day, as you kids are having fun. It must be noted that children under the age of 12 are able to participate at half price. Also, children under the age of 3 are free of charge given that they share a sunbed.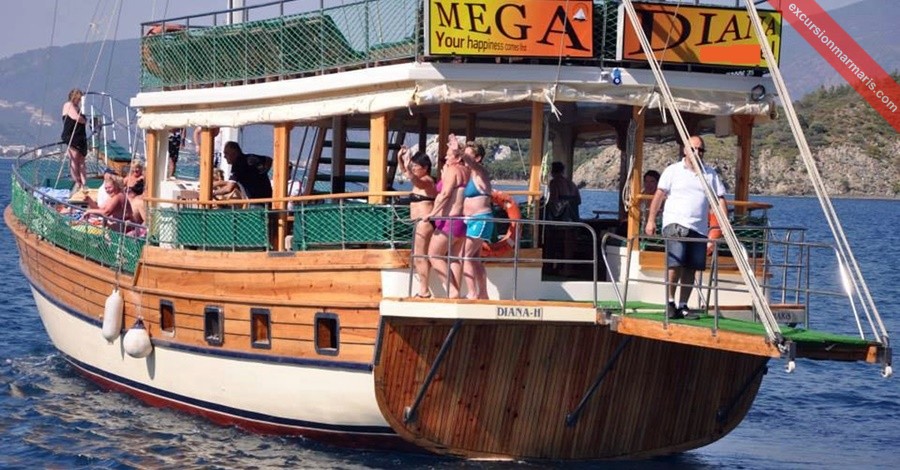 For your own comfort and safety, Mega Diana Boat Trip includes a two-way transfer service from and to your hotel and a full insurance. In addition, the price includes a 7-hour sailing experience around Marmaris with professional and English-speaking crew. As we aim in offering a truly unique experience, the package price of this boat trip includes a breakfast and a lunch that will be served aboard. Please note that, there are vegetarian options available. During the boat trip, an unlimited consumption of alcoholic and non-alcoholic beverages will be available.
Please do not forget to wear your own swimsuit and bring your towel. In addition, due to the high temperatures during the summer season, a sun cream is recommended, as well as a hat and sunglasses. If you wish to make your memories last forever, please bring your camera also to capture the fun moments of your boat trip.