Turunc Aegean Islands Boat Trip
Excitement and tranquillity
The Turunc Aegean Island Boat Trip is a perfect option for all as it pairs perfectly a relaxing setting with a fun activity. For this reason, several stops are included and take place at secluded and charming bays and islands. With this way, you can avoid the crowds, have some fun moments with your friends or family and enjoy the impeccable beauty of nature. By joining this all inclusive boat trip into the Aegean Sea you can also increase your excitement and your enthusiasm. Enjoy an unlimited consumption of drinks, get thrilled by the magnificent beauty of the Aegean and allow yourself to spend some quality time with your loved ones.
This full day boat trip towards the nearby islands of the Aegean Sea begins during the morning time. When the boat leaves the port and start to sail away from the coastline of Turunc, get ready to observe new images and experience multiple feelings. In order to make your trip comfortable and memorable, the schedule includes several stops. Swimming stops will take place at Turgut, Semiliye, and the Jesus and Aquarium bays where you can visit and swim secluded and unspoiled bays. In addition, a swimming stop will also take place at Dislice Island. This island is a popular attraction in the Aegean as it has sheer cliffs and an imposing rocky formation. During this stop, do not forget to take some photos of this natural wonder and appreciate the power of nature.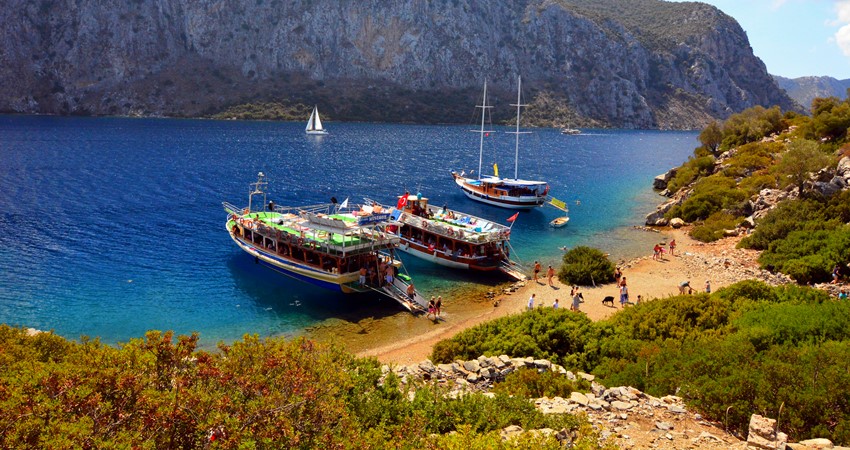 For your own comfort, during the morning, a car will drive you from your place of accommodation in Turunc to the port from where the boat departs. The boat has a modern design with spacious common areas, allowing you to enjoy a comfortable and pleasurable sailing experience into the Aegean Sea. Due to the boat's double deck design, you can find corners with shade if you want to avoid the sun and stay protected, and places ideal for sunbathing. The boat is fully equipped and the professional crew will make sure that you enjoy a smooth and safe trip.
Turunc Aegean Islands Boat Trip promises to enhance your experiences and upgrade your holidays. For this reason this excursion is characterized as all-inclusive. More specifically, during this sailing experience you will enjoy a delicious and freshly made BBQ lunch aboard that includes multiple options to cover every individual taste. Moreover, for the whole duration of the trip, you can enjoy unlimited consumption of coffee, tea, soft drinks, beers and wine. In case you wish to enjoy some refreshing cocktails or drinks that are not part of the package, you may ask the crew for them at an extra cost.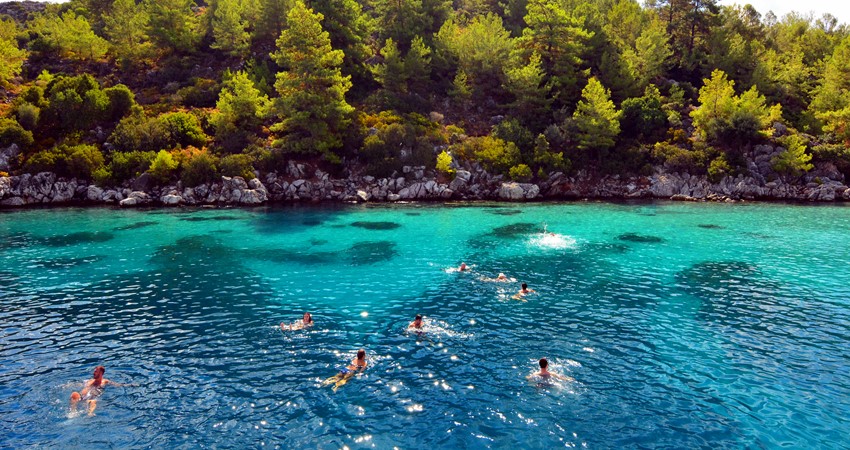 This boat trip lasts approximately 8 hours during which you have the opportunity to visit some beautiful small islands in the Aegean Sea and swim into the blue waters of the area. This experience is ideal for people wishing to get away from the crowds and revitalize their senses in a truly unique and peaceful setting. Moreover, this experience is also perfect for the nature lovers who wish to observe unspoiled and secluded spots of impeccable natural beauty. Families with children are also welcome to join this boat trip, as the swimming spots can be fun for your kids.
What makes this boat trip special is that, it combines everything you might need and gives you an amazing all-inclusive experience. The price includes your transfers from and to your place of accommodation in Turunc and a full insurance per person. Furthermore, the price includes the ticket for the full day boat trip in the Aegean Sea and English Speaking Crew that is ready to meet your expectations and pumper your needs. A BBQ lunch and unlimited consumption of soft drinks, coffee, tea, beers and wine are also included. Please note that other drinks that are not mentioned, tips for the crew and other personal expenses are not included in the price.
To enjoy this boat trip at its maximum, remember to bring your own swimsuit and your towel as you need them during the swimming stops. It is also important to bring with you a sun cream, a hat or sunglasses with you. Temperatures can be really high during the summer months so make sure that you protect yourself. Moreover, if you wish to create long lasting memories do not forget your camera.