Ephesus and Pamukkale Tour from Turunc
In an effort to offer you a memorable 2-day excursion and make you fall in love with Ephesus and Pamukkale, a tour guide will accompany you for the whole duration of this excursion. The English speaking tour guide will make sure that you enjoy every minute of this experience. In addition, the guide is in charge to assist you in case you need on any matter. Most importantly, theexperienced guide will be responsible to let you know important details about the places of interest.
Ephesus is one of the most important archaeological sites in the country. Among the many interesting structures that has, Ephesus is particularly known for the Temple of Artemis, which is one of the 7 wonders of the ancient world. When you visit this location, you will be able to observe only the ruins of this temple. Another interesting fact about Ephesus is that it used to be the second most important city after Rome. Houses with mosaics, marbles streets, temples and theatres are among the many excellent examples of ancient design and aesthetics. As you walk around the archaeological site of Ephesus, the tour guide will offer a detailed description about the history and the importance of this city.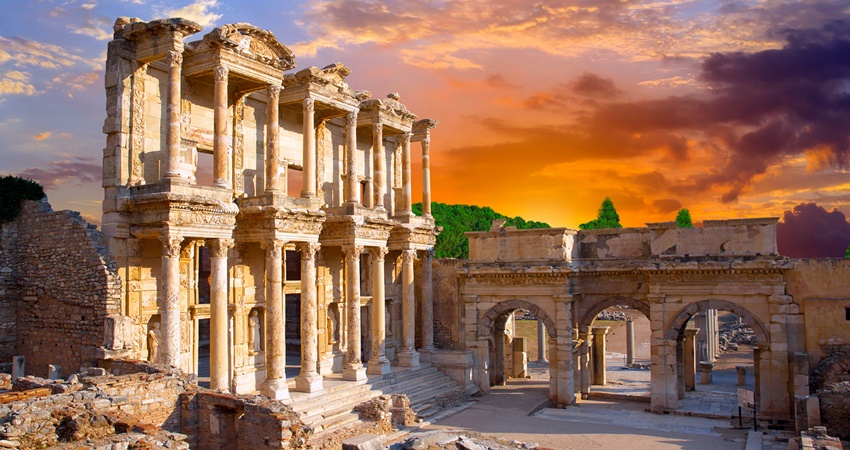 For the purposes of this 2-day tour, you will also have the opportunity to visitPamukkale, an area listed as an UNESCO site of world heritage. Pamukkale is particularly popular for the incredible thermal springs that has which is said to have therapeutic benefits. Among the sites you are about to visit is the Calcium Terraces, the ancient city of Hierapolis and the antique thermal pool known also as the Cleopatra's Pool. Pamukkale is surely an incredible backdrop for your photos so do not forget to capture as much as you want.
Ephesus &Pamukkale 2-day tour includes a 1-night accommodation at a 3 star hotel in Pamukkale. The hotel has a cosy and relaxing atmosphere and offers upscale services to its guests. You may enjoy a relaxing Jacuzzi or swim into the pool. The hotel has a restaurant where you can enjoy a delicious snack or meal.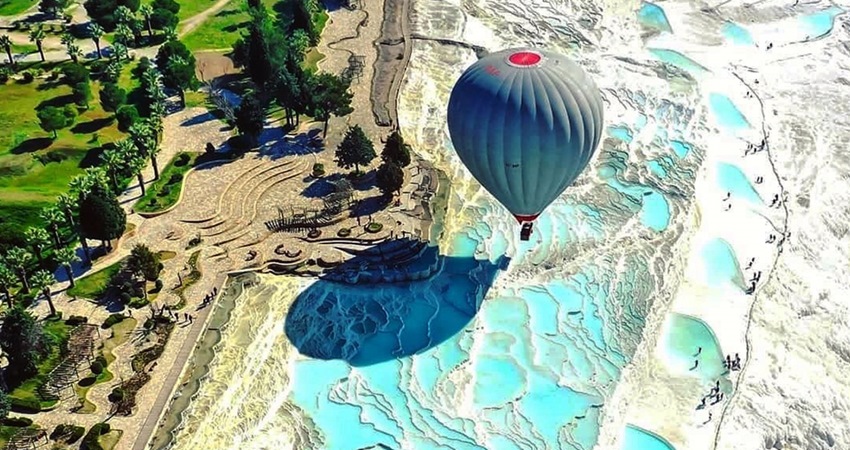 Optional Hot Air Balloon Tour
Pamukkale has got a new attraction to offer, hot air balloon tour. If you are going to do the 2 days tour from Turunc, you can go for a hot air balloon ride. Please note that summer season is very busy, let us now that you want to go for the balloon tour while booking this tour so we can make all the arrangements.
READ MORE ...
The price of this 2-day exploration includes hotel pickup service from and to your hotel in Turunc. For your own comfort a safety,all the relevant transfers are made with a comfortable and well maintained bus. In addition, the price includes a full insurance, a guided tour by an English speaking tour guide and a 1-night hotel accommodation in Pamukkale. It is also important to note that, the price includes 2 breakfasts, 2 lunches and 1 dinner.
Please remember to bring your swimsuit and towel in you are interested to swim into the thermal springs. As the itinerary includes a hotel accommodation, you also need to bring a bag with clothes, a sun cream, a hat or sun glasses to protect yourself from the high temperatures.