Turunc Ephesus Tour
Distance Between Turunc and Ephesus
Turunc Ephesus Tour is available on specific days of the week and starts during the morning time. For your own comfort and safety, a modern and fully air conditioned bus will pick you up from your hotel in Turunc.
The road trip between Turunc and Ephesus is approximately 233KM and 3 hours long
.The members of our team are responsible to make sure that you enjoy a relaxing and pleasurable road trip. For this reason, before approaching the first stop of this full day excursion, a breakfast stop will take place.
Important Ruins In Ephesus
The archaeological site of Ephesus is listed as an UNESCO site of world heritage due to the variety of ruins that has and their special design. The city of Ephesus used to be the second largest and most important city after Rome during the period of the Roman Empire, in terms of politics and trade. The city's ancient prosperity is reflected on the marble structures and the upgraded aesthetics of the ruins. The English-speaking tour guide will offer you an incredible description of each structure and unfold the graceful history of Ephesus. As you walk around this majestic ancient city you may observe, among others, the marble roads, houses with mosaics, an ancient theatre, the ancient library of Celsus, and temples. The most important structure in Ephesus is the Temple of Artemis which is one of the 7 wonders of the ancient world. Unfortunately, there is not much left today from this colossal temple but you can still visit the last standing remains.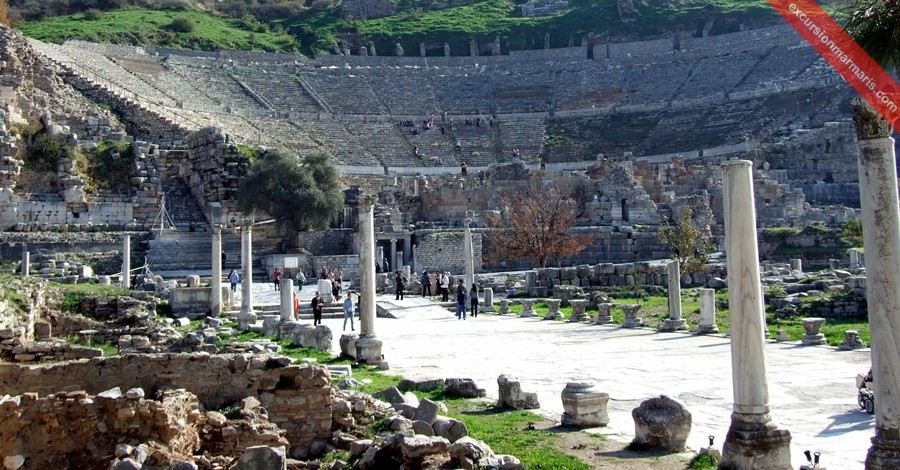 Turunc Ephesus Tour
includes also a visit the Selcuk. There, you will enjoy a freshly made lunch at a local restaurant and then enjoy 1 hour of free time. Despite its relatively small size, Selcuk is an important town with multiple places to visit and things to do. During your free time there, you can visit the archaeological museum and enjoy some more exploration of the antiquity. Alternatively, you may also visit the House of Virgin Mary. According to the Christian Orthodox history, Virgin Mary chose this house to spend her last days. This charming house is surrounded by a tranquil natural setting and forms a really important religious site. Various religious ceremonies and celebrations are taking place there and attract thousands of visitors.
Enhance your experiences in Turunc by adding the Ephesus tour in your vacation's schedule. This amazing and exciting exploration combines sightseeing and beautiful landscapesin an effortto make you create great memories. The price includes all the transportations needed, including pick up from your hotel in Turunc and a drop off at Marmaris bus station. A guiding service from an experienced and fully licenced guide, entrance fees, and a full insurance are also included in the price. The package includes also a breakfast and a lunch. Please note that, drinks, extra entrance fees and other personal expenses are not included.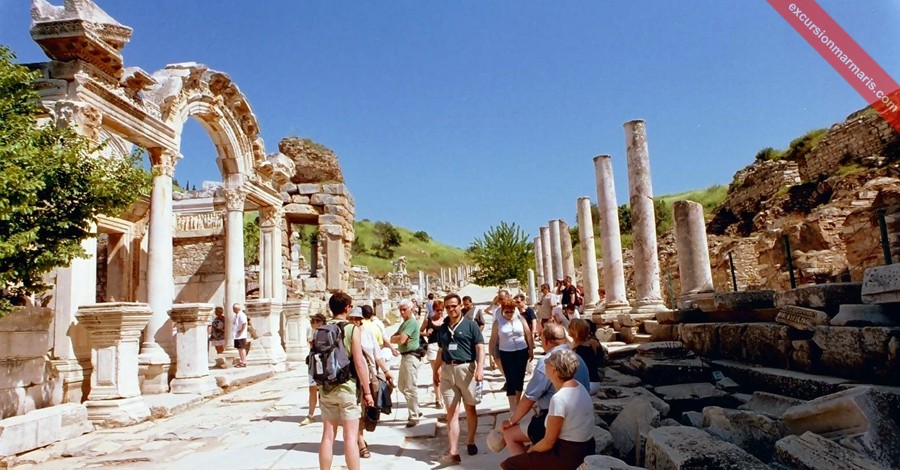 With this magnificent full day experience that begins from Turunc, you can be sure for an incredible sightseeing tour that has everything you need. This excursion is a perfect option if you are searching for a full day excursion that fills you with joy, nice images and long lasting memories. In general, this excursion is ideal for the history lovers and for those wishing to explore Ephesus but on a limited time. Families are also welcome to join this full day tour as kids can learn many interesting facts. Please note that for safety reasons, people experiencing walking difficulties or disabilities, are not allowed to participate.
With this full day sightseeing excursion to Ephesus you have the opportunity to visit and admire one of the most iconic sites in the country. In an effort to upgrade your experience, a tour guide will be there for you. During the morning, the experienced tour guide will welcome you in the bus and inform you about the final details of the schedule. The guide will be also in charge to let you know interesting facts about the history and the importance of each site that is included in the schedule.
During the summer months, there are high temperatures in Ephesus. Therefore, please wear comfortable clothes and shoes. Please bring also a hat, sunglasses and a sun cream to be protected from the sun. Bringing your camera is also important to snap some imposing photo during sightseeing.