Icmeler Ephesus Tour
The ancient city of Ephesus is one of the most important archaeological sites in the country. Ephesus is characterized by upgraded aesthetics as it has multiple sculptures, interesting structures and well preserved mosaics. Visiting Ephesus allows you to unfold its history and understand the importance that used to have back in antiquity. With more than 2500 years of history, Ephesus is surely an impressive archaeological site not to be missed. This tour is available from Icmeler and is ideal for people of all ages as it combines sightseeing, history, incredible views and relaxation.
Visit and explore one of the most popular and important sites in Turkey with a fully guided service. The Ephesus Tour includes an assigned professional tour guide that will accompany you for the whole duration of the excursion. More specifically, the tour guide will welcome you in the bus and let you know the final details of the schedule. Also, the English-speaking guide is the person in charge to provide important descriptions about the places of interest.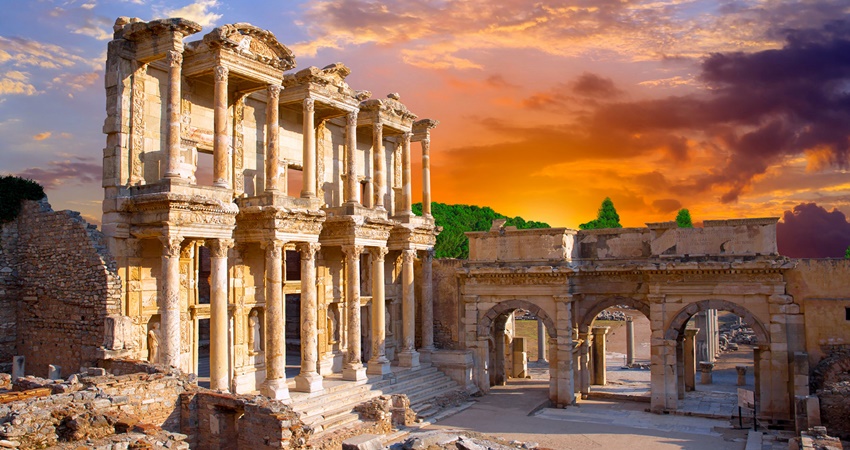 The ancient city of Ephesus is characterized as an UNESCO site of world heritage. In fact, this city used to be the second largest and most important city after Rome during the period of the Roman Empire. This is the reason explaining the upgraded aesthetics and the important structures that one can find there. A professional English-speaking tour guide will offer you an incredible briefing on each structure. More precisely, you may observe, among others, the marble roads, houses with mosaics, an ancient theatre, the ancient library of Celsus, and temples. The most important structure in Ephesus is the Temple of Artemis which is one of the 7 wonders of the ancient world. Unfortunately, you can observe only the ruins but the tour guide will let you know everything about this important temple.
This magnificent full day experience includes also a 1-hour free time in the charming town of Selcuk. Before being able to stroll around and explore the town, the guide will take you to a local restaurant in order to enjoy a freshly made lunch. Then, you are free to spend this one hour as you want and according to your interests. If you want some suggestions do not hesitate to ask the guide. In case you wish to enjoy some more sightseeing, Selcuk has an archaeological museum with multiple interesting exhibits. In addition, you may also visit the House of Virgin Mary. This house is surrounded by a tranquil and unspoiled natural setting and it is believed that Virgin Mary spent her last days there. This site is one of the most important for the Christian Orthodox population and every year, several festivals and ceremonies take place there.
The tour begins from Icmeler and ensures a day full of sightseeing and incredible views. It is an ideal option if you are looking for an excursion that will fill you with joy, beautiful images and long lasting memories. In general, the Icmeler Ephesus Tour is ideal for those who wish to unfold the history of this ancient city and visit the broader area of Ephesus. The Icmeler Ephesus Tour is also a great option for families, as children can learn many interesting things during your time there. In what regards participation, there are no special restrictions. However, for your own safety, people experiencing walking difficulties or disabilities, are not allowed to participate.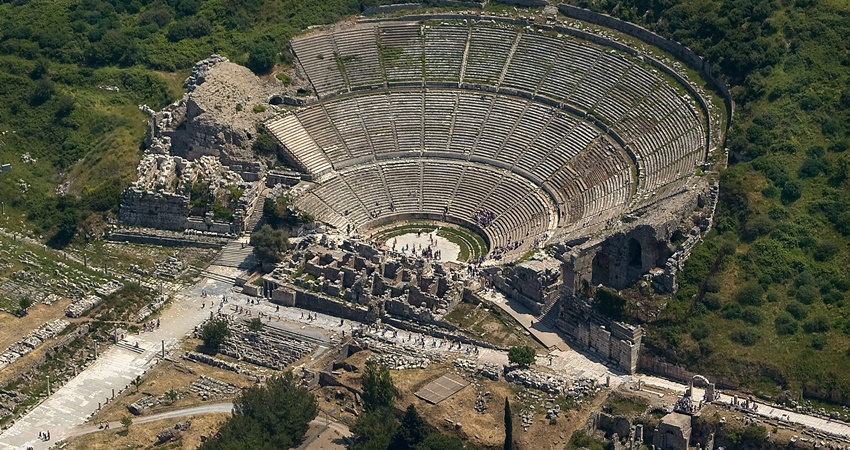 Upgrade your holidays experience by adding the Icmeler Ephesus tour in your schedule. This full day tour combines sightseeing and exploration so as to offer you long lasting memories. The price includes all the transportations needed, including pick up and drop off at your hotel in Icmeler. A guiding service from an English speaking tour guide, entrance fees, and a full insurance are also included in the price. The package includes also a breakfast and a lunch. Please note that, drinks, extra entrance fees and other personal expenses are not included.
During the summer months, there are high temperatures in Ephesus. For this reasons please wear comfortable and light clothes and shoes. Please bring also a hat, sunglasses and a sun cream. If you wish to capture every moment, do not forget to bring your camera so that you can snap some photos of the sites and your loved ones.