Icmeler Turkish Bath
Relaxing vacations in Icmeler
The beautiful town of Icmeler is located at the coast of Mediterranean, just few kilometres away from Marmaris. Despite its increased popularity, this summer resort achieved to maintain its character and charm, and preserve its unspoiled natural setting. Beautiful beaches, welcoming local people, multiple sightseeing options and of course a vibrant cosmopolitan atmosphere are among Icmeler's main characteristics. The town has in fact everything you need to pleasurable and enjoyable holidays that allow you to relax and revitalize your senses.
During your vacations in Icmeler, you can experience an old tradition that dates back to the Ottoman times. More precisely, Turkish bath is one of the most popular and activities in the country for both, locals and visitors. Except from allowing you to feel the ultimate relaxation, Turkish bath is also an alternative way to explore the local culture. During the Ottoman times, this bathing ritual was a very important aspect. The tradition and the methods used back then survived through the ages and nowadays form an integral part of the Turkish culture. Therefore, if you seek an alternative and relaxing cultural exploration, Turkish bath is the ideal option.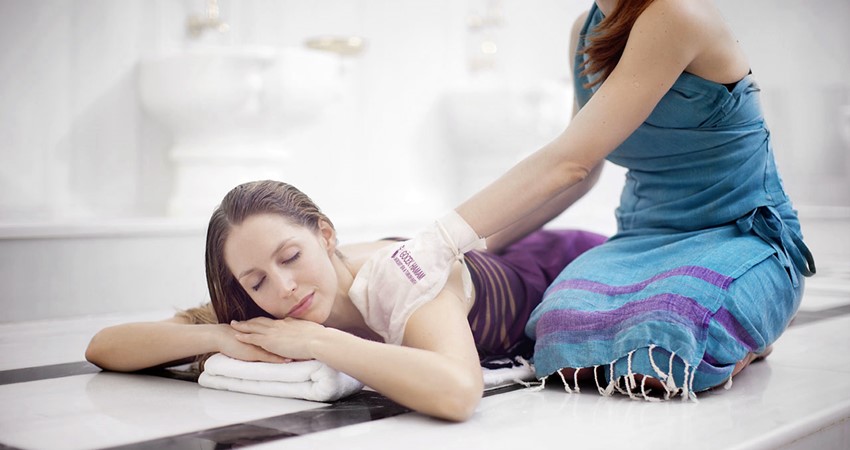 This ultra-relaxing and pampering activity is the ideal option if you are looking to get away from the crowds. For your own comfort, the price of this activity includes a two-way transfer service from and to your hotel in Icmeler. More specifically, a modern and fully air conditioned car will drive you from the hotel to the facility and wait for you to finish. In addition, the price includes soap, towels, slippers and full insurance during your time there. Furthermore, the package price includes sauna, foam massage, body scrub and oil massage. Please note that, tips, drinks, food and other services are not included in the price.
Ultra-relaxing experience
This activity has an approximate duration of 2 hours and you are free to choose any day or time suits you the most. When you arrive at the facility, the staff will give you a personal locker to change clothes and store your personal items. Then, you will enter the steam room that has an incredibly relaxing atmosphere. This room is made of marbles and the steam prepares your skin for the following steps. More precisely, the pores of your skin open and through sweat you release the toxins. Allow yourself to relax and release the stress during your time there.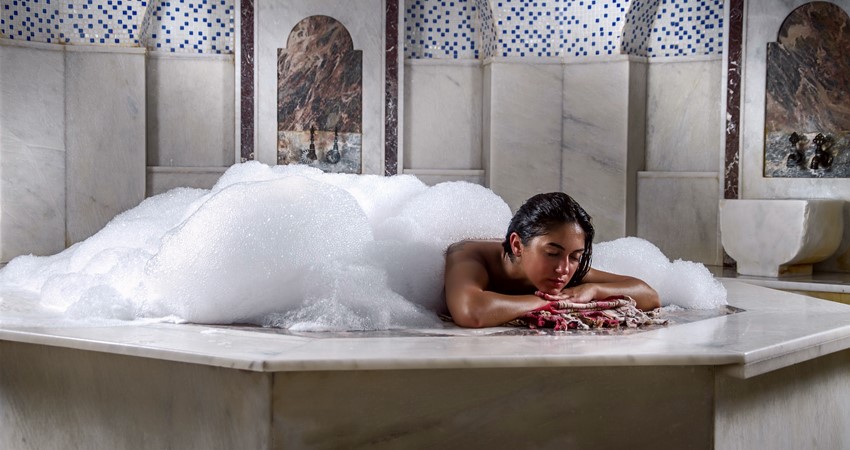 The Turkish bath experience includes also a full body scrub. At a different room, a professional masseur will offer you a revitalizing full body scrub. This procedure will remove all the dead cells from your body allowing your skin to breathe. After that, your body will be washed with a refreshing foam massage. This stage of the process makes your skin soft and smooth. The last part of the ritual includes a much needed oil massage. The professional masseur will help your muscles to relax by focusing on the points of your body that need the most.
The Turkish bath is an experienced not to be missed while in Icmeler. The activity is ideal for those visitors who seek some relaxation during their holidays. In addition, it forms the perfect alternative for holidaymakers who want to unfold the local culture but away from the crowds. Turkish bath can be also characterized as an amazing option for couples seeking romance. In general, there are no special restrictions regarding participation. However, for safety reasons, people experiencing asthma and pregnant women are not able to participate.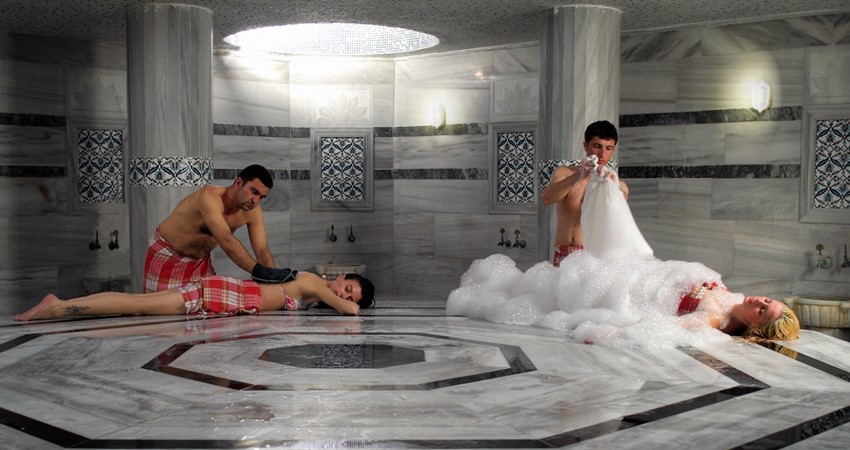 When to enjoy Turkish bath?
The Turkish bath is one of the most relaxing activities one can join while on holidays. This is because it allows you to enjoy a holistic experience that relaxes your body and mind at the same time. This activity is available on a daily basis, including weekends. In addition, you can join on any time you prefer, from the morning until the afternoon. In general, Turkish bath is recommended during the beginning of your holidays. The release of the toxins and the body scrub will pumper your skin and allow deeper, smoother and healthier tan. You may also have the Turkish bath by the end of your holidays in an effort to enjoy some extra boosts of relaxation before going back home.
It is important to bring your own swimsuit for this activity. Please wear comfortable and light clothes and do not brings any precious items with you. Once you enter the facility, you can store your clothes and personal items in a locker. The facility provides also a plethora of spa-like services, such as face treatments and massages. By the end of the Turkish bath you may choose to enjoy extra services. Please note that any other spa service comes at an extra cost.