Icmeler Rhodes Day Trip
Distance between Icmeler and Rhodes
The island complex of Dodecanese is located at a very close proximity with Turkey. In fact, the two countries are separated by Aegean Sea and many visitors combine visits in both countries, Turkey and Greece. In what regards Rhodes, it is located just 45 minutes away from Icmeler. For the purposes of this day trip, you will travel with a high-speed catamaran boat that has powerful engines. The boat is spacious and has an upper deck, where you can enjoy incredible views over the Aegean Sea during your trip.
With the Icmeler Rhodes Tour you can upgrade your holidays' experience by visiting one of the most famous Greek islands, Rhodes. Before entering the catamaran boat in Icmeler, you need to pass through a passport control. Therefore, do not forget to bring your passport with you. Once you arrive at the port of Rhodes, you need to present your passport. You don't need any visa for this tour. Keep in mind that by the end of the day tour in Rhodes, you need to arrive at the port earlier in order to go through the passport control once again.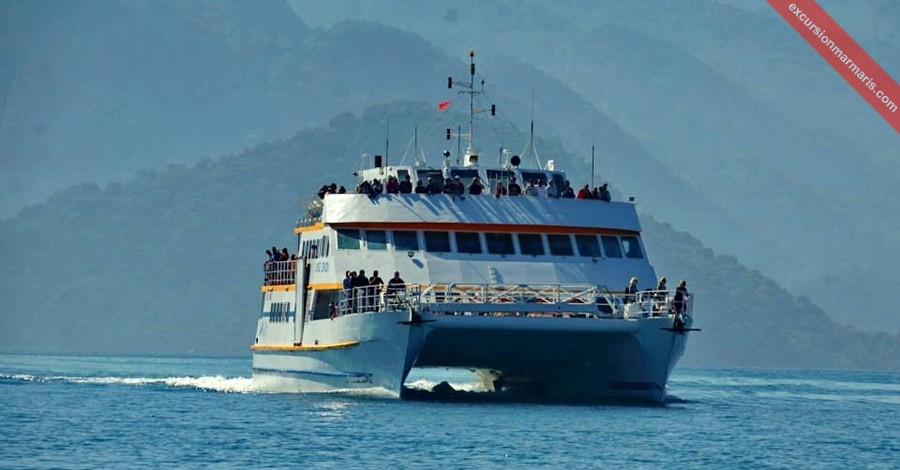 This day tour in Rhodes has an approximate duration of 11 hours. By the moment you arrive in Rhodes, you are free to explore the island as you wish and according to your interests. During your free time you can stay in the city centre of Rhodes or travel to another town as the island is big enough and has multiple points of interest. If you choose to explore the island, you can find charming, picturesque and authentic villages in the countryside. There you can observe the locals' lifestyle and interact with them. Also there are spectacular beaches around the island where you can enjoy either a vibrant party atmosphere or a relaxing and secluded setting.
Relax and Explore the city
The city centre of Rhodes is an amazing place to explore. The most interesting highlight is that, the old town in Rhodes is located in an enormous and well maintained medieval castle. Take your time and walk around this beautiful castle that will make you travel back in time. Inside the castle you may find everything you need, from restaurants and shops to hotels and banks. In the city centre of Rhodes, you can also find some beautiful beaches where you can spend some time. These beaches are fully organized and the nearby beach bars create a truly unique atmosphere with upbeat music.
The day trip from Icmeler to Rhodes is an ideal excursion for those who wish to visit a Greek island for one day. Due to the absence of an organized schedule, the day trip is an excellent option for all people,as it allows participants to create their own schedule. The trip is also a family friendly activity. Allow yourself to relax in Rhodes while your kids are having fun exploring the island.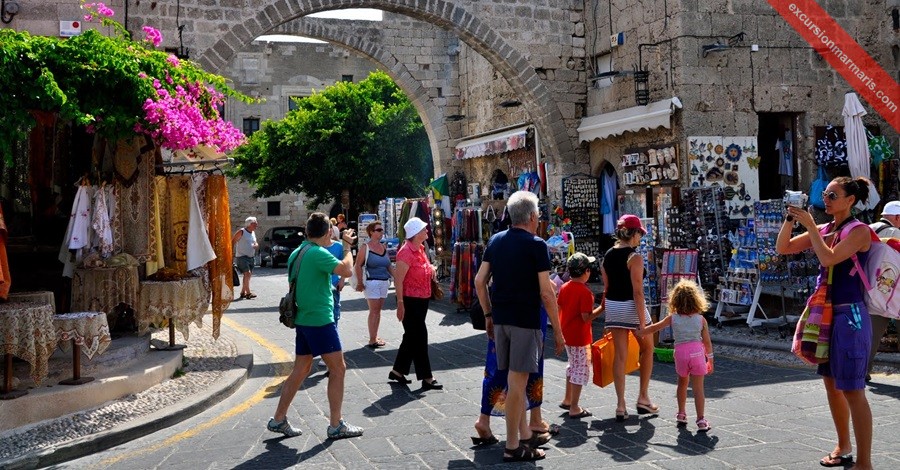 With a total duration of 11 hours, this full day trip to Rhodes is a great opportunity to join an alternative activity during your holidays. Escape from the ordinary and enjoy a break between sightseeing in Icmeler, with an amazing excursion to Rhodes Island. The price of this tour includes, a pick up and drop off service from and to your hotel in Icmeler. The transfers are made with a fully air conditioned and modern vehicle. A full insurance for the whole duration of the trip is also included in the price as well as the port taxes. Please note that, food, drinks, entrance fees and other personal expenses are not included in the price.
The excursion takes you to the Greek Island of Rhodes so it is important to bring your passport with you. The passport is required in both countries at the passport control in order to get your entrance visa. In addition, please be aware that in Rhodes all prices are in Euro. You can exchange currencies either in Turkey or when you arrive in Rhodes. In Rhodes there are high temperatures, especially in the summer months. Thus, please bring with you a sun cream, a hat or sunglasses.