Marmaris Rhodes Ferry
During your holidays in Marmaris, there is a great opportunity to visit the Greek Island of Rhodes. The close proximity between the two resorts, allows holiday makers to visit Rhodes for one day and enjoy a relaxing and joyful excursion in Greece. Rhodes is the largest island of the Dodecanese and combines everything you need for a memorable day. With a deep-rooted history, long tradition and exceptional beaches, Rhodes impresses every visitor since the very first moments. This full day excursion from Marmaris to Rhodes is the ideal tour for those wishing to explore a Greek Island and experience the infamous Greek hospitality.
Visa for Marmaris to Rhodes Excursion
If you are already holding a valid Schengen visa, it would be a lot easier to travel to Rhodes Island directly from Marmaris. However, no visa is required for EU citizens to take part in our Rhodes Island trip. And you don't need pay any visa fee while you return back to Marmaris/Turkey. We have to collect your passport details 2 days before the trip.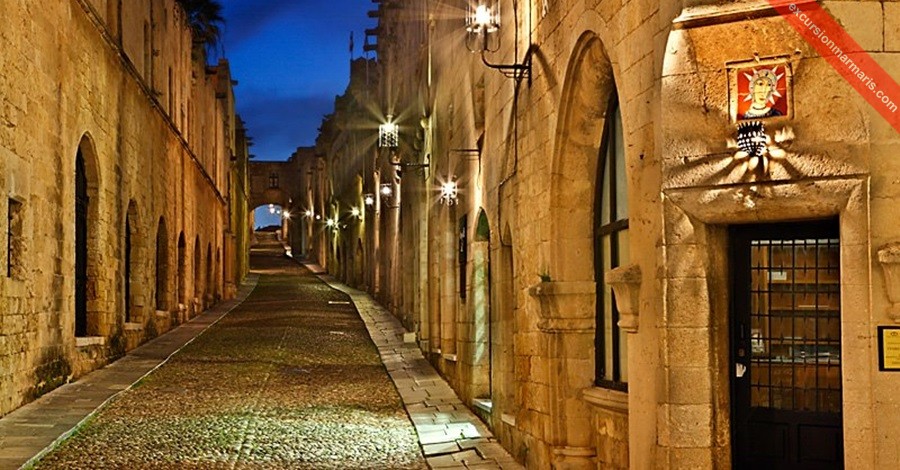 Free Shuttle bus to the Harbor
During
Marmaris Rhodes Day Trips
we will arrange for a shuttle bus service to pick you from your hotel and drop you at the Marmaris Port at the beginning of the trip. After the trip is over, we will also be picking you from the Marmaris port and take you to your hotel. You pay no extra charges for this service; it is included within our trip fee.
Distance between Marmaris and Rhodes
Marmaris Rhodes Day Trips take place on a daily basis during the morning. For your own comfort, members of our team will pick you up from your hotel and drive you to the port. The boat trip has an approximate duration of 45 minutes, as the island is really close to the Turkish coastline. For the purposes of this excursion, you will travel with a modern and spacious boat. During the 45 minutes boat trip to Rhodes, you may enjoy views over the blue colour of the Aegean Sea and snap some beautiful photos.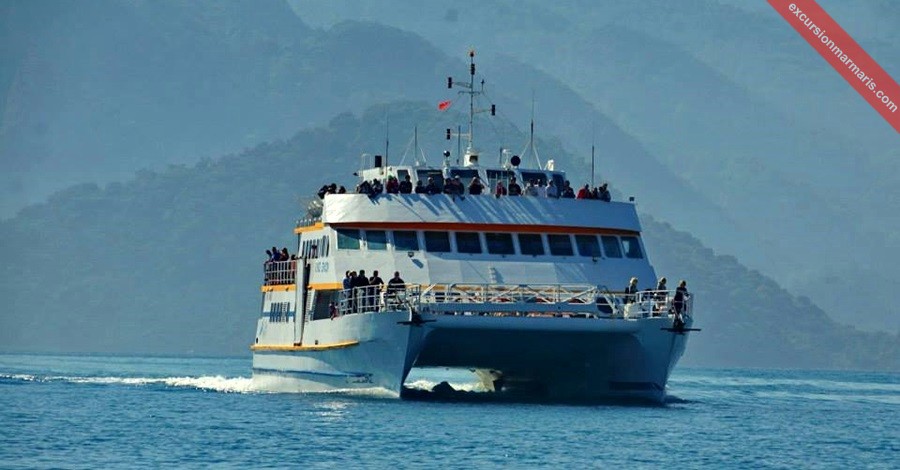 The day trip to Rhodes has an approximate duration of 11 hours. Upon arrival, the day is free of schedule in order to explore the island according to your interests. During the free time, you can enjoy some sightseeing as Rhodes is known for having a long history and many important monument and museums. Rhodes is also known as the Island of the Knights and its city centre is found in an enormous and vibrant castle. Inside the castle, you can visit multiple museums, observe the impressive medieval architecture and feel the flawless atmosphere that takes you back in time. Except from the medieval old town, you may also visit some ancient Greek sites such as the Temple of Aphrodite. Finally, one of the most impressive locations for sightseeing is the butterfly valley where thousands of colourful butterflies are creating an impressive atmosphere not to be missed.
As every other Green Island, Rhodes has beautiful beaches where you can enjoy swimming or relax in a laid-back setting. From crowded and cosmopolitan, to quiet and secluded Rhodes has definitely a beach that corresponds to your interests. Some of them are located close to the city centre so take the opportunity to visit them and enjoy the refreshing waters of the Aegean Sea. Beach bars and water sports are also available so you can upgrade your experience and create long lasting memories.
Who can participate in Marmaris Rhodes Day Trips?
The full day excursion from Marmaris to Rhodes is ideal for people of all ages. Given that you will have a free day there, the excursion can be the perfect option for solo travellers, couples, groups of friends and families. The island has a variety of activities and thing to do and during your time there you will surely find something that excites you and meets your standards.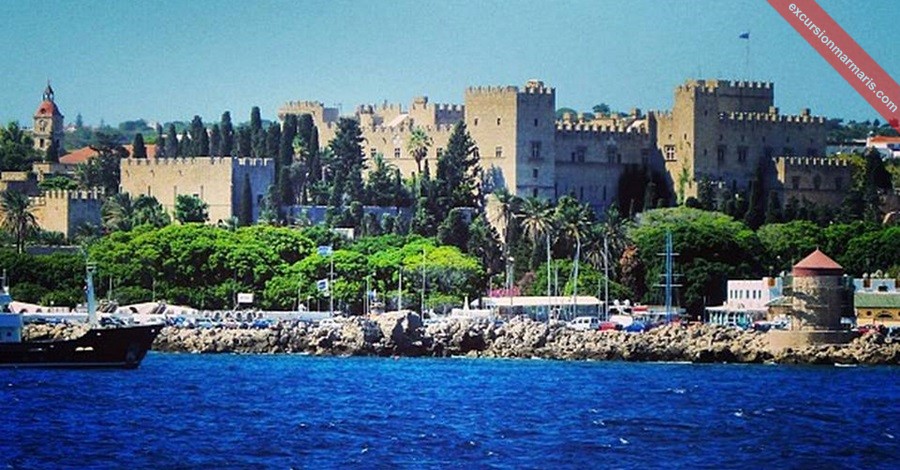 Visa For Marmaris Rhodes Day Trips
If you are interested in joining this full day excursion to Rhodes, please note that visa formalities apply. Thus, two days before the excursion, members of our team will ask for your passport details in order to proceed with the necessary arrangements. If you already have a valid Schengen visa, the process will be easier as it requires less time. Please note that, for citizens of the European Union there is no obligation to obtain a visa.
The Marmaris Rhodes Day Trip is an exceptional experience not to be missed. Joining this excursion allows you to explore one of the most famous Greek Islands and create long lasting memories. The package price of this day trip includes a two way transfer service from and to your hotel in Marmaris. For your own safety and comfort, a full insurance is also included in an effort to make you enjoy the most of your excursion without any worries. In addition, the price includes two way boat tickets from and to Marmaris. Please note that, food, drinks, extra activities in Rhodes and other personal expenses are not included in the price.
It is important to remind you that in Rhodes, the Euro currency is being used. You can exchange currencies either in Marmaris before the boat trip or at Rhodes. Please also note that average prices are higher than in Turkey. In addition, do not forget to bring your passport as you will need at the port in order to pass through the customs. If you wish swim, also bring your swimsuits and personal towel. Moreover, due to the high temperatures in Rhodes during the summer months, we highly recommend you to bring sun cream, hat and sunglasses.