Pamukkale Tandem Paragliding
We take your safety seriously
Make the most of your holidays in Pamukkale by experiencing how it feels to fly with a paragliding. If you wishing to get away from the ordinary and let yourself enjoy something new, then Paragliding in Pamukkale is one of the best options. Admire the breath-taking setting from above, feel adrenaline running into your veins, and create memories that will last for a long time. Pamukkale Paragliding promises to offer you unique emotions and memories to take back home.
This activity is available on a daily basis. Feel free to choose the time you want, between morning and afternoon. On the scheduled time, a modern and fully air conditioned car will pick you up from your hotel in Pamukkale and drive you to the point where the activity takes place.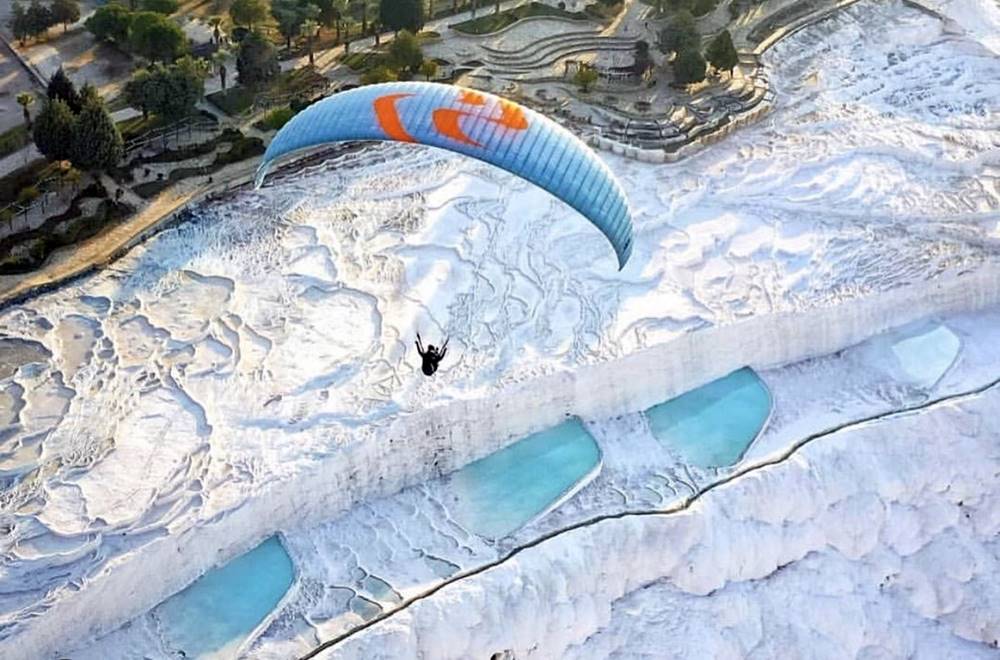 When you arrive there, a group of paragliding instructors will welcome you. Before proceeding with the flight, you will receive an important briefing. The professional instructors will explain the basics of paragliding and demonstrate the basic safety procedures. When the briefing is over, you will wear the equipment and attach your uniform to the one of the instructor.
Explore Pamukkale From The Sky
The flight begins once you start running, with the instructor, towards the end of the cliff. After few meters, you will realise that you are actually flying! The first seconds of the flight will give you the first adrenaline boosts, as you star to empty your mind from any thoughts. In addition, you will feel an incredible combination of excitement and relaxation. Therefore, allow yourself to enjoy every single second of the flight.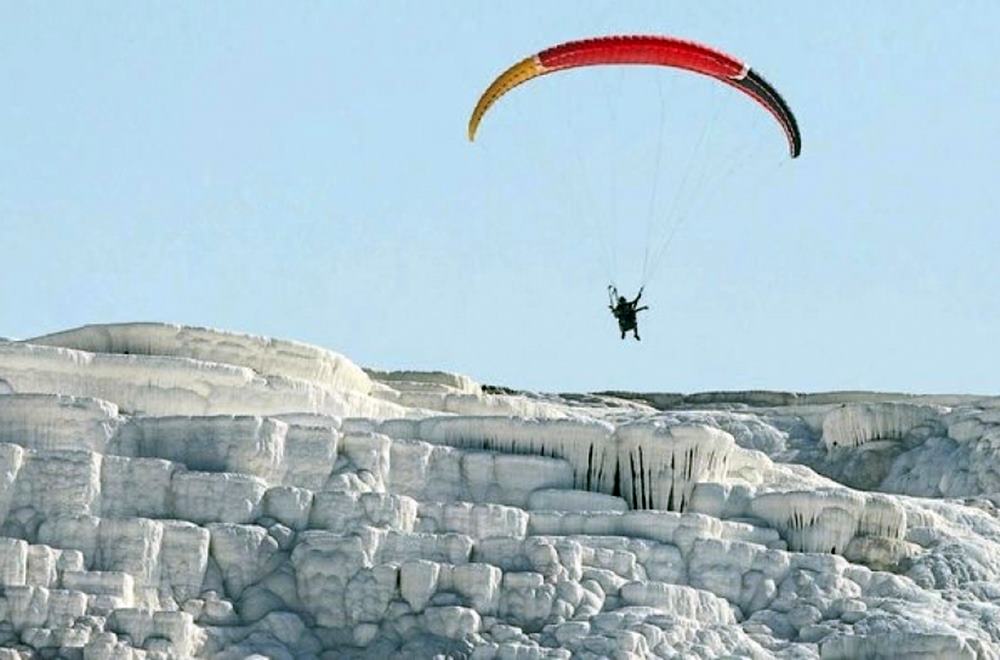 Except from the adrenaline boosts and the adventurous character that his activity has, it also forms a great alternative way to admire the beauty of Pamukkale. More precisely, during the flight, you will be able to observe some of the main sights of the area. Of course the Cotton Castle and the ancient city of Hierapolis are among them. The panoramic views will make you appreciate the beauty of the landscape even more.
During the flight, the instructor will have a camera. Therefore, there is no need to worry about missing a great memory. By the end of the flight, when you return back to the station, you can preview the photos and if you wish, you can purchase them at an extra cost.
By the end of this incredible Paragliding flight in Pamukkale, a comfortable car will drive you back at your hotel, full of emotions, and full of great and super fun memories.