Day Trip To Fethiye From Turunc
Famous Holiday Resort Fethiye
The charming and picturesque town of Fethiye is particularly known for having multiple spots of natural beauty. This full day tour gives you the opportunity to visit some of the most beautiful and interesting location in Fethiye. Explore a gorge, visit a blue flag bay, learn interesting information about Fethiye and revitalize your senses by observing imposing views.
A bus will be at your hotel in Turunc during the morning. Get ready for a memorable and fully guided experience towards Fethiye.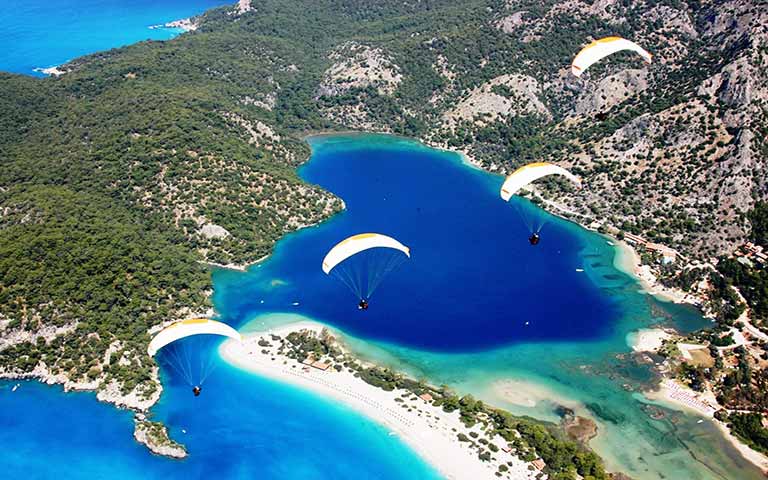 A professional and experienced English-speaking tour guide will welcome you in the bus. During the 2-hour road trip, the guide will let you know the final details of this full day experience. In addition, the guide will be in charge to give you descriptions about the places including in the schedule. In any case, feel free to ask the tour guide for assistance if needed.
The first location to visit is one of the most popular in the area, the infamous Blue Lagoon. This bay attracts thousands of visitors both, locals and foreigners, every year because of its majestic and exotic backdrop. Turquoise crystal clear waters, a gold sandy terrain and tall mountains are among the basic features of this beach. At the Blue Lagoon, you will have a 2-hour free time. If you seek some relaxation, you can swim into the sea and enjoy the sun. Alternatively, for those looking for some extra excitement, there are many activities available at an extra cost.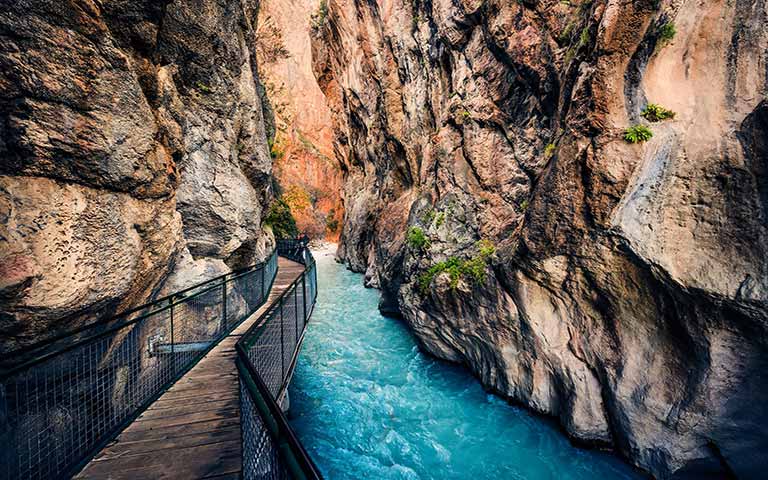 After 2 hours, the bus will drive you to a location close to Saklikent gorge. At a local restaurant there, a freshly made lunch will be waiting for you. Take your time to relax and enjoy the mouth-watering recipes before entering the gorge.
Saklikent gorge will impress you since the very first moments as it is one of the longest and deepest in the country. For the purposes of this tour, the tour guide will accompany you in this exploration and let you know interesting facts and important details about this location. As you walk there, the majestic rocks surround you and create an incredible atmosphere. The water that flows into the gorge has a characteristic cold temperature and if you wish, you can enjoy a refreshing swimming.
As you approach the end, a fully air conditioned bus will be waiting for you. The road trip back to Turuncwill be full of nice views.
Turunc Fethiye Tour
finishes during the afternoon when you return to your hotel.