Turunc Turtle Beach Tour
It is not a coincidence that, Turtle beach is one of the most photographed beaches in Turkey. This location is a pole of attraction for many visitors every year who wish to admire the unique landscape of the area. The beach is at Dalyan and has a unique feature that is able to take your breath away. A bank of sand is between the sea and the Dalyan River. This piece of land creates an amazing effect so do not forget to take some photos. During your time there, you can swim in sides, the river and the sea. At the Turtle Beach you will have 2 hours to spend as you want. An interesting detail is that, this beach hosts the infamous Caretta-Caretta turtles. If you are lucky enough you may observe some turtles there.
In Dalyan, except from the natural wonders, you may also observe some interesting ancient sites. In order to enjoy the most of this experience, you will embark on a second boat and enjoy a canal trip. At a point the boat will stop in from of the Lycian Temple Tombs. These ancient tombs are carved into rocks and they belong to the nearby ancient city of Caunos. The tombs are 2500 years old and during your time there, you will have the chance to learn some interesting details about the history of this ancient city. A professional tour guide will explain everything you need to know about the ancient city and these imposing tombs.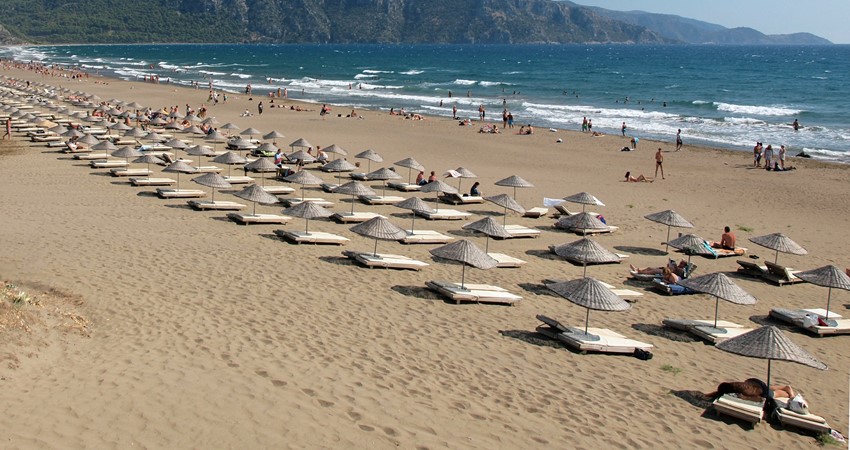 During this boat trip in Dalyan, you will also visit the famous mud baths that the area has. The mud baths are famous for having multiple therapeutic benefits for the skin and muscle pains as they have increased concentration in sulphur. Except from that, mud baths can act as a natural treatment and body scrub and make your skin softer, smoother and healthier. At the mud baths, you will have some time to enjoy a relaxing swim and spend some fun moments with your friends or family. Do not forget to capture all the fun moments with your camera while you are there.
This full day exploration in Dalyanhas an approximate duration of 10 hours. This tour is ideal for people of all ages as it covers multiple interests and preferences in order to make you create long lasting memories. The price of includes transfer service from your hotel in Turunc. Boat trip tickets, entrance fees and a full insurance are also included. The package includes also a guided tour by an English speaking guide and a lunch. Please note that drinks, tips and other personal expenses are not included in the price. Moreover, it is important to note that return transfer takes place at Marmaris bus station. From there, you are responsible for your own transfer back to Turunc.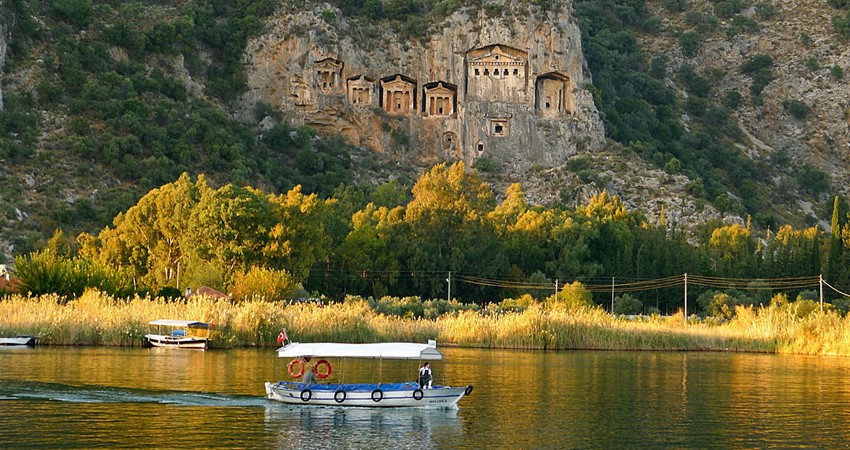 The Turunc Dalyan Tour allows you to explore this natural wonder with a relaxing boat trip and appreciate the beauty and the power of nature. Swim into one of the most famous beaches of the country, enjoy a beneficial mud bath and observe ancient rock-cut tombs. This full day excursion to Dalyan is able to offer you a truly memorable time. In order to make your experience even better, this tour includes professional guiding services. The guide will welcome you in the bus during the morning pick up from your hotel and accompany you for the whole duration of the tour. The experienced tour guide is responsible to let you know important information about the places you are about to visit.
In order to enjoy the most of the tour, there are certain things that you should not forget. Firstly, bring your swimsuit and a towel as you may be interested in swimming or enjoy the mud baths. Secondly, if you wish to experience the mud spa, please remove any silver jewellery as they will get darker when you enter. Thirdly, do not forget to bring a sun cream, a hat or sunglasses. Finally, to capture every moment bring your camera.