Icmeler All Inclusive Boat Trip
The boat trip is available on a daily basis and starts during the morning. Members of our team will pick you up from your place of accommodation in Icmeler and drive you to the port. For the purposes of this tour, you will travel with a specious double-deck wooden boat. The boat features comfortable and large decks with sunbeds and lounges where you can enjoy sunbathing and relaxation. You may also use the indoor areas if you are seeking for shade. Please note that the boat has toilets, a fully equipped bar that serves refreshing drinks, and all the necessary snorkelling equipment you might need. Professional English-speaking crew are ready to pumper you and meet your expectations.
Icmeler is washed by the waters of Mediterranean Sea and exploring its coastline will offer you a day full of laughter, joy and fun. As the boat starts to sail, you will visit some small neighbouring islands. The schedule includes several swimming stops during which you can jump into the sea and have some fun with your friends or family while swimming. During this boat trip, the boat will also stop at a fish farm so that you can feed the fishes and snap some photos. Exportation of the caves and a visit at the spectacular Paradise Island is also included in the schedule.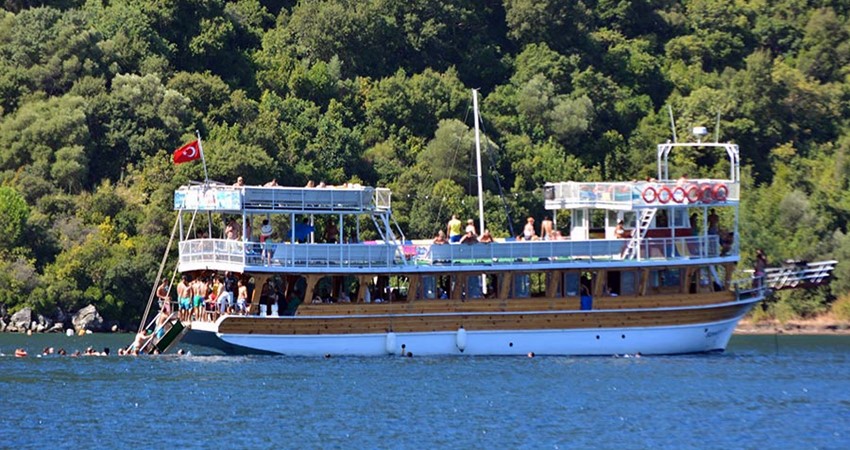 With this full day excursion around Icmeler, you will also visit the picturesque village of Turunc. More specifically, the boat will make a stop there and offer you some time to explore the village and enjoy some quality time with your loved ones. The village showcases an exceptional natural setting as it is surrounded by the imposing Taurus Mountains. The crystal clear waters and a flawless idyllic atmosphere will capture your attention since the very first moments. Every Monday, there is a market in Turunc where you can purchase some nice souvenirs or handcrafts.
An all-inclusive experience
One of the most interesting highlights of this full day boat trip is that is offer an all-inclusive experience. By the moment you enter the boat and for the whole duration of the boat trip, you and your friends or family can enjoy an unlimited consumption of tea, coffee, soft drinks. Furthermore, the professional crew will prepare a BBQ lunch so that you enjoy an incredible meal on the boat. This all inclusive boat trip around Icmeler is definitely what you need for a fun and relaxing time.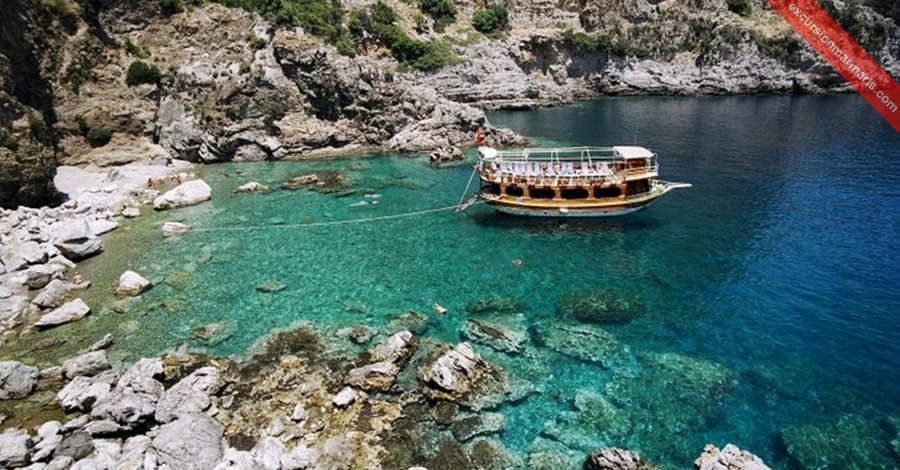 The Icmeler All Inclusive Boat Trip is an excellent opportunity to get away from the crowds. This boat trip takes you towards the most spectacular and tranquil bays around Icmeler and offers you the opportunity to visit Turunc village. Relax on a spacious boat and release the stress with a memorable and all inclusive boat trip. This experience is ideal for people of all ages as it combines relaxation, exploration and a vibrant party atmosphere aboard.
The All Inclusive Boat Trip departs from Icmeler on a daily basis during the morning. As it combines relaxation and excitement with five star services on an all-inclusive basis, this boat trip is ideal for all. Solo travellers, couples seeking romance, groups of friends wishing to visit beautiful bays and families are welcome to join without restrictions. In what regards families, this tour is characterized as a children-friendly activity. The experienced crew of the boat can entertain your children with games, animations, quizzes and story rounds. Relax on the deck without any worries while your kids are having fun.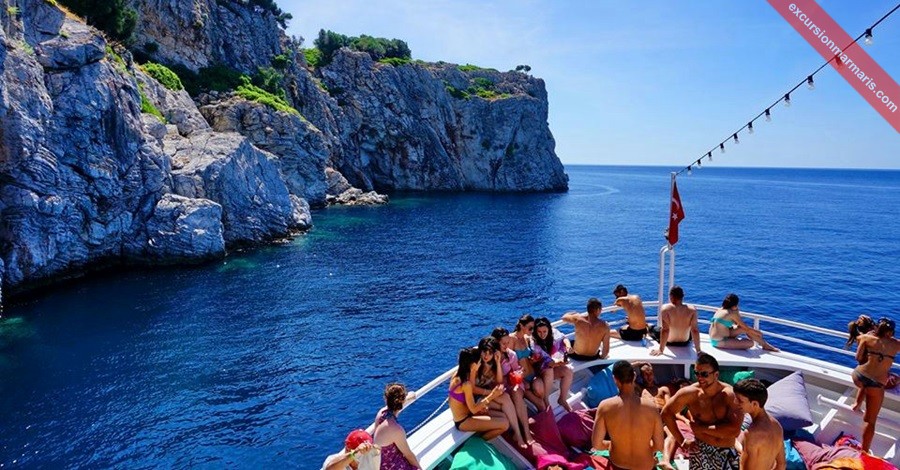 The price of the boat trip includes a two-way transfer service from and to your hotel in Icmeler and full day insurance. In addition, the price includes a BBQ lunch aboard and unlimited consumption of: tea, coffee, soft drinks. Please note that, all other drinks, tips and other personal expenses are not included in the price.
As we want you to enjoy this 7-hour boat trip at its maximum, please do not forget to bring your swimsuit and towel. In addition, please be aware that, during the summer months the area has high temperatures that can cause sun burns if you don't protect yourself. For this reason please bring with you a sun cream, a hat or sunglasses. Do not forget to bring your camera if you wish to capture all the fun moments of the boat trip.