Marmaris Quad Safari Tours
Boost your adrenaline with Marmaris Quad Safari
During your holidays in Marmaris there is a plethora of activities to join, ranging from relaxing to adrenaline boosting ones. In what regards the second category,
Marmaris Quad Safari
is highly recommended if you need a half-day activity that offers excitement and adventure. During the 3-hour Quad Safari, participants are able to enjoy driving into dusty, muddy and wet off road paths. This adrenaline boosting off-road driving will allow you to enjoy some hours full of laughter and fun.
For the purposes of the Quad Safari in Marmaris, strong and powerful quad bikes are used. These bikes are brand new, well maintained and comply with the safety requirements that were set by the regulating authorities. In addition, for your own safety, upon arrival at the starting point of this activity, a briefing session will be offered. More precisely, professional quad bike instructors will explain everything you need to know about the basic safety procedures and demonstrate how to use the safety equipment.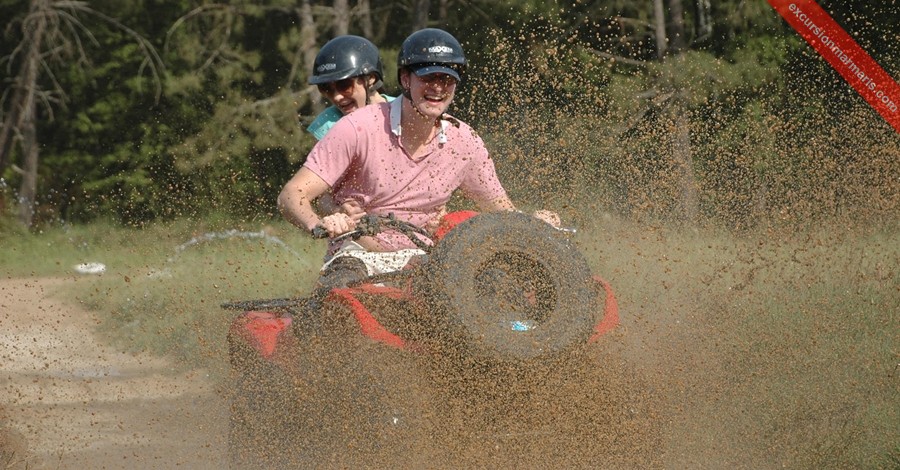 Do I Need Prior Experience?
Due to the specially designed terrain that quad bikes will follow, the activity is ideal for both, beginners and experienced drivers. As mentioned earlier, the Quad Safari in Marmaris includes an introductory briefing with English-speaking professional instructors. During this time, the instructors will demonstrate how to drive and how to control the quad bike. Thus, there is no need for prior experience. Allow yourself to enjoy the activity as there is nothing to worry about if this is your first time driving a quad bike. The instructors will accompany you during the off-road driving in order to provide assistance if needed.
Marmaris Quad Safari enables participants to enjoy driving in a specially designed off-road terrain. The quad bikes will be passing by some dusty and wet areas so be prepared to get dirty. An interesting highlight is that, the route includes several physical obstacles that are able to upgrade your driving experience and offer you some more adrenaline boosts. The path is surrounded by the beauty of nature with many pine trees, flowers and lush vegetation. During your driving experience, you can stop and enjoy the tranquil setting or snap some photos of the stunning landscape.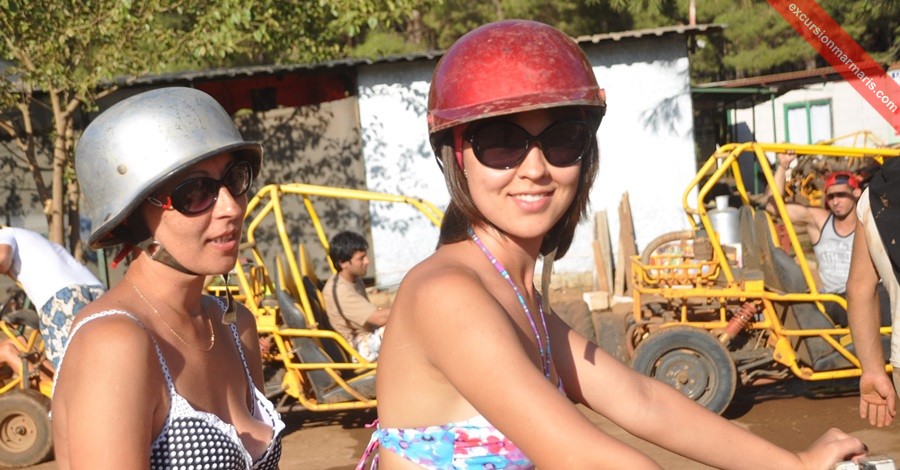 This fun activity is ideal for all. It can be the perfect getaway for those wishing to explore the beautiful countryside of Marmaris. It is also a perfect option for those who wish to spend some hours full of laughter, excitement and joy. Due to the high safety standards that this activity meets, a driving licence is not compulsory. However, for safety reasons, people experiencing physical disabilities are not allowed to participate. In addition, children should be accompanied by an adult parent. In case you wish to enjoy the quad safari but you are not feeling confident about driving, professional and experienced drivers are able to accompany you and assist you in enjoying this activity.
This activity takes place on a daily basis during the morning and has an approximate duration of 3 hours. For your own comfort, it includes a 2-way transfer service from and to your hotel in Marmaris. In addition, it includes full insurance, an important safety and introductory session with an English-speaking professional instructor, and all the necessary safety equipment. Please note that, the price does not include any food, drinks and other personal expenses.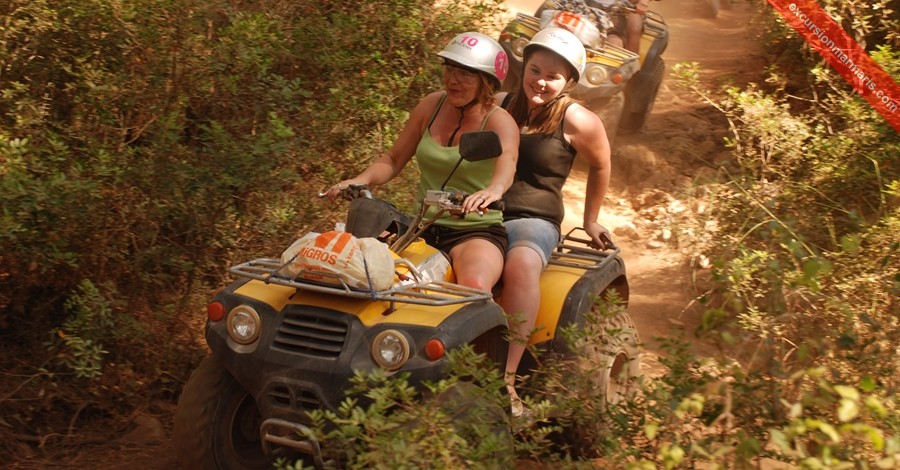 It an effort to make you enjoy the most of this exciting and adrenaline boosting activity, we can make professional photos available to you. More specifically, during the off-road driving, the professional quad bike instructors will accompany you. These experienced instructors will be in charge to assist you and snap some photos and videos of you and your loved ones. By the end of the driving session, when you return back to the station, you can preview these photos and videos. In case you wish, you can purchase them at an extra cost so you can remember this experience for ever.
Off-road Quad Safari in Marmaris is an exceptional, not to be missed activity that will allow you to create long lasting memories. However, it must be noted that due to the high temperatures in Marmaris in the summer months, a hat and a protective sun cream are highly recommended. In addition, participants are instructed to wear comfortable clothes and shoes ideal for driving. Due to the dusty, wet and muddy off-road terrain, you may also need an extra set of clothes in case you wish to change by the end of the activity.