Marmaris Scuba Diving
Is Marmaris good for diving?
Turkey is known for having some truly stunning diving locations that attract thousands of divers every year. The broader area of Marmaris is one of the most known diving locations. This is because it enables holiday makers to dive into the crystal clear and turquoise waters of the Aegean Sea. More precisely, there are multiple diving spots in the area able to offer you a unique experience like no other. The clean waters demonstrate high visibility that in turn allows you to observe and admire the underwater world. Those who are interested in joining a diving excursion should expect to observe an amazing variety of colourful fishes and experience the serenity of the sea.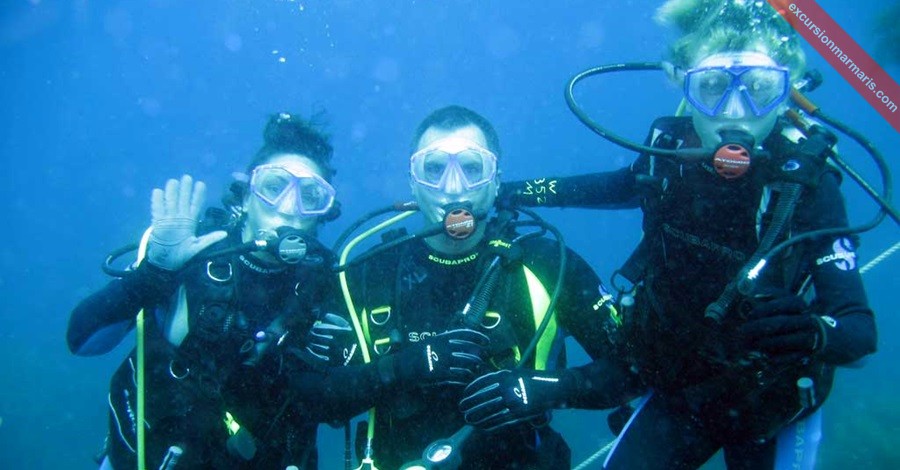 The Diving in Marmaris excursion is ideal for all. Whether you are a solo traveller, a couple, a family or a group of friends, this excursion is able to upgrade your holidays and offer you long lasting memories and unique feelings. However, it must be noted that, for your own safety there are some restrictions in participation. Firstly, participation in this excursion is approved for all people above 14 years old, who are able to swim. Secondly, participants should not experience any health-related issue in order to join the tour. Finally, please note that participants under 18 years should dive with a parent.
Is prior experience necessary?
This diving tour in Marmaris is ideal for both, beginners and experienced divers. In case this is your first diving experience, there is nothing to worry about. Once you arrive at the port, professional and experienced diving instructors will welcome you. The instructors will then offer an introductory briefing to ensure the smooth operation of the excursion. During this introductory briefing, they will explain how to use the diving equipment and the basic safety procedures. In addition, they will demonstrate how to use properly the underwater sign language and how to behave during the diving.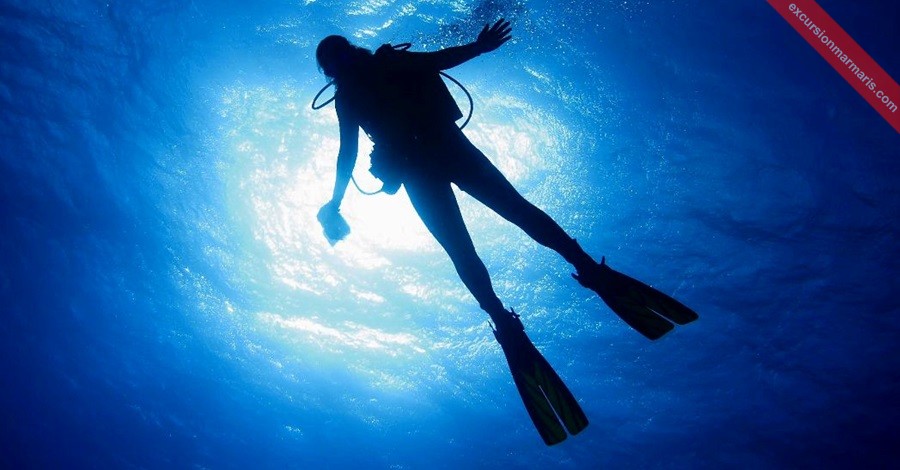 If you wish to join this diving experience in Marmaris, please note that diving is not compulsory. For the purposes of this activity, participants will be travelling with a spacious, comfortable and modern boat. Thus, you can also join this tour as an alternative boat trip towards secluded beaches and impressive locations in the Aegean Sea. Non-divers are welcome aboard to spend a fun and relaxing day around Marmaris. During the boat trip you may relax on the deck and enjoy the sun, swim into the blue waters of the Aegean or snorkel.
Participants will have the opportunity to enjoy two 30-minute dives during this full day excursion. The diving spots are changing every day in an effort to offer to our guests the best possible experience. More precisely, during the morning and prior the beginning of this tour, the professional and experienced diving instructors choose the diving spots based on the weather conditions and the flow of the wind. In general, the licenced instructors choose the best possible diving spots that have clear and high visibility.
As this is a full day excursion that lasts approximately 8 hours, participants will be able to enjoy a freshly made and delicious lunch aboard. The meal will be served after the first dive and before the second one in order to give you the necessary energy for your next dive. The lunch break will also be a great opportunity to relax on the boat, enjoy the sun or have some fun with your friends or family.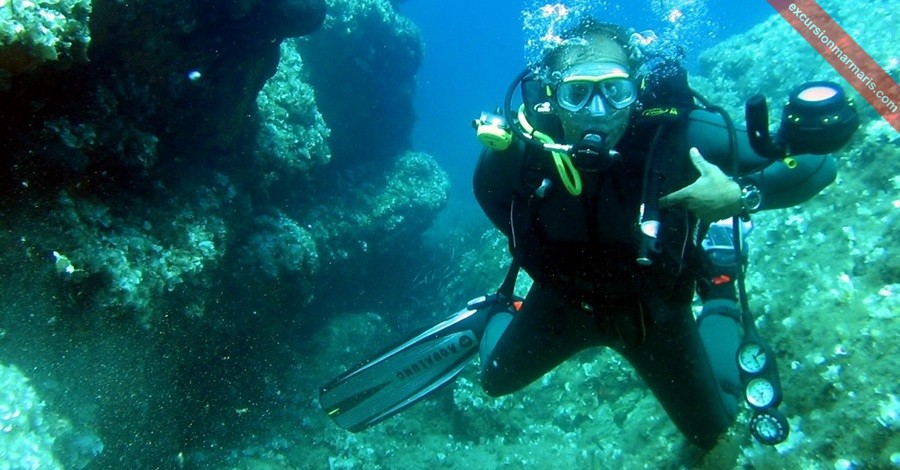 The Marmaris Diving tour takes place on a daily basis during the morning. The price includes a two-way transfer service from and to your hotel in Marmaris. In addition, it includes a full insurance, all the necessary diving equipment and an introductory briefing session. Participants will also enjoy a lunch aboard which is included in the price. It must be noted that, drinks and other personal expenses are not included in the price.
Diving in Marmaris is a truly exceptional experience not to be missed. The professional diving instructors will take you to some incredible diving spots in the Aegean Sea. According to the schedule of the excursion, participants will enjoy two dives at two different spots. During the dives, the professional diving instructors will be in charge to snap some incredible underwater photos and videos of you and your loved ones. Upon arrival back to the port, you will be able to preview these photos and videos. In you are interested, you can purchase them at an extra cost in order to make your memories from this activity long lasting.
This full day diving tour in Marmaris has an approximate duration of 8 hours. Please note that you need to bring your own swim suit and towel for the purposes of this excursion. In addition, due to the high temperatures in Marmaris during the summer months, a hat and a sun cream are highly recommended.