Icmeler Boat Trip
Why Book A Boat Trip In Icmeler?
The Icmeler Boat Trip is a full day excursion that takes place on a daily basis and promises to upgrade your vacations. Sail towards the magnificent coastline of Icmeler and Marmaris, and feel the tranquillity of the Mediterranean Sea. This boat trip takes you towards some beautiful location and allows you to swim into the crystal clear and refreshing waters of the sea. This excursion is ideal for all those who wish to relax and enjoy cruising around the azure waters of the sea. It is also the perfect option if you wish to get away from the crowds and spend some quality time with your friends or family.
For the purposes of this boat trip a fully air conditioned and modern car will pick you up from your hotel in Icmeler. The car will drive you for a short distance towards the port from where the boat departs. This ultra-fun and relaxing boat trip is made with a spacious double-deck boat. It is fully equipped with a kitchen and a bar so that you can enjoy a delicious BBQ meal and some refreshing drinks while sailing around the Mediterranean Sea. The boat features both, a shaded common area and an area with comfortable sunbeds where you can enjoy the sun and relax by listening to the splashing waters.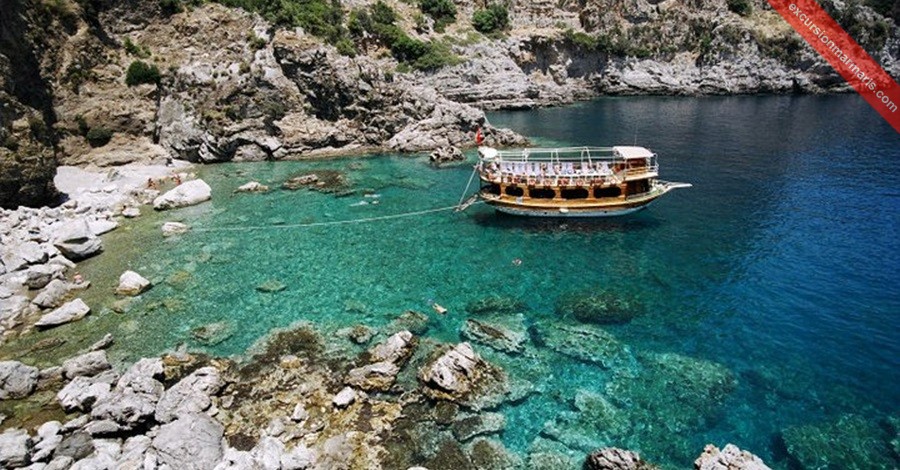 One of the most interesting highlights of this boat trip is that the professional and experienced captain takes you towards the best and most famous bays and swimming spots around Icmeler and Marmaris. A lot of swimming stops are included in the schedule so that you can admire the unparalleled beauty of nature, observe the unspoiled sceneries and swim into magnificent waters. More specifically, this boat trip includes swimming stops at the Paradise Island, Aquarium bay, Kumlubuk beach, and the Phosphoric cave. Moreover, you will also visit few other interesting locations such as smaller bays and sea caves in order to enjoy some time there and have some fun with your friends or family.
As we want to offer you a memorable experience, this boat trip is designed to combine comfort and pleasure at the same time. For this reason, during the boat trip you will have the chance to enjoy a freshly made and delicious lunch. The meal is able to satisfy every individual taste and preference as it is made with fresh local ingredients. More specifically, the lunch includes BBQ chicken, pasta and salads to get the necessary energy needed and continue with the boat trip.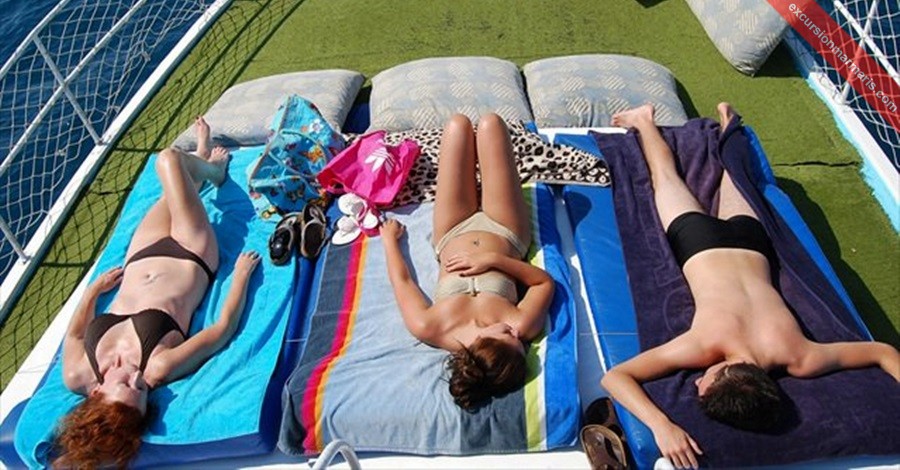 This boat trip takes you and your friends or family away from the crowds and offers you the opportunity to enjoy a joyful, pleasurable and memorable day full of laughter. As there are no restrictions regarding participation, this full day activity is ideal for people of all ages. In what regard families, the boat trip is characterized as children friendly. The professional crew of the boat is ready to entertain your kids while you enjoy the sun and relax. Quizzes, games, competitions and storytelling are some of the activities available for kids. In addition, the English speaking crew of the boat will provide any assistance you and your kids may need. Therefore, there is nothing to worry about bringing your kids to this excursion.
Icmeler Boat Trip is an activity ideal for all as it combines relaxation and excitement in an all in one package. The price includes two-way transfer service from and to your hotel in Icmeler and a full insurance for the whole duration of the excursion. In addition, the price includes a boat trip with English speaking crew and a delicious lunch served aboard. Please note that drinks, tips and other personal expenses are not included in the price.
Firstly, as this is a boat trip that included multiple swimming stops, please remember to bring your own swimsuit and towel. Secondly, do wear comfortable and light clothes and shoes in order to enjoy the most of your full day excursion without any inconvenience. Thirdly, sailing under the sun for few hours can cause burns to your skin. For this reason please remember to use a protective sun cream, sunglasses or a hat. Finally, do bring a camera to capture the fun moments and snap some beautiful photos of the unspoiled bays.