Icmeler to Pamukkale Excursion
Pamukkale is one of the most popular tourist attractions in the country. Every year thousands of people choose to visit this breath-taking site to admire its unique natural beauty and enjoy the therapeutic benefits of the area's thermal springs. Pamukkale is characterized as an UNESCO site of world heritage and visiting this location will offer you unique images, positive feelings and memories that will last forever.
Distance between Icmeler and Pamukkale
Pamukkale is located at a distance of 210km away from Icmeler. For the purposes of this full day excursion, a comfortable bus will pick you up from your place of accommodation in Icmeler and drive you there. The road trip is almost 3 hours however, the members of our team will make sure that you enjoy a pleasurable and joyful experience. During the road trip, you can observe charming villages of the countryside and views over the mountains. In an effort to relax from the road trip, a breakfast stop is also part of the schedule.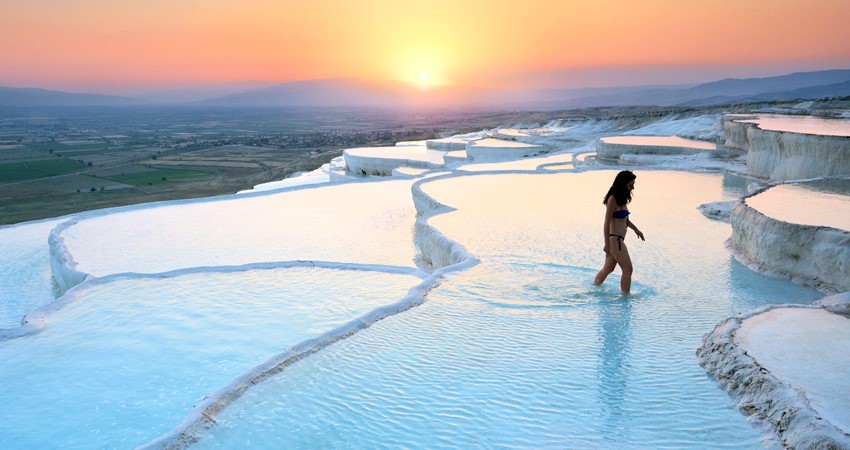 The Calcium Terraces (Cotton Castle)
As you approach Pamukkale, the first spot to visit is the infamous Cotton Castle. This majestic and imposing white washed mountain features a backdrop that comes out of a fairy tale. Naturally shaped terraces filled with thermal water, as well as stalactites and stalagmites create a truly spectacular effect like no other. With this tour, you have the opportunity to visit this impressive mountain and spend some time there. During this time, you may walk around the terraces and feel the great energy that have. Furthermore, you may swim into the thermal water or snap some photos. An interesting highlight is that, local people call it Cotton Castle as it looks like a giant cotton load.
Pamukkale is also famous for having some interesting and important archaeological sites. The ancient city of Hierapolis used to be an important settlement during the ancient Greek and Roman times. You visit there enables you to observe the ruins of the houses, temples, an ancient theatre, a necropolis and roman baths. As you stroll around the site, the tour guide will offer you a detailed briefing regarding the history and the importance of the place. The tour takes you also to the antique thermal pool in Pamukkale. Also known as the Cleopatra's Pool, this location is popular for the therapeutic benefits of the water. If you wish, you can enter and swim there at an extra cost.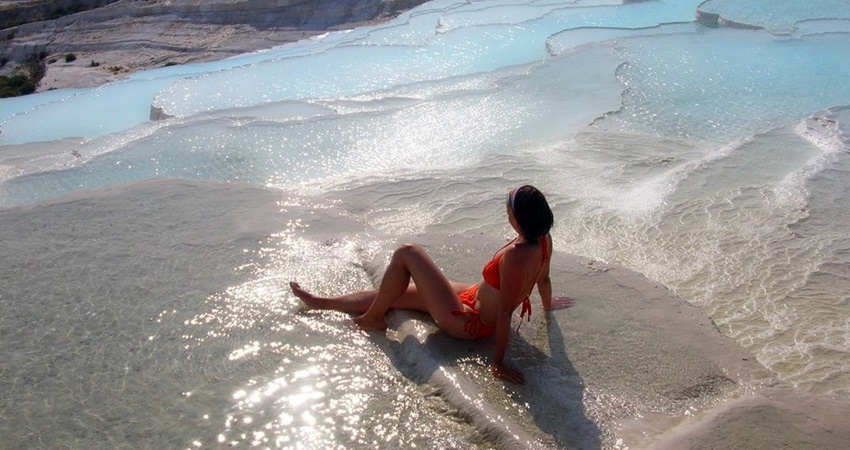 The Icmeler Pamukkale Tour is a full day excursion of almost 12 hours. Our aim is to offer you a great experience while exploring the most known and interesting sites of Pamukkale. For this reason, a professional English speaking guide will be there with you. The guide will welcome you in the bus and make sure that you have everything you need for an incredible excursion. In addition, the experienced tour guide will offer interesting descriptions about the places you are about to visit with this tour. Feel free to ask more information regarding the sites and let the guide know if you need any assistance.
Get away from the crowds and spend a day full of spectacular images and unlimited relaxation. The Pamukkale Tour starts from Icmeler during the morning and promises to offer you long lasting memories. The excursion is ideal for people of all ages and covers a wide range of interests. Although there are no special restrictions regarding participation, people experiencing walking difficulties are not allowed to join. The tour is also characterized as children friendly. Relax and enjoy the vibes of this tranquil landscape and let your kids have fun and learn the history of the area.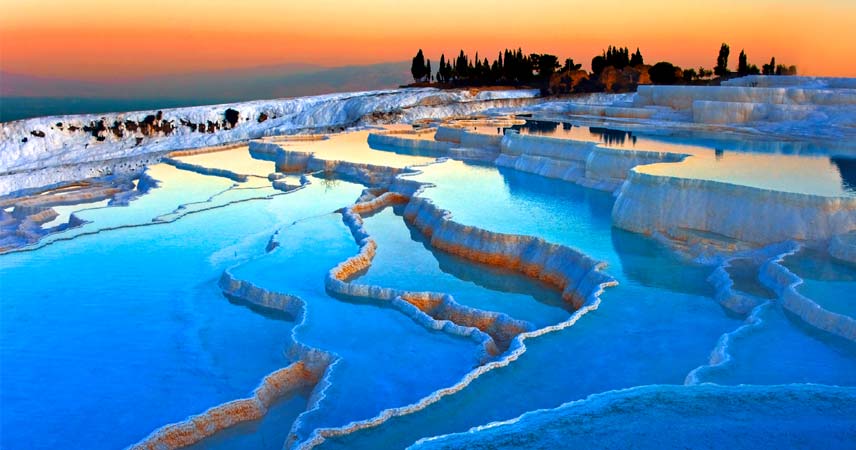 This full day excursion has an approximate duration of 12 hours. The members of our team designed the schedule in such way to combine relaxation, excitement and sightseeing. The price includes pick up and drop off service from and to your hotel in Icmeler. All the necessary transfers and a full insurance are also part of the price. Furthermore, the package includes a guided tour, breakfast and lunch. Please be aware that drinks, all entrance fees and other personal expenses are not included in the price.
If you wish to swim into the ultra-beneficial thermal springs, please bring your own swimsuit and towel with you. Comfortable and light clothes and shoes are musts for this excursion as it involves a lot of walking during the exploration. In Pamukkale there are high temperatures during the summer months. For this reason please wear a hat or sunglasses and a protective sun cream. Last but not least, bring your own camera during this excursion in order to snap some beautiful photos and film some fun videos of your and your loved ones.