Salda Lake & Pamukkale Tour From Icmeler
The Icmeler White Tour ensures a day full of fun, excitement, adventure and sightseeing. It is the ideal option for those wishing to explore some stunning locations of impeccable beauty and relax their mind. The White Tour includes visits at the infamous Salda Lake and at Pamukkale's most known spots such as the Cotton Castle and Hierapolis. This full day excursion combines sightseeing with relaxation and is able to offer you long lasting memories from your holidays.
This excursion is designed to offer you relaxation, sightseeing and exploration with the maximum possible comfort. For this reason, the tour is ideal for people of all ages as it covers a wide range of interests. More precisely, participation is ideal for nature lovers and for those who wish to relax their mind by releasing the stress. It is also a great option for those who seek an alternative sightseeing away from Icmeler. However, for safety reasons, people experiencing walking disabilities are not allowed to participate.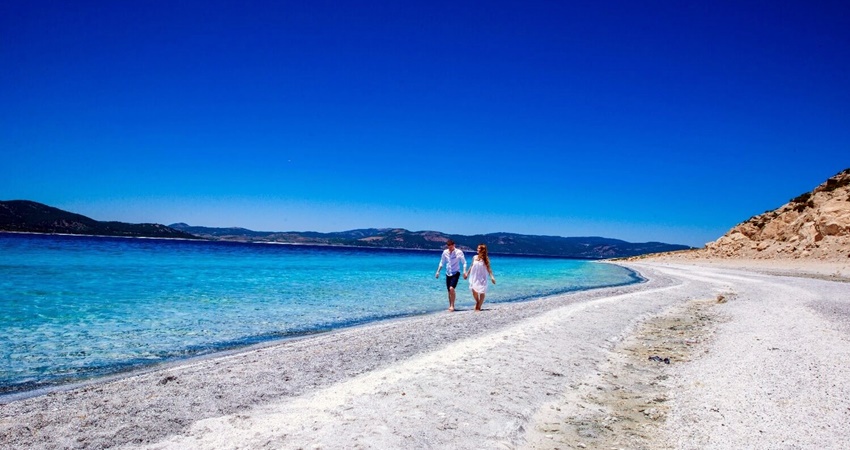 In an effort to offer you a truly unique experience, a professional and fully licenced tour guide will accompany you during this full day tour. The English-speaking guide will provide interesting descriptions about the places of interest. In addition, the guide will be in charge to assist you in case you need.
For your own comfort, the Icmeler White Tour includes a two-way transfer service from and to your hotel. A full insurance and a guided tour from a professional English-speaking guide are also included. The price includes also a breakfast and lunch. Please note that, drinks, all entrance fees and personal expenses are not included in the price.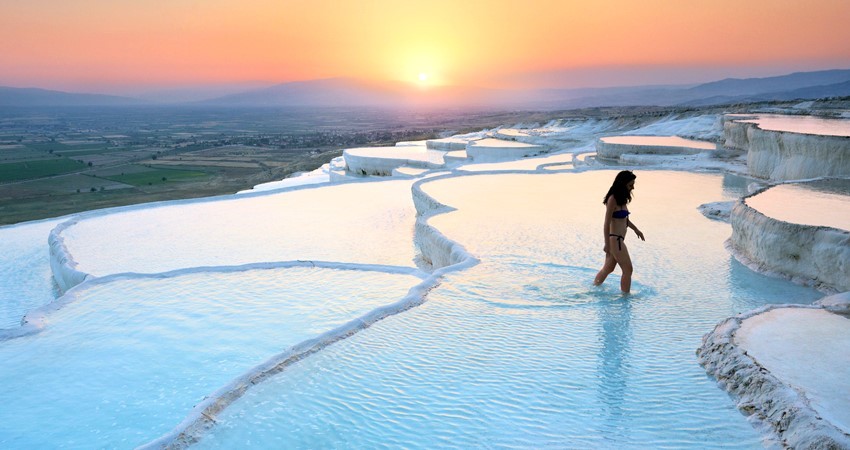 Distance between Icmeler and Salda Lake
On a prescheduled time, during the early morning hours, a fully air conditioned and comfortable bus will pick you up from your hotel in Icmeler. The road trip has an approximate duration of 3 hours. However, you will be able to observe some charming towns and villages, as well as the countryside of Icmeler. The professional driver and the tour guide will make sure that your road trip is comfortable and enjoyable by including a breakfast stop.
Please bring your own swimsuit and towel if you wish to swim into the thermal springs. A sun cream and a hat or sunglasses are also recommended. As this is a full day tour, participants are advised to wear comfortable clothes and shoes.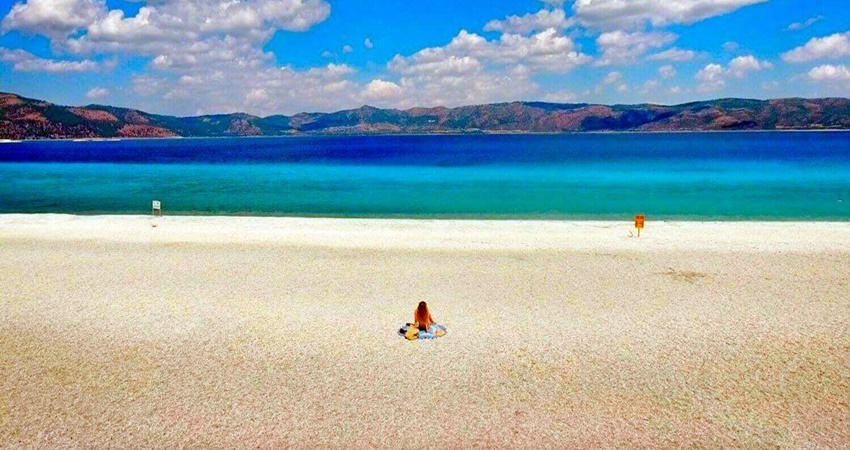 The first stop of the tour will take place at Salda Lake which is also known as the Turkish Maldives. The lake has an incredible combination of turquoise waters with white shores. The exotic scenery will take your breath away with its unique beauty. Do not forget to snap some impressive photos of this location.
After visiting the lake, the bus will drive you to Pamukkale. There, you can visit the Cotton Castle with the famous calcium terraces. These terraces are filled with thermal water which is known for its therapeutic benefits. During your time in Pamukkale, you will also visit the ancient city of Hierapolis. You will be guided towards the most interesting and important ruins of the city and listen to its history.