Icmeler Quad Safari Tour
If you are searching for an activity that offers you the opportunity to explore nature while experiencing some adrenaline boosts, search no more. The Quad Safari is a 3-hour activity ideal for people of all ages. For the purposes of this activity, you will arrive to the quad bike station in the countryside and immerse yourself into the amazing world of off road driving with quad bikes. Dusty, muddy and wet road with several physical obstacles are among the things you should expect during this experience. An interesting highlight is that the quad safari terrain is a private land of 40 acres. Increase your excitement levels, have some fun with your friends or family and admire some spots of unparalleled natural beauty with the Icmeler Quad Safari excursion.
If this is your first time driving a quad bike, there is absolutely nothing to worry about. Quad bikes are easy to drive and control and require no prior driving experience. Once you arrive at the station, an introductory welcoming briefing follows. In total, this briefing lasts for 30 minutes. Professional and fully licenced quad bike instructors will explain to you everything you need to know about how to drive and control the quad bike. After the briefing, you will have some time to practise driving and experience from first-hand how the quad bike works. Feel free to ask the professional instructors anything or let them know if you feel unsecure about driving the quad bike.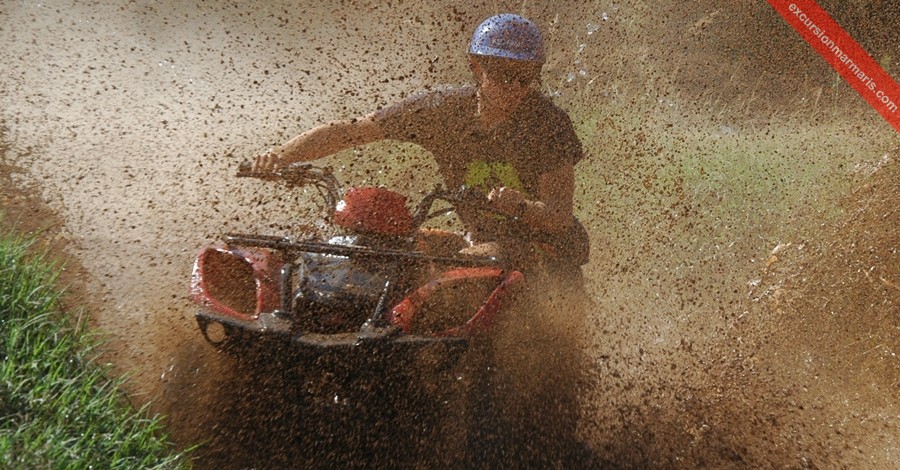 Icmeler Quad Safari is designed in such way to offer the maximum excitement with the maximum safety. This activity is characterized as safe for all due to the high standards of safety applied. More specifically, the quad bikes are new and well maintained and meet all the safety requirements set the regulating authorities. During the introductory briefing, the professional instructor will demonstrate how to used properly the safety equipment and let you know about the basic safety procedures. In addition, the instructor will accompany you during the safari in order to provide assistance if needed. Please note that a full insurance is included so that you can enjoy this experience at its maximum.
The Icmeler Quad Safari is a half activity able to boost your adrenaline levels and offer you long lasting memories. It is available on a daily basis, including weekends and the area where the safari takes place is located 30 minutes away from the centre of Icmeler. Please note that as this is an outdoor activity, it requires good weather conditions. For this reason the Icmeler Quad Safari is available from April until October.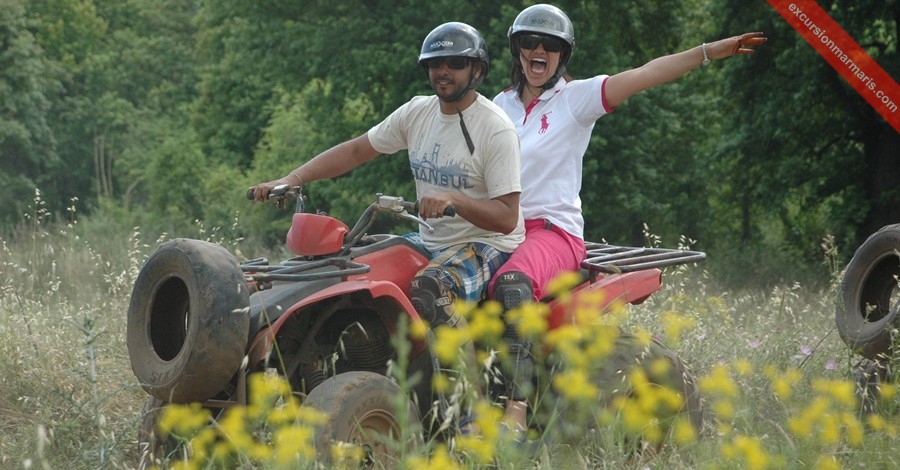 Quad Safari is an amazing alternative outdoor activity that you can join during your holidays. It is ideal for people wishing to explore the truly beautiful natural setting of a forest with water streams and muddy paths. It is also an amazing opportunity to have some fun with your friends and create long lasting memories. In general, this activity is ideal for people of all ages and requires not prior experience. Also, there is no need for driving license. However, due to safety reasons, people experiencing physical disabilities and pregnant women are not able to participate.
Join this magnificent activity and spend 3 hours full of fun, laughter and excitement. The Icmeler Quad Safari includes two-way transfers from and to your hotel in Icmeler. The transfers are made with fully air conditioned and comfortable vehicles. A full insurance and an introductory briefing from an English speaking instructor are also included. All the necessary equipment is also part of the price. Please note that food, drinks, tips, professional photos and videos, and other personal expenses are not included in the price.
In an effort to enjoy the most of this experience and meet the safety requirements, please wear comfortable and light clothes. It is also important to wear comfortable and close shoes that are ideal for driving, such as trainers. As the off road quad driving will be through some wet and muddy paths, please bring with you a towel and a set of dry clothes to change if needed. The area has high temperatures during the summer months, so please bring with you a sun cream, sunglasses or a hat to protect yourself.