Rafting in Dalaman River From Icmeler
During your vacations in Icmeler, you can join some alternative activities that will boost your adrenaline levels, relax your mind and offer you unique memories. One of these activities is the rafting experience in the foamy waters of the Dalaman River. The Icmeler Rafting tour is an incredible way to get away from the crowds, experience from first-hand the tranquil setting of the river, and have some fun moments with your friends or family. Dalaman River is the ideal place to practise rafting as it has an amazing flow and structure that allows multiple rapids of different difficulty levels.
Icmeler Rafting is a full day excursion that takes place on a daily basis. The tour begins in the morning and has an approximate duration of 12 hours. On a morning time, we will pick you up from your place of accommodation in Icmeler with a comfortable vehicle. After a 90-minute road trip and a you will arrive at the rafting station at the banks of Dalaman River. The duration of the rafting experience is almost 3 hours. In the meantime, you will visit a riverside restaurant to enjoy a lunch. After 3 hours of rafting, you can enjoy swimming and cliff jumping at a truly spectacular location while driving back to Icmeler.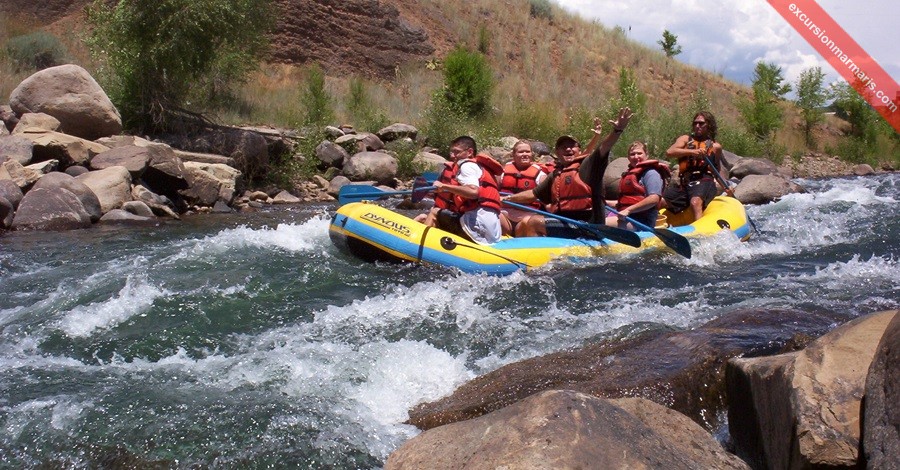 Rafting in Dalaman River is an experience not to be missed. The rafting is characterized as a safe activity as it meets all the requirements set by the relevant regulating authorities. More precisely, when you arrive at the rafting centre, professional instructors will demonstrate the basic safety procedures and how to use properly the safety equipment. In addition, the instructors will accompany you during the rafting so that they can provide assistance if needed. Please note that a full insurance is also included in the price as we want you to enjoy this experience without any worries.
Rafting in the splashing and foamy waters of the Dalamar River is surely an experience that gives you some extra adrenaline boosts. Excitement is perfectly paired with nature exploration in this incredibly thrilling rafting session. For safety reasons, there are some restrictions placed regarding participation. Firstly, the minimum age for participation is 16 years old. Secondly, people experiencing physical disabilities are not allowed to join. Finally, for safety reasons pregnant women are restricted from participating in this rafting experience.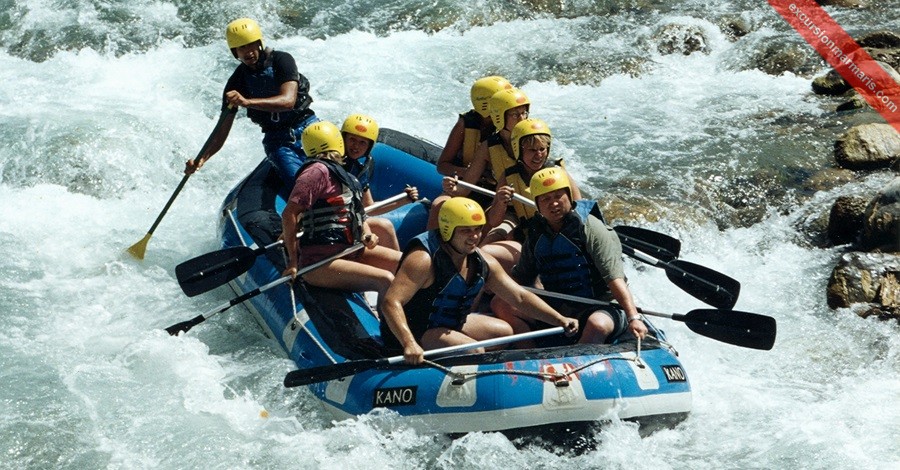 If you are interested in joining the Icmeler Rafting full day excursion, but never experienced rafting before, there is nothing to worry about. In fact, there is no need for any previous experience. When you arrive at the rafting station at the banks of the river, professional and experienced instructors will welcome you. They will offer an introductory briefing, which includes and explains all the important information. During this briefing, you may ask anything you need to know about how to raft or for the experience in general. In case this is not the first rafting session you join, you can ask the instructors for an advanced level of difficulty so that you can enjoy more.
We have design this full day excursion in order to offer you both, relaxation and excitement. For this reason the price includes a pick-up and a drop off service from your hotel in Icmeler. A full insurance, a lunch are also included in the package. Moreover, the price of this activity includes an introductory briefing with instructions by an English speaking instructor and all the necessary equipment. Please note that drinks, tips, photos and other personal expenses are not included.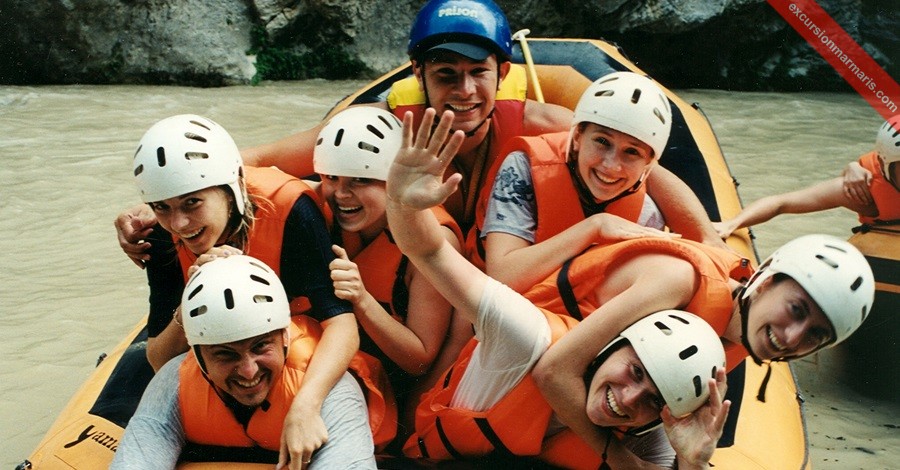 Due to the high standards of safety that this activity has, you will not be able to use your camera during the 3 hours of rafting. However, as we want you to enjoy this experience at it maximum and create some long lasting memories, the professional instructors will also be in charge to capture the fun moments of this activity. By the end of the rafting experience, when you return back to the station, you will be able to preview these videos and photos. If you wish, you can purchase them at an extra cost.
Please wear your swimsuit and bring a towel for this activity. In addition, you will also need to wear t-shirt under your lifejacket so do not forget to bring one. It is important also to wear comfortable close shoes that can be worn in the water. Please avoid flip flops and slippers. In addition, bring a sun cream, a hat or sunglasses to be protected from the high temperatures of the summer months. Another important thing to mention is that, you need to bring dry clothes to change by the end of the rafting session as your clothes will be wet when you return back to the station.