Icmeler Snorkeling Tour
Icmeler Snorkeling Tour is available from Icmeler every day and begins during the morning. With an approximate duration of 8 hours, this tour enables you to spend some quality time with your friends or family, while exploring the beautiful coastline of Icmeler. The area is ideal for this activity as Mediterranean Sea is able to take your breath away with its exquisite and tranquil scenery. What makes snorkelling in Icmeler a must activity is the variety of colourful fishes one can observe. As you explore the azure waters, you may observe striped goatfishes, swordfishes, turbots and many others.
Icmeler Snorkeling Tour Itinerary
This full day snorkelling boat trip begins during the morning. Members of our team will pick you up from your place of accommodation during the morning. A comfortable and modern vehicle will transfer you to the port, from where the boat departs. The schedule of this excursion includes an unforgettable boat trip towards Icmeler's most beautiful bays and swimming spots. As this is a snorkelling tour, the boat will stop several times so than you can jump into the sea and observe the amazing underwater world. During the boat trip you can sunbathe on the spacious deck and relax by hearing the splashing water.After spending few hours sailing into the magnificent coastline of Icmeler, the boat will return back to the port. A car will then transfer you back to your hotel full of memories.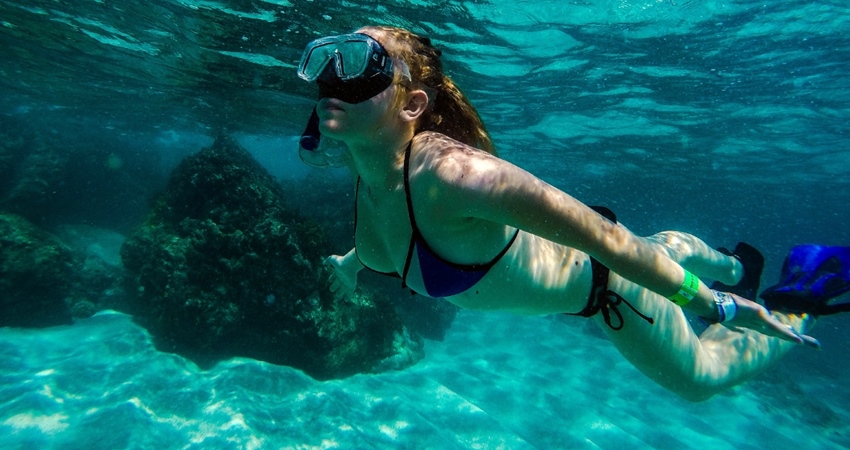 Icmeler Snorkeling Tour is an amazing excursion for people of all ages. Among the most interesting highlights of this full day excursion is that it combines perfectly fun and adventure in a really relaxing setting. During the boat trip you can relax on the boat and admire some nice views over the sea. Furthermore, at every stop you can jump into the sea and have some fun moments with your friends while swimming into the crystal clear waters. Snorkelling and observing what's under the surface can offer you some extra adrenaline boosts. Thus, this tour is also ideal for nature lovers and for those who seek an extra touch of adventure during their holidays.
For the purposes of this tour you will travel with a spacious and fully equipped boat. During sailing, and as the boat approaches the first swimming spot, the English speaking crew of the boat will distribute the snorkelling equipment to you. More specifically, you can make use of the breathing tubes, diving masks and swim fins. Therefore, there is no need to bring your own equipment for this boat trip. It is also important to note that, you can also find lifejackets and first aid kits in the boat.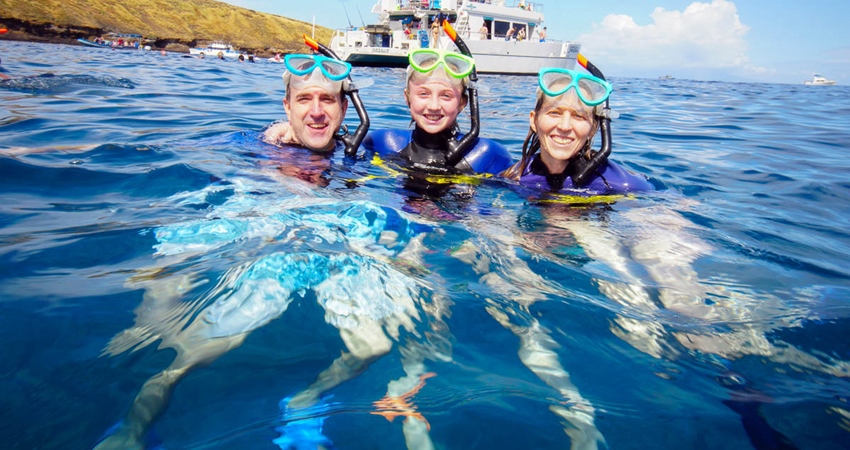 Snorkelling is a safe activity given that certain requirements are meet. This particular boat trip enables you to experience snorkelling and admire the beauty of the sea. The boat undergoes regular checks and meets all the safety standards. In addition, it is fully equipped with life jackets, first aid kits and has well maintained snorkelling equipment. If you wish to snorkel, but you have no prior experience there is nothing to worry about. The boat's professional crew can explain to you everything you need to know and give you instructions on how to enjoy snorkelling.
Everyone can join this fun, adventurous and relaxing snorkelling tour in Icmeler. In what regards participation, there are no special restrictions. This is because non-snorkelling participants can join too. The boat takes you towards some incredible and unspoiled bays. Therefore, even if you are not interested in snorkelling, you can still join and visit some spots of unparalleled natural beauty. Please note that, kids who wish to experience snorkelling should be able to swim and accompanied by an adult. In addition, in what regards children, a life jacket is obligatory during snorkelling for safety reasons.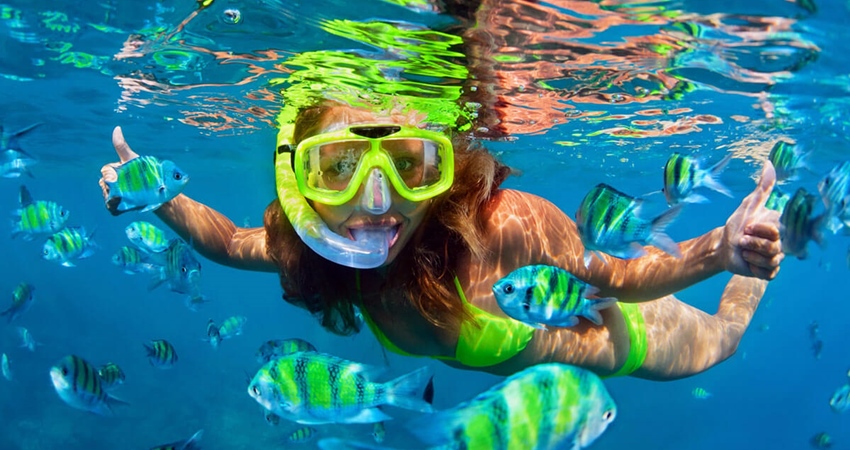 This 8-hour snorkelling boat trip in Icmeler is designed to offer you the maximum pleasure with the maximum safety. For this reason a two-way transfer service from and to your hotel in Icmeler, and a full insurance are included in the price. All transfers are made with comfortable and fully air conditioned cars. The price of the package includes also the boat trip ticket, snorkelling instructions given by the English speaking crew, full snorkelling equipment and a lunch served aboard. Please note that drinks, tips and other personal expenses are not included in the price.
Please bring your own swimsuit and towel during this snorkelling experience. In addition, it is important to wear comfortable and light clothes and shoes during the boat trip. In Icmeler, during the summer months, there are high temperatures able to cause sunburns. A sun cream, a hat or sunglasses are necessary to protect yourself during the 8-hour tour. Do not forget to bring your cameras there will be many fun moments and nice views to capture.