Icmeler Aqua Dream Waterpark
Aqua Dream Waterpark From Icmeler
This activity is available on a daily basis, including the weekends. The Aqua Dream Waterpark is the largest of its kind in the area. With a variety of slides, pools and water-related activities, this facility is the ideal place for people wishing to spend a day full of fun, laughter and excitement. The waterpark combines a peaceful and an adventurous atmosphere which makes it the ideal place for people of all ages. It is important to note that the facility has cafeterias, bars and restaurants where you and your friends or family can enjoy refreshing drinks or tasty meals. With this full day tour you have unlimited access to all the slides and pools so that you can spend a fun and memorable day.
This full day excursion to Aqua Dream Waterpark aims in offering you a special combination of relaxation and excitement. When you arrive there, you will have a day free of schedule so that you can create your own plans according to your preferences and needs. Inside, you can find a variety of slides to drive your enthusiasm and excitement. Those wishing to experience some adrenaline boosts, there are high speed, full loop and almost vertical slides. Alternatively, there are relaxing slides where you can enjoy the smooth flow of the water.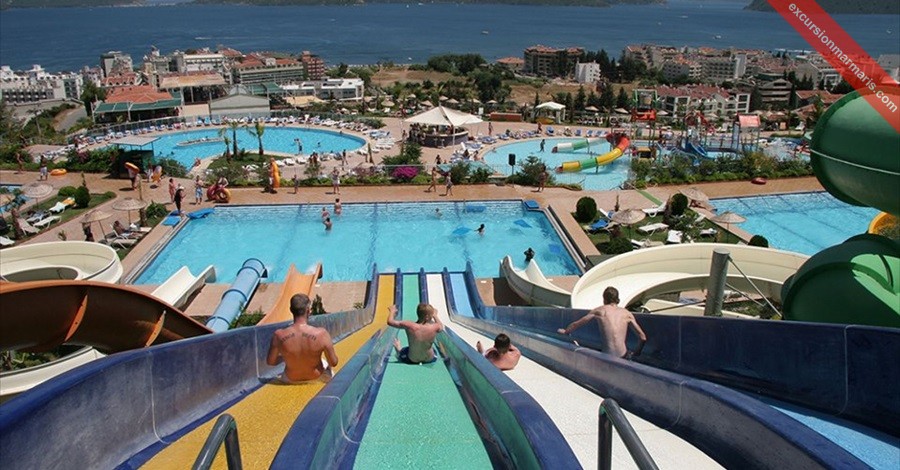 Aqua Dream Waterpark has also many pools where you can spend your time. The most popular and thrilling one is the wave pool, where people enjoy swimming with a real wave simulation. If you seek some relaxation, there are pools with comfortable sunbeds and lounges where you can enjoy reading your book or drink a refreshing drink.
Choosing to spend your day at Aqua Dream Waterpark can be seen as ideal for people of all ages. Adults can enjoy some excitement in the high speed slides and increase their adrenaline levels. When it comes to families, this activity is children friendly. The facility has specially designed shallow pools ad slides ideal for kids. Moreover, well trained and experienced life guards are there to assist you and your children. Except from the pools, Aqua Dream has playgrounds where your children can enjoy playing and interact with other kids. It must be noted that, all slides, pools and playgrounds meet all the safety requirements.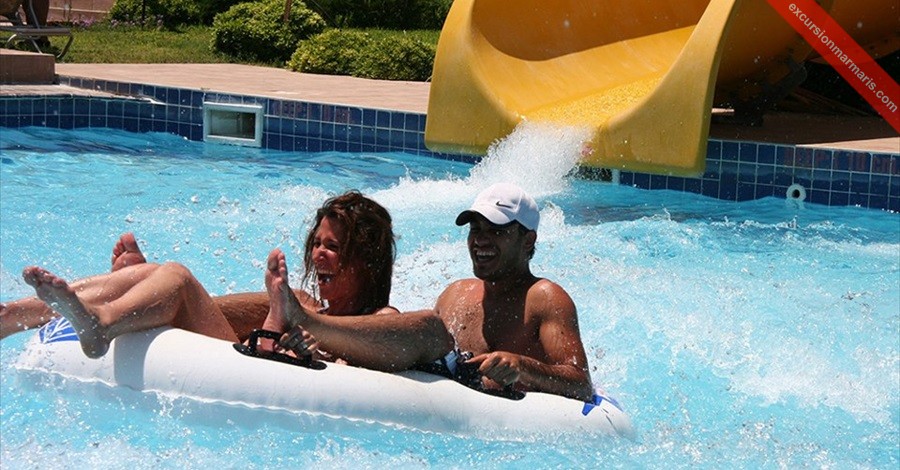 Spend a day full of fun and laughter by joining the Aqua Dream Waterpark excursion. This activity is ideal for people of all ages and covers a wide range of interests. It can also be characterized as a children friendly activity due to the high standards of safety that has. Although there are no special restrictions regarding participation, participants should be aware that certain slides and pools are not designed for all. For example, pregnant women and people experiencing physical disabilities are not able to use to high-speed slides. Please consult the professional staff of the waterpark regarding the rules governing each slide and pool.
This excursion to Aqua Dream Waterpark includes a two-way transfer service from and to your hotel in Icmeler. The entrance fee, a day pass for all the slides and pools, and a full insurance is also included. Please note that drinks, food, and other personal expenses are not included in the package price.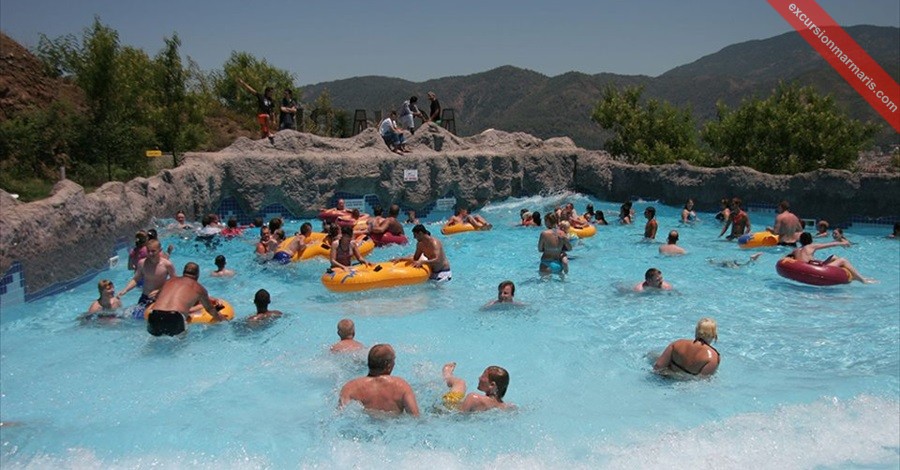 Distance between Icmeler and Aqua Dream Waterpark
Icmeler is located at a distance of 10km away from Marmaris. Due to the close proximity between the two popular summer destination, visitors often join activities in both resorts. Especially when it comes to Marmaris, holiday makers are able to find a plethora of activities and excursion that are available. This full day excursion from Icmeler to Aqua Dream Waterpark is one of the most popular options. For the purposes of this activity, a transfer service is included. A comfortable vehicle will pick you up from your hotel in Icmeler and drive you towards the waterpark.
In an effort to enjoy the most of this experience, do not forget to wear your own swimsuit and bring your towel. Please also be aware of the high temperatures in Marmaris during the summer months. For this reason please bring a sun cream, sunglasses or a hat with you. To capture all the fun moments do not forget to bring your camera.