Icmeler Atlantis Waterpark
One of the most exciting and fun activities to join while in Icmeler is to visit the Atlantis Waterpark. The facility is located in Marmaris, just few kilometres away from Icmeler. Atlantis is a relatively small waterpark in contrast to the others. However, it is listed among the most well maintained and updated facility in Europe. With an incredible variety of pools and slides, Atlantis waterpark is a pole of attraction for both, locals and visitors. It is the ideal place to release the stress, set your mind free, and spend some fun moments with your friends or family. This excursion offers you the opportunity to visit Atlantis Waterpark from Icmeler and create some long lasting memories.
Although not really big, Atlantis Waterpark achieves to make you feel super excited and thrilled once there. When you enter the waterpark, you are free to spend your day as you wish and according to your interests. Inside, you can find a variety of slides, from relaxing to adrenaline boosting. If you seek some excitement, the waterpark has high-speed and almost vertical slides where you can boost your enthusiasm. If you are looking for a more relaxing setting, the waterpark has pools with comfortable sunbeds where you can enjoy swimming and tanning. One of the most interesting highlight of the waterpark is the wave pool where a simulator recreates real waves.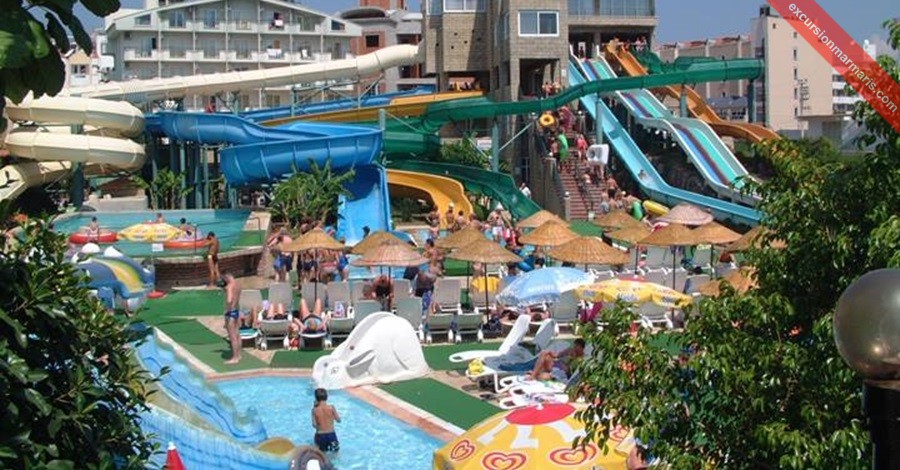 This excursion takes to visit the Atlantis Waterpark, one of the best waterpark in the country. This full day excursion is an ideal opportunity to get away from the crowds and take a break between sightseeing. Except from the pools and slides that the waterpark has, visitors can take advantage of other facilities and services that are found inside. For example, Atlantis waterpark has many bars, cafeterias and restaurants. There you can enjoy refreshing drinks and cocktails by the pools or have a tasty meal.
Visiting Atlantis waterpark is a safe activity for all. The facility has specially trained and experienced employees who are able to assist you at any issue. The employees are also in charge of your safety and make sure that you use the pools and the slides properly. In relation to safety, please note that Atlantis Waterpark has English speaking life guards in every pool and slide. The facility meets all the safety requirements set the by regulating authorities. The slides, pools and the water undergo regular checks in relation to safety and hygiene.
Atlantis waterpark is a great place to visit and spend you day if you wish to create memories. It is also the place to be if you wish to experience some excitement, fill your day with laughter and relax away from the crowds. The waterpark is characterized as a children friendly facility due to the high standards that are met. In addition, the facility has shallow pools and specially designed slides for the kids so that they can have fun and swim in a safe and protected area. Playgrounds are also available for the kids close to the adult pools. Relax and enjoy the sun, while your kids are having fun in Atlantis Waterpark.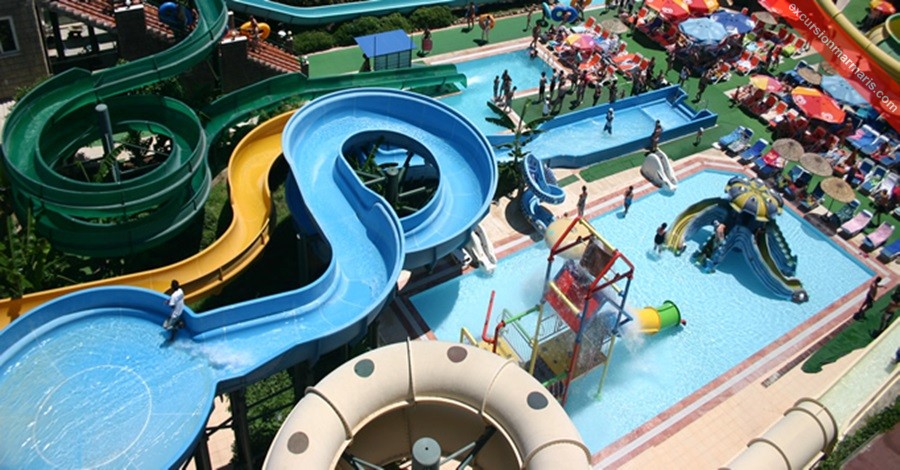 Visit one of Europe's most well maintained waterparks and spend a day full of fun with your loved ones while on holidays. Atlantis Waterpark is a full day excursion from Icmeler that is available on a daily basis. For your own comfort, a two-way transfer service from and to your hotel in Icmeler is included. The price includes also a day pass, with which you can enjoy unlimited access to all the slides and pools of the facility. Please note that food, drinks, tips and other personal expenses are not included in the price.
As we want you to enjoy the most of this ultra-fun experience, please do not forget to bring your swimsuit and your towel. Avoid wearing or bringing any precious item, such as jewelleries. Personal lockers are available upon entrance at an extra cost. In addition, the area has high temperatures during the summer months. For this reason please bring a sun lotion, a hat or sunglasses. Participants are advised to wear comfortable and light clothes and shoes during this excursion to Atlantis waterpark.