Marmaris All Inclusive Boat Trips
As Marmaris is a seaside city, joining a boat trip during your time there is a must. Boat trips are among the top activities as they allow participants to explore secluded bays around the city, relax in an astonishing setting and admire the beauty of nature. In addition, boat trips are the perfect getaway from the crowds. The Marmaris Boat Trip is an all-inclusive full day activity that is able to upgrade your vacations. It takes place on a daily basis during the morning and is able to offer you long lasting memories and an unforgettable exploration of the Aegean Sea.
With an approximate duration of 7 hours, this all-inclusive boat trip departs from Marmaris during the morning. In order to enjoy the most of your experience, several swimming stops are included. The stops will take place at some of the most known bays and coves of Marmaris. These spots are known for their unparalleled natural beauty, unspoiled setting, crystal clear waters, and for their picture-perfect landscape. Among others, during this boat trip, you will have the opportunity to visit and swim at the Fish Bay, the Aquarium Bay, the Paradise Island, the Phosphorus Caves and the Kumbuluk Bay.In these stops, you can jump into the sea and enjoy a refreshing swimming session or take some beautiful photos with an impeccable backdrop.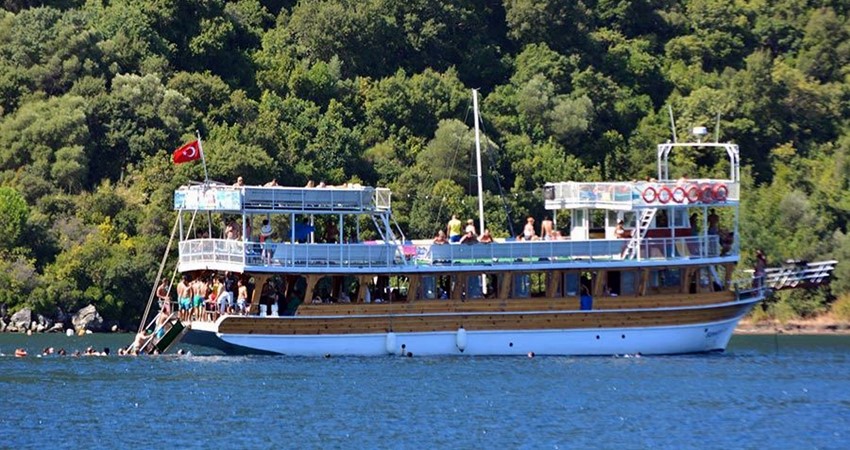 Our boat tour is definitely what you need if you seek to combine relaxations, excitement and exploration. Except from the amazing route that the boat will follow around some of the most famous bays and coves around Marmaris, another interesting stop is also included in the schedule. More specifically, in between the swimming stops, the boat will stop at Turunc village. This small settlement that used to be a traditional fishing village, it was transformed into a charming and cosmopolitan summer resort. There, you will have some free time to explore the village by strolling into the charming streets or by visiting the local bazaar.
This full day boat trip from Marmaris is the ideal excursion for all. It is also characterized as a children friendly boat trip. The experienced personnel of the boat are ready to entertain your children and offer them an ultra-fun and exciting time during the cruise. Thus, if you are a family interested in joining this boat trip there is nothing to worry about. On out boat there are entertainment options, quizzes, games and several contests for our little friends. Allow yourself to relax on the deck, sunbathe on the comfortable sunbeds and enjoy a refreshing cocktail at the boat's bar as your children are having fun.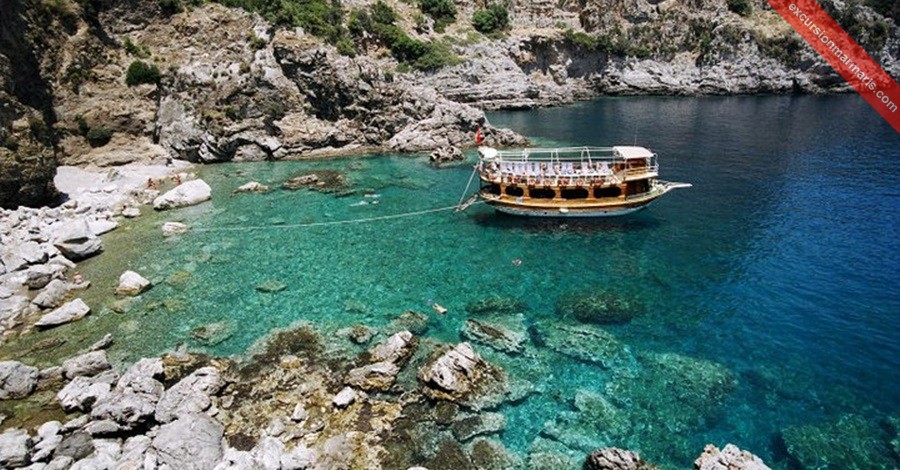 The Marmaris Boat Trip is specially designed to offer you 7 hours of relaxation, pleasure and excitement. In an effort to create the ideal atmosphere, the members of our team combined safety and comfort in an all in one package. Firstly, this boat trip includes a two-way transfer service from and to your hotel in Marmaris. Secondly, for your own safety, a full insurance is included in the price. Thirdly, this full day boat trip is characterized as an all-inclusive excursion. More precisely, the price of the boat trip includes a delicious BBQ that will be served aboard. Throughout the duration of your boat trip, you will be able to consume unlimited quantities of soft drinks, tea and coffee. Please note that, all alcoholic beverages, tips and personal expenses are not included in the price.
Although there are not special restrictions placed in this amazingly exciting boat trip around Marmaris, participants should be aware of few important details. Firstly, you need to bring your own swimsuit and towel for this boat trip. You will also need comfortable clothes and shoes, as they will allow you to move freely and enjoy your time. Secondly, due to the high temperatures in Marmaris during the summer time, please also bring a sun cream, hat and sunglasses in order to avoid sun burns. Finally, do not forget to bring your camera in order to snap some photos of the beautiful bays that you are about to visit during the boat trip.  
Explore Bays & Islands Around Marmaris
It is not a coincidence that Marmaris is one of the most popular resorts for summer holidays in Turkey. The city has an exceptional ability to upgrade and enhance your vacations by combining everything you need for pleasurable, entertaining and relaxing time. More specifically, Marmaris has a plethora of beaches, sightseeing opportunities and beautiful landscapes to explore. In what regards the activities offered there, you may find multiple things to do irrespective if you are a solo traveller, a family or a group of friends. However, it must be noted that, joining a boat trip is probably the best way to explore Marmaris.