Marmaris Horse Safari
Is Marmaris ideal for horse riding?
The Horse Safari is a half-day excursion that takes place on a daily basis. With an approximate duration of 3 hours, this ultra-relaxing and fun activity, offers you the opportunity to ride a horse in the beautiful countryside of Marmaris. The area where we organize the activity one of the best available in the region. During the horse safari, participants are passing through vineyards, pine trees, and lush vegetation with beautiful flowers. The narrow countryside paths, along with the previously mentioned spectacular backdrop make Marmaris an ideal place for a relaxing horse riding experience.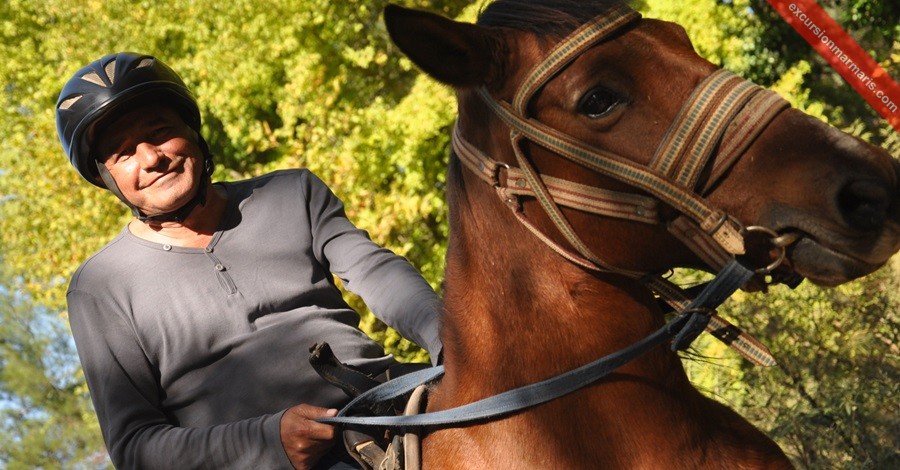 This half-day relaxing activity is completely safe. Upon arrival at the horse ranch, you will have the opportunity to meet the professional horse riding instructors. After a warm welcoming, the instructors will provide an important introductory briefing on how to ride a horse and about the basic safety procedures. It must be noted that, the horses used for this activity as well trained and friendly with humans. During the activity, you will also be accompanied by a professional instructor who will be in charge to assist you in case you need.
Who is eligible to participate?
The horse safari is an ideal activity for people of all ages. However, for your own safety, it must be noted that people experiencing physical disabilities are restricted from participating. Furthermore, this activity requires no prior experience. Thus, if this is your first horse safari experience there is nothing to worry about. Professional horse riding instructors will demonstrate how to ride a horse, and how you should behave and interact with this intelligent animal.
Horse Safari in Marmaris is characterized as a children friendly activity. Horse riding, in general, is associated with multiple positive impacts on the health and the mentality of a person. In what regards the children, horse riding can improve the position of the body and help children maintain a healthy lifestyle. In addition, horses are able to create positive feelings and assist the mental processes of a child. It is important to mention that, children under the age of 8 are able to participate free of charge. However, please note that in this case the child should be accompanied by an adult parent. Finally, this particular activity meets all the safety requirements for children.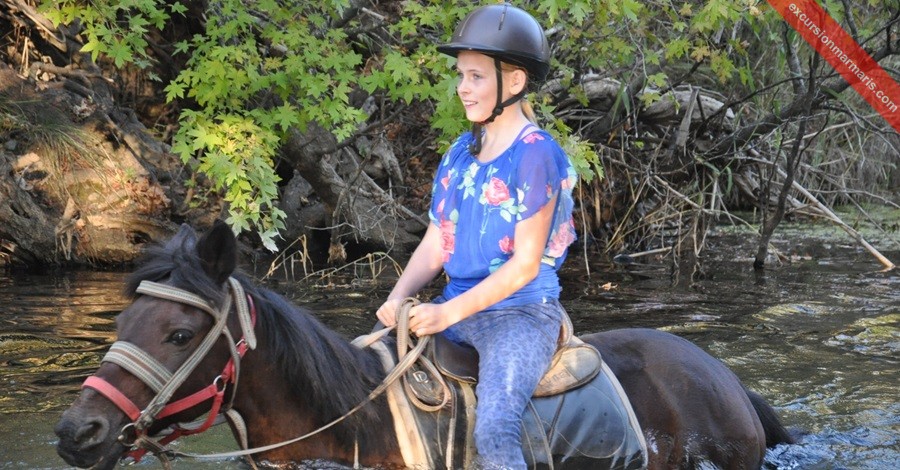 This half-day Horse Safari in Marmaris has an approximate duration of 3 hours. For your own comfort, the price includes a two-way transfer service from and to your hotel in Marmaris. In order to make you enjoy the most of your experience, a full insurance and all the necessary safety equipment is also included in the price. Moreover, the package price includes also an introductory briefing with important instructions, a 1-hour horse riding session and an English speaking guide. Please note that, food, drinks, photos and other personal expenses are not included in the price.
The 1-hour horse safari experience will fill you with incredibly positive emotions. The picturesque countryside backdrop and the tranquil setting enable participants to enjoy every single minute of this activity. In order to make you enjoy this experience at its maximum, a professional horse riding instructor will accompany you. The instructor will also be in charge to take some beautiful photos and videos of you and your loved ones. Therefore, there is no need to bring your own camera. By the end of this activity, when you return back at the ranch, you can preview these pictures and videos. Those who are interested can purchase them at an extra cost.
Exploring the countryside of Marmaris with a horse is an ideal activity to get away from the crowds. However, due to the high temperatures in Marmaris during the summer months, participants are instructed to wear a hat, sunglasses and sun cream. In addition, for your own comfort, you are instructed to wear comfortable clothes and shoes.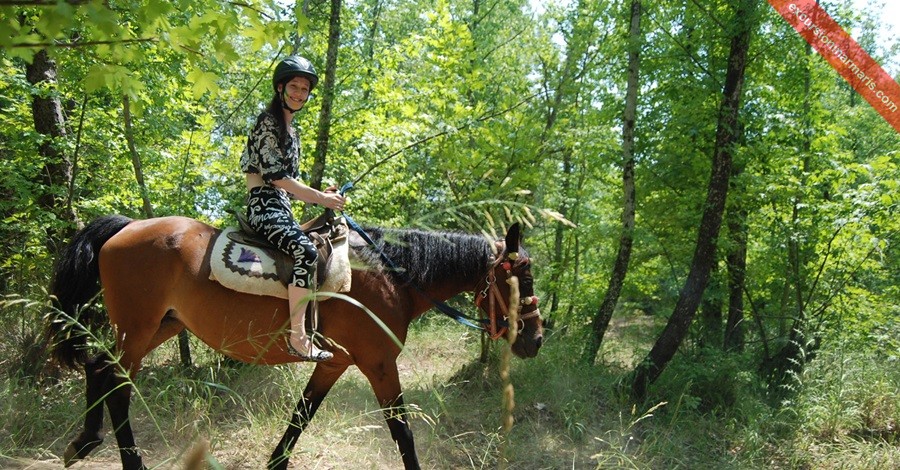 During the 1-hour horse riding, you will be also passing by some picturesque villages in the countryside. This will be a great opportunity to interact with the locals, learn some interesting facts about their everyday life and their village. During your short stop at the village, you can also take the chance to snap some photos of the picturesque landscape or shop some nice souvenirs to take back home. Marmaris Horse Safari is definitely a memorable activity that enables you to spend some quality time with your loved ones and targets the creation of long lasting memories.