Why Book Marmaris rafting Tour?
Marmaris is a great choice when it comes to vacations. The city is able to offer unique experiences and memories to its visitors as it makes available everything you need. With a variety of exceptional beaches and a tranquil countryside, visitors are able to join incredible excursions and activities. For those who wants to join an exciting and adventurous activity, rafting in Dalaman River is one of the most suitable ones. Rafting is able to offer you adrenaline boosts and moments full of laughter and fun. You, your friends or family will experience unique feelings and learn how to function as a team. Finally, the Marmaris Rafting activity is an excellent alternative way to explore magnificent landscapes and admire the beauty of Marmaris' countryside.
The adventurous Marmaris Rafting activity is characterized as a safe experience for all. Members of our team will pick you up from your hotel and drive you to the rafting centre. Upon arrival, you will meet the professional and experienced rafting instructors. They will provide an interesting and important briefing regarding the safety procedures during which you can ask anything you want. In addition, the professional instructors will demonstrate how to use properly the safety equipment. It must be noted that, for your own safety, you should wear a life jacket and a helmet during the rafting session.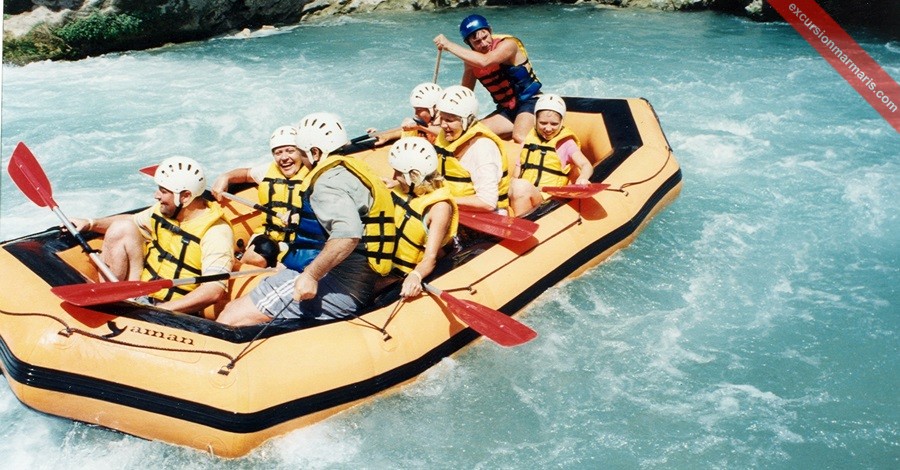 Marmaris Rafting is a full day tour and has an approximate duration of 11 hours. Please remember that rafting session lasts for almost 4 hours. For the purposes of this activity, no prior rafting experience is required. More specifically, participation is ideal for both, beginners and advanced. In case this is your first rafting session ever, there is nothing to worry about. Professional rafting instructors will explain everything you need to know about how to raft and how to behave while on the boat. In addition, the level of difficulty for this activity is not high in an effort to make you enjoy your time and fill yourself with excitement and joy.
Rafting in Marmaris is a truly exceptional activity to join as it combines adrenaline boosts, excitement, adventure and exploration in the Dalaman River. Due to the strict safety requirements that the rafting session meets, it is said that the activity is ideal for all, irrespective of prior experience. However, there are some restrictions placed for your own safety. Rafting is not ideal for people experiencing physical disabilities. Pregnant women and childeren under 16 years old can not book this tour.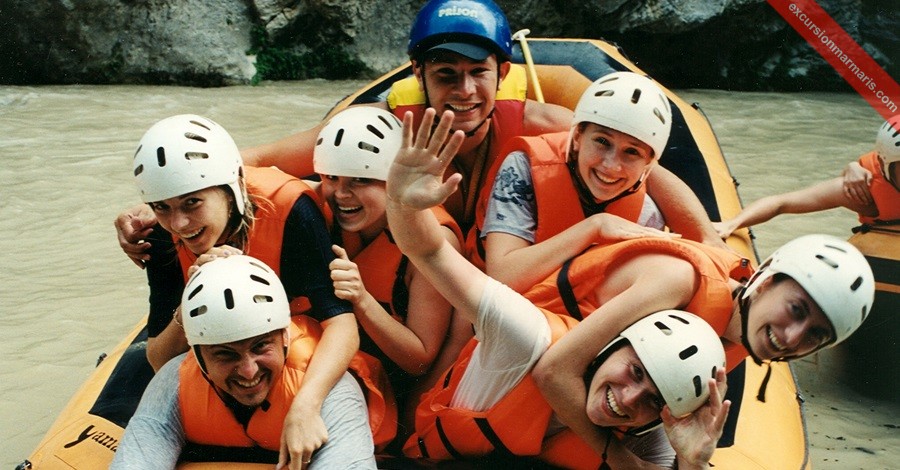 This ultra-fun rafting session in Marmaris has an approximate duration of 11 hours and promises to offer you the necessary adrenaline boosts you are looking for. The price includes a two-way transfer service from and to your hotel. The transfer is made with fully air conditioned and comfortable vehicles. Furthermore, a freshly made and delicious lunch is included. The package price includes also a full insurance, a 4-hour rafting session in Dalaman River, all the necessary rafting equipment and an introductory briefing from English-speaking experienced rafting instructors.
This alternative, yet fun activity takes place on a daily basis during the morning, at the Dalaman River. This particular river used to be the physical boarder of two ancient cities, Caria and Lycia. It has white foamy waters which are ideal for rafting purposes and is surrounded by a beautiful landscape. The trees and the sounds of nature will allow you to release the stress and enjoy this rafting session at its maximum. Dalaman River is among the most preferred spots for rafting as its rapids range from grade 3 to 6, thus is ideal for both, beginners and experienced.
In an effort to enjoy the maximum of your experience and be as comfortable as possible, there are few things that you should bring along. Firstly, during the rafting session, participants need to wear under the life jacket a comfortable t-shirt and a pair of comfortable shoes. In what regards the shoes, please avoid the flip-flops and the slip-ons as they are not safe for the activity. Secondly, participants are also instructed to bring their own swimsuit and towel as they will needed for the swimming break. Thirdly, due to the high temperatures during the summer months, you may also need a hat, sunglasses and a sin cream. Finally, an extra set of clothes to wear after the activity is also highly recommended.