Salda Lake & Pamukkale Tour From Marmaris
Join our Marmaris Salda Lake and Pamukkale tour and enjoy a day in one of Natural Wonders of Turkey. Salda Lake is one of the most spectacular natural wonders in Turkey. Many people characterize it as the Turkish Maldives as the scenery is really exotic. Pamukkale is also another famous site in Turkey. it is a natural wonder which hosts a huge mountain, completely dressed in white color. UNESCO listed Pamukkale, as a world heritage site in Turkey. This full day excursion allows our guests to visit these two very special natural wonders of Turkey and appreciate the power of nature.
The excursion to Salda Lake and Pamukkale is an excellent way to get away from the crowds of Marmaris and spend some quality time with your friends or family. In general, this tour is ideal for people of all ages. It is ideal for those who wish to explore the nature and enjoy a tranquil and relaxing setting. In addition, it is ideal for those who wish to visit the infamous thermal springs and receive their therapeutic benefits. However, for safety reasons, people experiencing physical disabilities are not allowed to join the tour.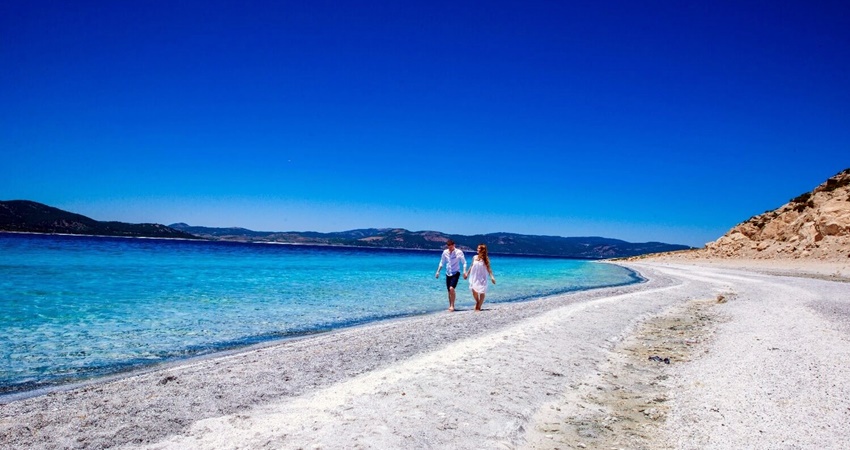 One of the most interesting highlights of this excursion is that participants are able to enjoy a guided tour that is included in the price. The professional and fully licenced tour guide will be responsible to offer you interesting descriptions about the places of interest. The guide will also be in charge to provide assistance if needed during the tour. Please note that the guided tour is offered in English.
Revitalize your senses by visiting the so-called Turkish Maldives and unfold the history of Pamukkale during your holidays in Marmaris with an exceptional excursion. The Marmaris White Tour takes place twice a week during the morning. For your own comfort, this excursion includes pick up and drop of services from and to your hotel in Marmaris. A full insurance for the whole duration of the tour is also included. The price includes also a guided tour offered by a professional English-speaking tour guidei breakfast and lunch. Please note that, food, drinks, all entrance fees and other personal expenses are not included in the price.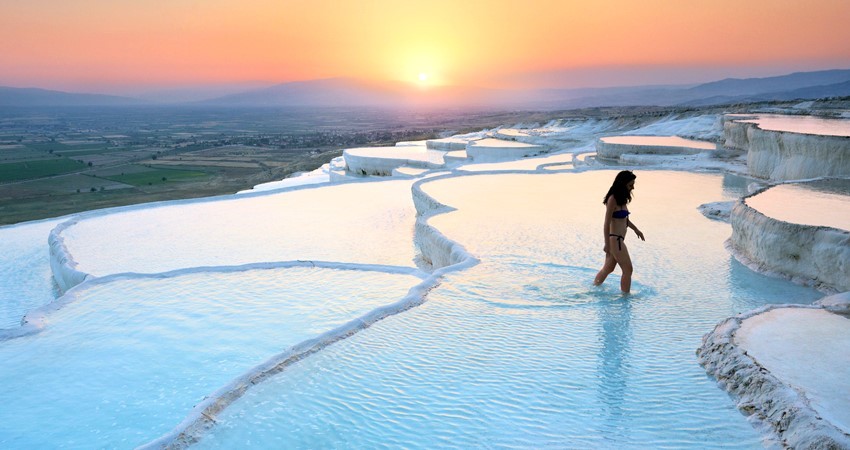 Distance between Marmaris and Salda Lake
The so-called Turkish Maldives will take your breath away with the landscape's unparalleled beauty. The excursion is ideal for people of all ages as it combines spectacular landscapes and sightseeing opportunities. For the purposes of this tour, participants will travel from Marmaris towards Salda Lake, which is the first stop of the schedule. The road trip is approximately 3 hours. A professional driver and an English-speaking tour guide will accompany you in order to assist you if needed.
As Marmaris White Tour includes many swimming opportunities, those who wish to enjoy their time in the famous waters of Pamukkale or the Salda Lake, are instructed to bring their own swimsuit and a towel. In order to enjoy this excursion at its maximum, please wear comfortable clothes and shoes. Furthermore, due to the high temperatures during the summer months, please make use of a sun cream and bring with you sunglasses or a hat. If you wish to create long lasting memories, please do bring your own camera in order to snap some photos and film some videos of the beautiful landscapes.