Marmaris to Pamukkale Tours
Pamukkale is one of the most well-known and visited regions in Turkey. It is not a coincidence that the area attracts thousands of visitors every year who wish to spent their holidays in a relaxing and beautiful setting. Pamukkale is mainly known for two reasons. Firstly, it has multiple natural wonders, including hot springs that are associated with therapeutic benefits. Among the most famous ones are the Cotton Cliffs and the Pool of Cleopatra. Secondly, Pamukkale has a long history and visitors are able to visit the ancient city of Hierapolis and enjoy some sightseeing.
Distance between Marmaris and Pamukkale
During your holidays in Marmaris, you are able to participate in this memorable full day excursion to Pamukkale. The road trip between Marmaris and Pamukkale is approximately 210 km (3 hours). However, for your own comfort, you will travel with a comfortable, modern and fully air condition bus.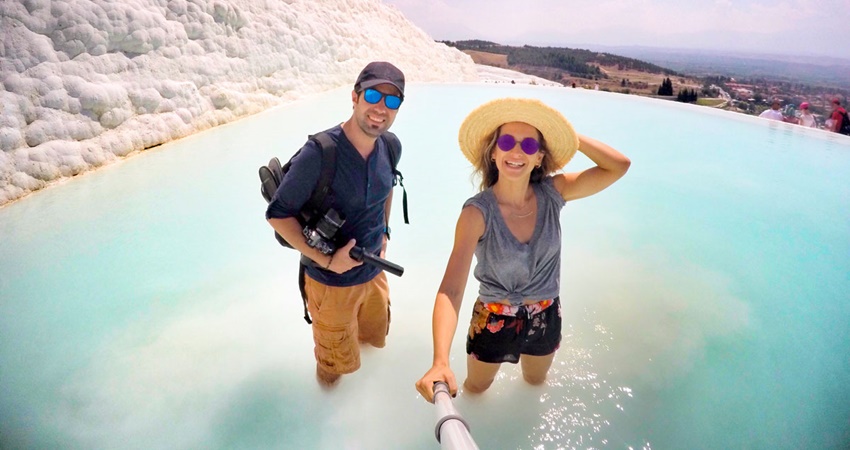 UNESCO World Heritage Site
By joining this full day tour to Pamukkale, it means that you will visit some spectacular landscapes that will surely take your breath away. The Cotton Castle in Pamukkale is listed as an UNESCO World Heritage Site due to its impeccable and unparalleled beauty. This natural wonder has an icy white colour that will capture your attention since the very first moments. In fact, it was formed by minerals from the water of the nearby hot springs and resembles the ultimate beauty of nature. Except from the infamous thermal terraces in which people swim and enjoy the thermal water, the mountain has also stalactites, stalagmites and impressive caves.
The tour begins during the morning. Members of our team will pick you up from your hotel with a comfortable bus. After a road trip, you will arrive to Pamukkale and enjoy an amazing guided tour in the area's most known spots. At first, you will visit the Cotton Castle which is a unique natural wonder like no other. This limestone mountain has naturally shaped terraces filled with thermal water.
Then, the guide will take you to visit the ancient city of Hierapolis. This settlement was an important spiritual, trading and healing centre during the period of the Roman Empire. During your time there, you can observe ruins of an ancient theatre, a necropolis, Roman baths and many other interesting structures. By the end of the guided tour, you will have some free time to explore the area according to your interests. An interesting recommendation is to visit the antique thermal pool, known as the Cleopatra's Pool and swim at an extra cost.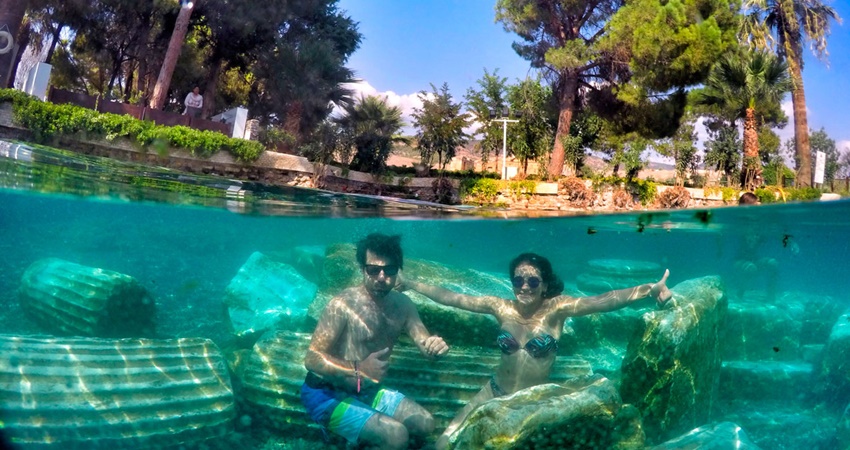 This full day excursion from Marmaris to Pamukkale is ideal for all as it combines relaxation and sightseeing. More precisely, the tour is a perfect option for solo travellers who want to explore interesting locations away from Marmaris. Families are also welcome to join this tour as they can spend quality time in a relaxing and beautiful setting. Finally, the tour is also ideal for those who wish to enjoy the therapeutic benefits of the hot springs and admire the beauty of nature. It must be noted that, for safety reasons, people experiencing walking disabilities are not allowed to participate in this excursion.
The tour from Marmaris to Pamukkale has an approximate duration of 12 hours. According to the itinerary, the price includes pick up and drop off service from and to your hotel in Marmaris. Transportation with fully air conditioned bus and full insurance are also included. Moreover, the excursion includes the following: breakfast, lunch and a guided tour from an English-speaking professional guide. Participants must be informed that, drinks, entrance fees and other personal expenses are not included in the price.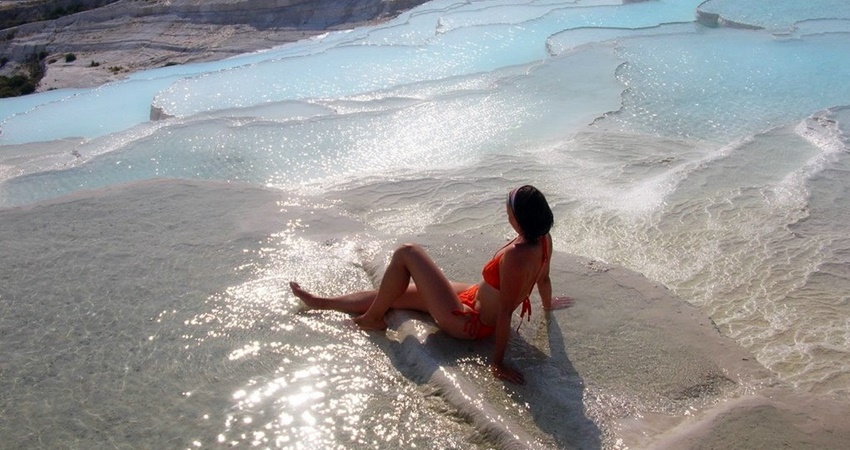 As mentioned above, this full day tour to Pamukkale includes a breakfast and a lunch. In what regards the breakfast, it will be served after the 3-hour road trip, once you arrive in Pamukkale in order to get the energy needed for this exploration. During the breakfast, do not miss the chance to taste a cup of traditional Turkish tea or coffee. After spending your day in Pamukkale's most known sites, the tour guide will take you to a local restaurant in order to enjoy a freshly made and tasty lunch. The cosy atmosphere of the restaurant will be the ideal setting to relax after this long day.
Visiting Pamukkale during your holidays will be a truly magnificent excursion for you and your loved ones. As the area is known for its incredible and therapeutic hot springs, participants who are interested in swimming should bring their own swimsuit and towel. In general, participants should wear comfortable clothes and shoes in order to be able to enjoy the most of this full day excursion. Moreover, due to the high temperatures in Pamukkale during the summer season, a hat and protective sun cream are highly recommended.