Pirate Party Boat Marmaris
Despite the variety of nightlife options, there are alternative ways to party such as night boat trips. The Pirate Party Boat Trip is one of the most fascinating and popular options. The boat trip departs from the port of Marmaris and gives you the opportunity to sail for four hours around the beautiful coastline while partying. The boat's design resembles a pirate boat and guarantees an experience like no other. In fact, you may choose this excursion to party and have some fun with your friends or family. Alternatively, you may join this night boat trip to relax on the decks and observe the amazing views over the coastline of Marmaris.
The Pirate Party Boat Trip begins during the evening. On the day of this tour, a comfortable and modern vehicle will pick you up from your hotel and drive you for a short distance towards the port of Marmaris. As the boat starts to sail, get ready for an incredible and unforgettable night. The boat will be sailing for four hours around the coastline of Marmaris. The boat is spacious with multiple decks allowing you to experience this party at its maximum. It is fully equipped with everything you need and features also an indoor disco and a bar. By the end of the 4-hour sailing, the boat will return back to the port and you can continue your party at bars' street of Marmaris which is found as a close distance.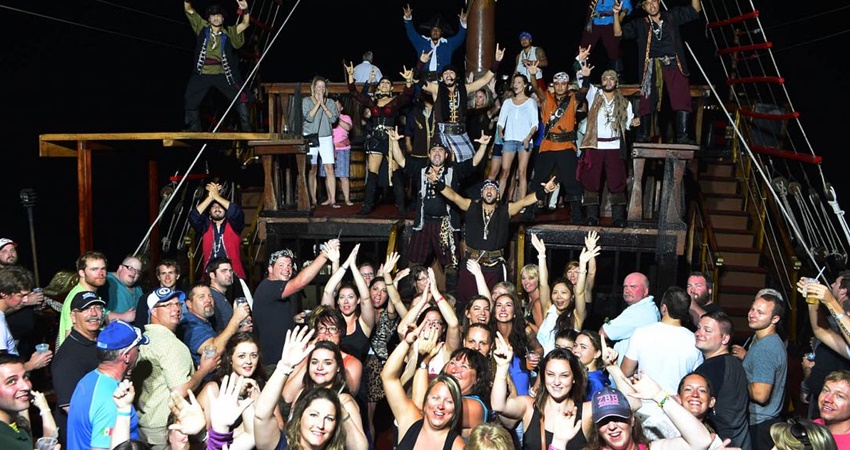 The most interesting and exciting feature of this night boat trip is that it forms an alternative option for those wishing to party. The boat has a specially designed disco and is fully equipped to offer you the crazier night ever and meet your expectations. A DJ will be playing upbeat and mainstream international music for the whole duration of the boat trip creating an atmosphere similar to a night club. Get ready to dance and exercise your best moves while having fun with your loved ones. Moreover, a bar will be serving both, alcoholic and non-alcoholic beverages and cocktails.
The Pirate Party Boat Trip is an amazing outing option that ensures an evening full of laughter, dance and upbeat rhythm. The boat has a unique pirate design and multiple decks where you can spend your evening according to your interests. If you are searching for some extra fun time, the boat's disco is the place to be. The crazy disco atmosphere will further enhance your experience and offer you long lasting memories. An interesting highlight of this night party boat trip is that a foam party will take place. Dance with enormous foamy bubbles around you and enjoy every moment of this fun and exciting party.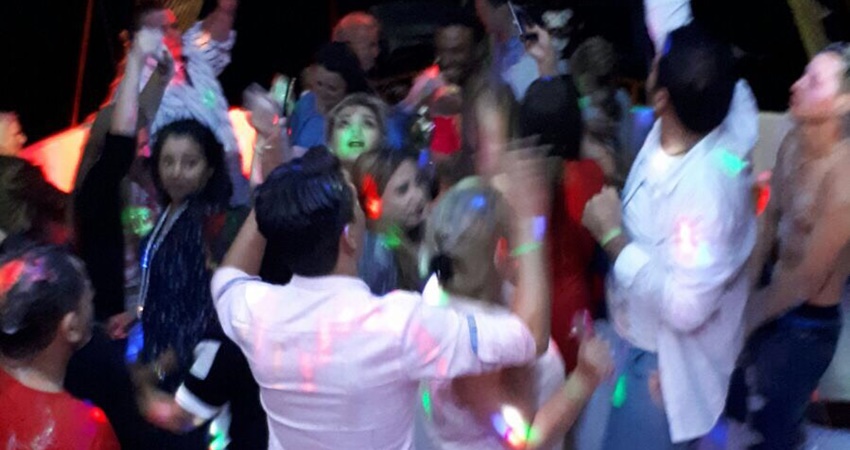 This night boat party is an experience ideal for people of all ages. The tour is a perfect option for holiday makers who wish to experience the vibrant nightlife of the area in an alternative way and away from the crowds. It is also an amazing excursion for those wishing to join a night boat trip around the coastline of Marmaris. Furthermore, this pirate boat trip is an ideal option for couples wishing to experience some romance, as the outdoor decks have quiet corners with comfortable lounges from where you can enjoy some charming views.
Enhance your holidays and upgrade your experiences by joining this thrilling night party boat trip. The boat trip starts during the night and lasts for almost four hours during which you will be sailing around Marmaris and enjoy an incredible party aboard. The price of this tour includes a pick-up service from your hotel in Marmaris & Icmeler towards the port. The entrance fee to the party and a ticket for a night boat party with full insurance are also included. Please note that drinks, tips, return transfer service and other personal expenses are not included in the price.
Participants of this night party boat trip must be aware that bringing drinks from outside is not allowed. The boat's bar will be serving everything you need during this trip. In addition, if you wish to create long lasting memories and capture every single fun moment of the boat party, please bring your own camera.