Turunc Cleopatra Island Boat Trip
For the purposes of this excursion, you will travel with a spacious and comfortable boat. Our boat has cushions and lounges in the front deck, where you can relax and enjoy the serenity of the sea. Moreover, the boat is fully equipped and able to satisfy your expectation. The professional English speaking crew will make sure that you enjoy a pleasurable, joyful and safe boat trip. It is important to note that during this boat trip, you will enjoy a delicious BBQ lunch aboard. Drinks are available at an extra cost from the boat's bar.
As every other boat trip, our Turunc Cleopatra Island Boat Trip is characterized as family and children friendly. Parents can relax on the boat while their kids are having fun. The serenity of the sea and the beauty of Cleopatra's Island can make you spend some quality time with your family and create long lasting memories.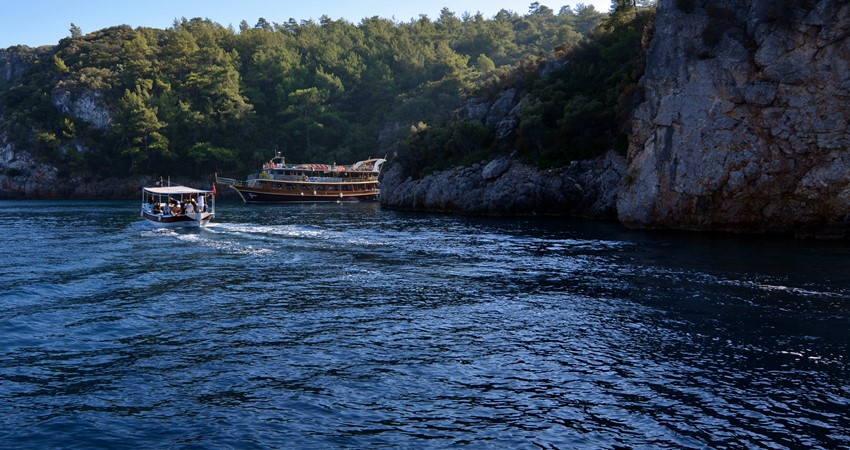 Once you arrive at Cleopatra's Island, the tour guide will explain to you some rules that you need to respect during your visit. More precisely, due to the uniqueness of the sand, you are not allowed to place your towel as the sand sticks on the fabric. With this respect, you are also not allowed to take sand away as a souvenir. Please keep in mind that this is a national park and the landscape need to be preserved.
The boat trip to Cleopatra's Island from Turunc includes a pick-up service from your place of accommodation. A full insurance and professional guiding services are also included to make your excursion pleasurable and comfortable. Moreover, the price includes a BBQ lunch aboard and the entrance fees to Cleopatra's Island. Please note that, return transfer is made to Marmaris bus station, where you need to catch a bus by yourself in order to return back to Turunc. Drinks and other personal expenses are not included in the price of the boat trip.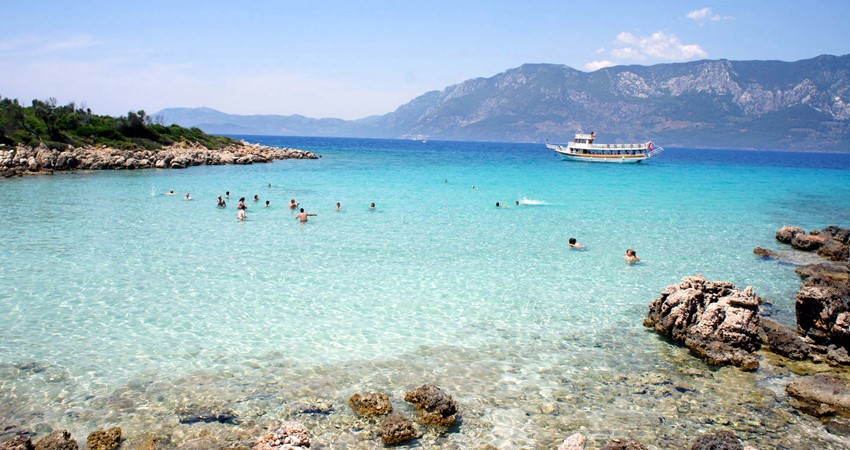 Turunc Cleopatra's Island Boat Trip is an exciting, yet relaxing activity to join while on holidays. The excursion combines both, nature explore and sightseeing. In order to make you enjoy the most of your boat trip, a professional tour guide will accompany you. The guide is in charge to let you know important and interesting information about the Island and the ancient city. In addition, the guide will let you know the applicable restrictions that need to be respected while on the island.
For this full day boat trip, you need to bring your own swimsuit and our towel. In addition, due to the high temperatures in the area during the summer months, you are also instructed to wear a hat or sunglasses, and bring a sun cream. Finally, do not forget to bring your camera to capture all the fun moments and take photos of the beautiful bay.