Turunc Buggy Safari
While on holidays in Turunc, you can join an ultra-exciting
Buggy Safari Tour
. This particular half day activity has an approximate duration of 4 hours during which you drive a buggy car in the countryside of the town. On the day of this exciting excursion, we will pick you up from your hotel and drive you towards the Buggy Safari station. The meeting point is 20km away from Turunc and you can enjoy some nice views during the road trip. This outdoor activity is ideal for people of all ages, and it can be characterized as an alternative way to explore the mountains. Drive your buggy car in an off special track and pass through dusty, muddy and wet roads in the mountains. Feel free to enjoy some adrenaline boost and maximize your excitement with this 4-hour activity.
Buggy Safari in Turunc is all about excitement, fun moments and some extra adrenaline boosts. The activity is also perfect to explore the tranquil landscape and admire the serenity of the mountains. This alternative outdoor activity is ideal for people of ages who wish to explore the beauty of nature with a fun and exciting way. If you wish to join but you are having second thoughts about safety, there is nothing to worry about. The activity has high standards of safety and the cars are going through regular checks by professionals. Before the off-road experience, during the introductory session, the professional instructors will explain to you all the basic safety rules and how to use properly the safety equipment. Most importantly, the professional instructors will accompany you during the buggy safari experience and assist you in case you need. In general, the Buggy Safari is a safe activity and ideal for all.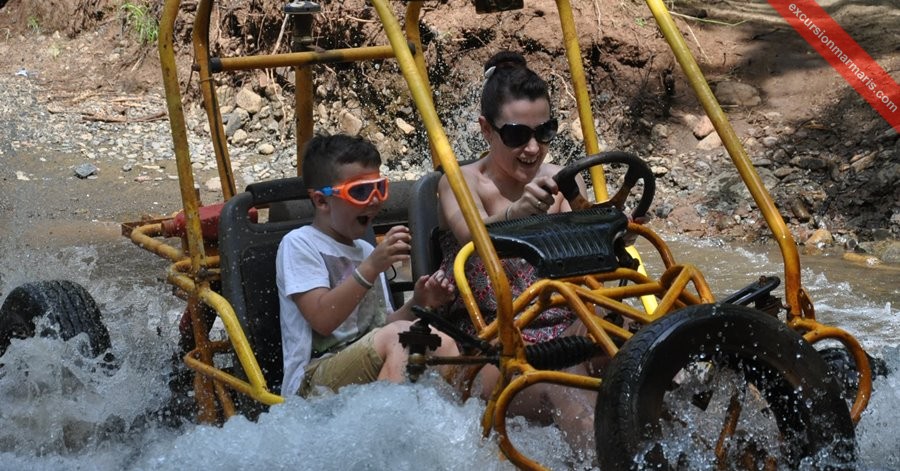 Turunc Buggy Safari
is one of the most popularhalf day excursionsone can join. In case you wish to experience buggy safari but never drove a buggy car before, there is nothing to worry about. According to the professionals, there is no need for a prior experience when it comes to buggy safari. By the time you reach the buggy safari station, professional instructors will be there. The professional and English speaking instructors will offer you an introductory briefing on how to drive and control the buggy car for this excursion. After that, you will have some time to exercise buggy driving in a specially designed area. During the practise, feel free to ask anything you want to know about and make sure that you are comfortable with driving.
In what regards participation, there are certain rules that apply. Firstly, the minimum age for driving is 12 years. Children below this age can join as non-driving participants. In case of children at the age of 12 and above, the consent of a parent is necessary. Secondly, for safety reasons, people with physical disabilities and pregnant women are not allowed to join.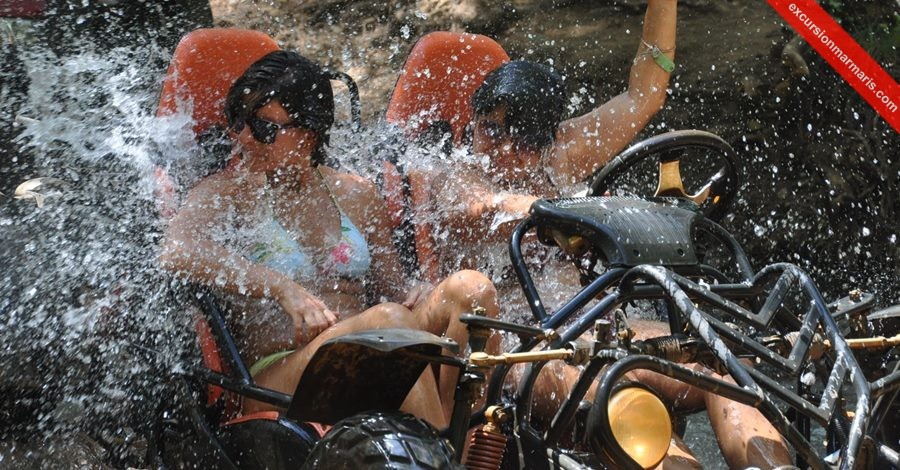 The
Turunc Buggy Safari
is available on a daily basis and lasts for 4 hours. The price of this excursion includes a pickup service from your hotel in Turunc and drop back to the bus station of Marmaris, and full insurance. The price includes also the necessary safety equipment and an introductory session form an English speaking buggy car professional. Please note that food, drinks, professional photos, and other personal expenses are not part of the price.
If you are seeking for an alternative, yet fun way to explore the surrounding mountains, then the buggy cars are just perfect for such exploration. As mentioned before, buggy safari requires no prior experienceas you can drive them by using just one paddle. In addition, driving requires no driving license. What makes this experience special is that the can drive and pass through several physical obstacles with an amazingly easy and fun way. The buggy cars used for the purposes ofthis excursion are brand new, well maintained and pass through regular checks. It is important to note that, the allowed speed limit is low for a safe and smooth driving experience. Buggy cars are able to accommodate up to two passengers at a time.
To maximize your enjoyment during this activity wear comfortable and light clothes. Please also wear close shoes that will be safe during driving. A sun cream and a hat or sunglasses are also important things to have with you due to the high temperatures of the summer season.