Turunc Jeep Safari
During the morning time, a Jeep will pick you up from your place of accommodation in Turunc. The convoy of Jeeps will start driving towards the Bozburum peninsula in the National Park of Marmaris. What makes this excursion special is the off-road driving experience. More specifically, the Jeeps will drive you towards the mountains in the countryside through some dusty, wet and muddy paths. During the off road driving you should expect also some physical obstacles such as rocks, river banks and trees. The off road driving will offer you a unique blend of feelingsas enthusiasm and adrenaline will be high. Furthermore, the off road driving experience allows you to observe some charming countryside villages and some beautiful views.
The schedule of this excursion includes several stops during the off road driving in order to make you enjoy the most of this experience and give you some time to relax. These stops are taking place at spots which are famous for having an unspoiled natural beauty. For example, this full day Jeep Safari in Turunc takes you to visit Jesus beach which is among the most popular bays in the area. The bay was named Jesus beach as strip of sand divides the beach into two parts enabling visitors to look like they are walking on the water. Another stop will be made at a beautiful waterfall. There, you will have some time to take photos of the landscape and listen to the sounds of nature.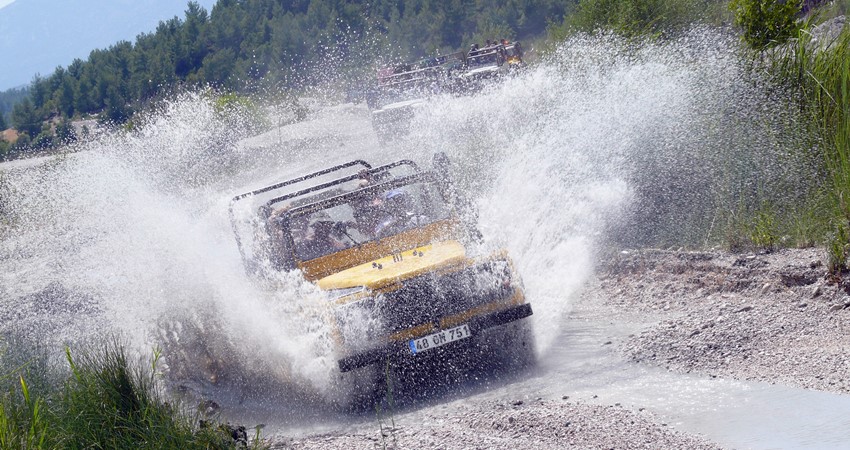 Jeep safari in Turunc is also an option for those wishing to visit and explore some picturesque small villages in the countryside. During the off road driving, the Jeeps will pass by some villages allowing you to admire their charm and authentic character. At Turgut village you will have a break and some time to spend as you wish. During this stop, you may observe the lifestyle of the people and interact with them. An English speaking tour guide is responsible to let you know interesting facts about the locals, and explain to you important aspects of their everyday life and their countryside lifestyle. An interesting highlight is that, during this stop, you can observe the local people dressed with their traditional folklore clothes.
The Turunc Jeep Safari Tour is designed in such way to combine pleasure and excitement with the maximum possible safety. The Jeep cars used for this excursion are brand new and well maintained. In addition, they meet all the safety criteria set by the regulating authorities. Please note that our drivers are able to use 50 km/hr. as a maximum speed. Therefore, there is nothing to worry about when joining this tour.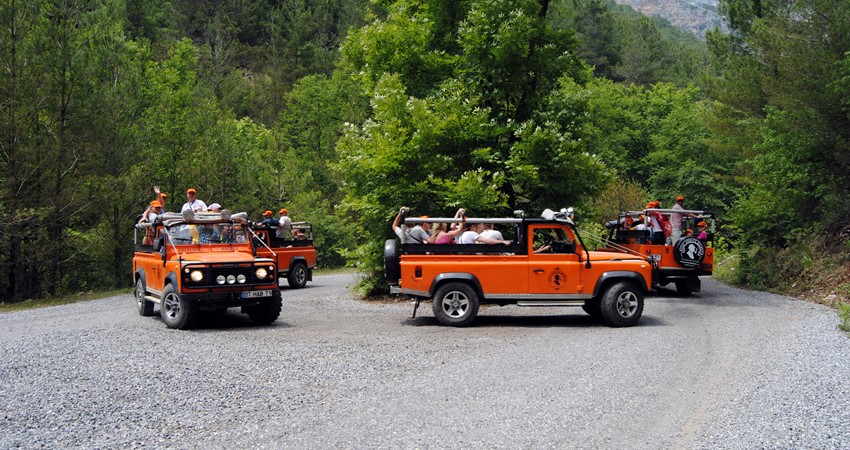 Jeep safari is available on an everyday basis and begins from Turunc. As it combines nature exploration and excitement, this tour is ideal for people of all ages and with different interests. In addition, this adventurous excursion can also be characterized as children friendly. The high safety standards that the excursion has and the fun atmosphere are just perfect for families wishing to join an alternative outdoor excursion. However, for safety reasons, please note that people experiencing physical disabilities and pregnant women are not allowed to participate.
With an approximate duration of 7 hours, this full day Jeep Safari promises to upgrade your holidays and offer you some nice memories full of fun and joy. The price of this excursion includes a pick up service from the place of your accommodation in Turunc. A full insurance and a lunch are also included. Moreover, the price includes the entrance fees and an English speaking tour guide. Please note that return is scheduled at the bus station Marmaris, from where you can use a public bus and return back to Turunc.
For your own comfort and in order to maximize your experience, please wear light and comfortable clothes and shoes during the Jeep safari. Due to the high temperatures that the area has during the summer months, participants are advised to bring a sun cream, a hat or sunglasses. Finally, if you wish to bring your own camera please make sure that is in a well-protected case due to the dust and wet roads.