Pirate Boat Marmaris
Why joining a pirate boat trip?
Are you searching for a way to get away from the crowds and spend some quality time with your friends or family? The Turunc Pirate Boat Trip is a full day excursion that combines everything you need for a pleasurable, enjoyable and relaxing day. Visit four different bays, swim into the turquoise waters and enjoy a party atmosphere aboard.
This exciting boat trip begins with a pick-up service from your place of accommodation. During the morning, members of our team will transfer you to the port in order to start the cruise.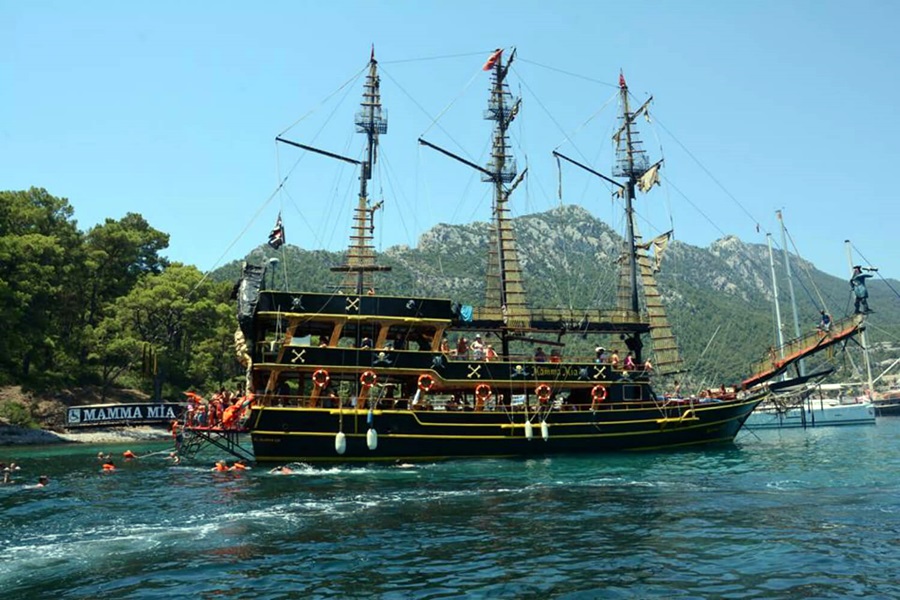 The pirate boat used for this excursion is one of the biggest of the area. Its pirate-like design is a pole of attraction for many people, especially groups of youngsters who wish to enjoy a fascinating boat trip. It is fully equipped and able to upgrade your experience with spacious decks for the sun seekers and bars.
According to the schedule of this boat trip, four stops will take place. More precisely, the boat will stop at four incredible locations where you can swim and snap some nice photos. Take this opportunity to jump into the sea, explore secluded bays, relax on sandy terrains and sunbathe under the Mediterranean sun.
In between the swimming stops, the crew will prepare a delicious and tasty lunch for you. The meal includes BBQ options that will give you the necessary energy needed to continue this boat trip. It is important to note that, during this boat trip you are able to enjoy an unlimited consumption of soft drinks, tea and coffee. The unlimited consumption of drinks includes also beer and wine.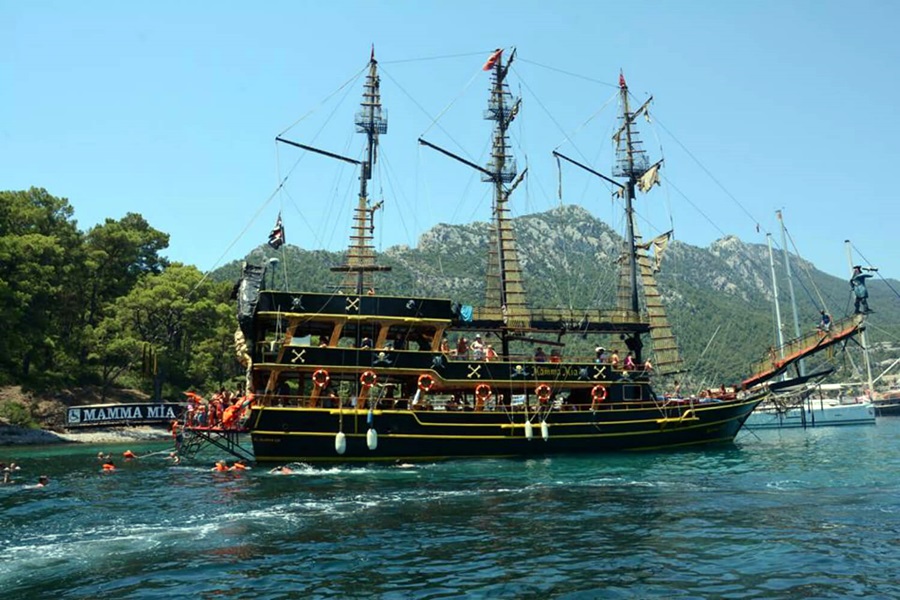 By the end of the last swimming stop, the boat will follow its route back to the port. Your return trip will be an incredibly entertaining experience. On the boat, a fun foam party will take place in which all of the guests can join. Listen to upbeat music and exercise your dancing moves as the large masses of bubbles surround you.
It is important to mention that this Pirate Boat Trip is a children friendly activity. The professional crew of the boat will be responsible for the entertainment of your kids with puzzles, dancing classes and other group games.
Return With a total duration of 7 hours, this excursion finishes during the afternoon time. At the pier, members of our team will show you where you can catch the dolmus (Public Service Bus) back to your hotel in Turunc. Once you arrive at your hotel, you will be full of excitement and long lasting memories. The tour price covers one way transfer from Turunc to Marmaris. At the end of the tour you will be taken to the bus station in Marmaris, where you can catch a dolmus (Public Service Vehicle) back to Turunc.