Turunc Boat Trip
The
Turunc Boat Trip
is a full day excursion that takes place every day and is able to upgrade and enhance your vacations. With this excursion you sail towards the magnificent coastline around Turunc, and you feel the serenity of the Mediterranean Sea. Turunc Boat Trip takes you to visit some beautiful spots and gives you the opportunity to swim into the azure and refreshing waters of the sea. This full day boat trip is ideal for all those who wish to relax and enjoy a sailing experience in the Mediterranean coast of the country. It is also an ideal opportunity if you wish to get away from the crowds and spend some quality time with your loved ones.
The boat trip begins during the morning time. Members of our team will pick you up from your place of accommodation in Turunc with a modern and comfortable car. The vehicle will transfer you to the pier where the boat is. For the purposes of this ultra-fun and relaxing boat trip you will sail with a spacious double-deck boat. The boat is fully equipped and has a kitchen and a bar in order to enjoy a delicious BBQ meal and some refreshing drinks aboard. On the front decksyou can find an area with comfortable sunbeds where you can enjoy sunbathing and revitalize your senses by listening to the splashing waters.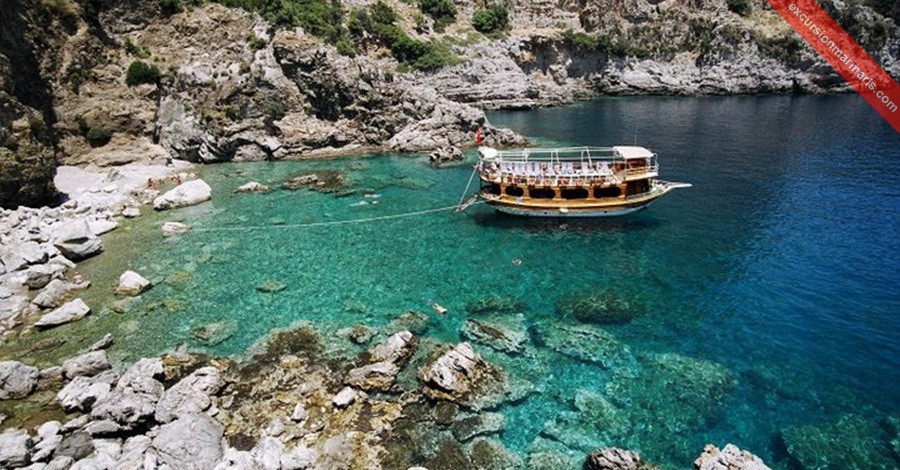 One of the most interesting highlights of this boat trip is that the schedule includes multiple stops at the most famous secluded bays and swimming spots near Turunc. During these stops, you will have time to jump into the water and enjoy swimming in the turquoise waters. More precisely, the schedule of this boat trip includes swimming stops at the Paradise Island, Aquarium bay, Kumlubuk beach, and the Phosphoric cave. Moreover, you will also visit few other interesting locations such as smaller bays and sea caves to proceed with an exploration and create some fun memories with your loved ones. Please note that the boat is fully equipped with snorkelling equipment. Therefore, if you wish to explore the bottom of the sea, just ask the crew for all the necessary equipment.
The main goal of this full day excursion is to offer you a truly special and unique experience.In other words, this boat trip is designed to pair perfectly comfort and enjoyment at the same time. For this reason, during the boat trip you will have the chance to enjoy a freshly made and tasty meal. More specifically, the lunch includes BBQ chicken, pasta and salads in order to get the necessary energy you need to continue your exploration around Turunc.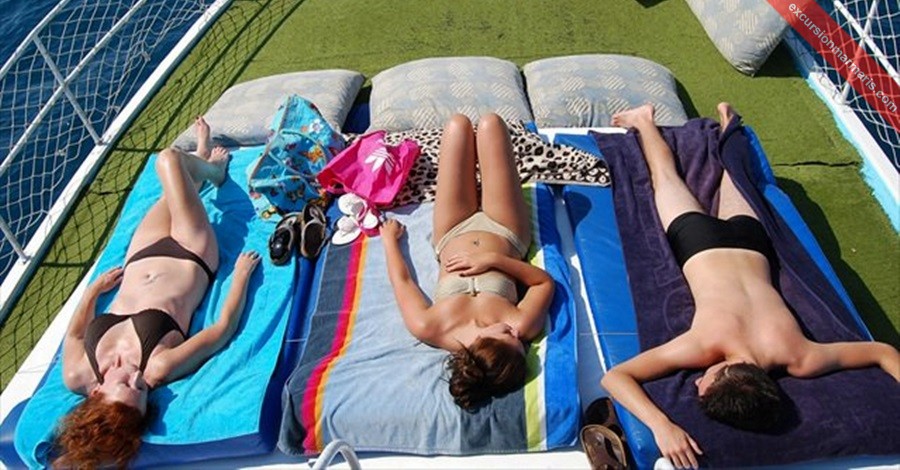 Explore the most known bays and swimming stops around Turunc with a full day boat trip that is designed to offer you pleasure and relaxation. As there are no restrictions regarding participation, this full day activity is ideal for people of all ages and covers a wide range of interests. In what regard families with kids, the boat trip is characterized as a children friendly activity. The professional crew of the boat is ready to entertain your kids while you enjoy the sun and relax. Therefore, there is nothing to worry when joining this boat trip with your kids.
Turunc Boat Trip is an activity ideal for all as it combines relaxation and enthusiasm in an all in one package. The price includes a transfer service from your hotel in Turunc, a return transfer to Marmaris bus station, and a full insurance for the whole duration of the boat trip. In addition, the price includes a boat trip with English speaking crew and a BBQ lunch served aboard. Please note that drinks, tips and other personal expenses are not included in the price.
Firstly, please remember to bring your own swimsuit and a towel. Secondly, do wear comfortable and light clothes and shoes in order to enjoy the most of your full day excursion. Thirdly, sailing under the sun can cause burns to your skin. For this reason please remember to use a sun cream, bring your sunglasses or a hat. Finally, do not forget to bring a camera to capture some nice photos of the unspoiled nature and all the fun moments of the boat trip.