Salda Lake & Pamukkale Tour From Turunc
The Turunc White Tour is an alternative full day excursion. The schedule includes visits at two famous locations, Salda Lake and Pamukkale. Booking this tour allows you to enjoy sightseeing and observe natural wonders in an all in one package. Spend a day away from the crowds, admire the outstanding beauty of nature, swim into thermal springs and learn the history of Pamukkale during your holidays.
The members of our team designed this full day excursion targeting your maximum comfort and pleasure. For this reason, you will be travelling with a fully air conditioned, modern and comfortable bus. In fact, the bus will pick you up from your hotel in Turunc during the early morning hours. The road trip from Turunc to Salda Lake is approximately 3 hours. A breakfast stop is scheduled during the road trip in order to enjoy a delicious breakfast and relax from the road trip.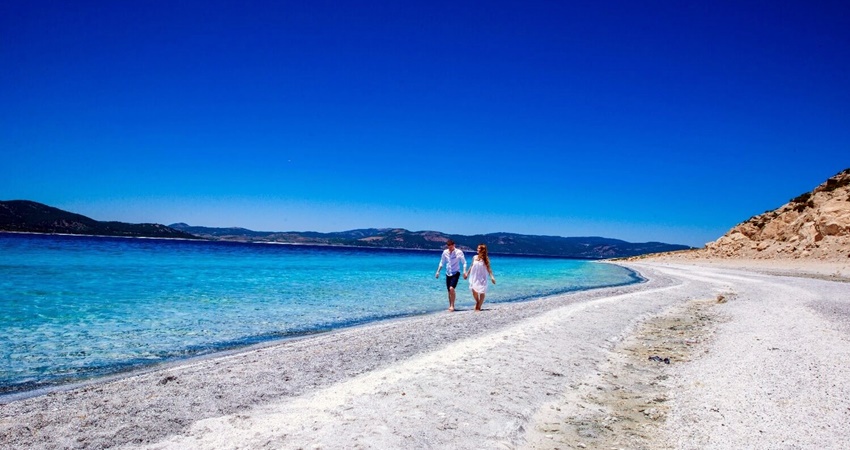 For the purposes of this excursion, a guided tour is provided to participants. Turunc White Tour takes participants towards the so-called Maldives of Turkey and the area of Pamukkale where you can visit the Cotton Castle and the ancient city of Hierapolis. A professional and fully licenced English-speaking guide will accompany you in order to let you know important information about these places. The guide will unfold the history of Hierapolis, inform you about the therapeutic benefits of the thermal springs and tell you interesting facts about Salda Lake. Moreover, the guide will be in charge to assist you if needed.
Turunc White Tour promises to offer you unique images and special feelings. Visiting these locations is a truly exceptional experience as it allows you to understand the powers of nature and its unique beauty. This full day excursion includes pick up and drop off service from and to your hotel in Turunc. A full insurance and transfers with a comfortable bus and English-speaking guide is also included in the price. For your own comfort,this tour includes also a breakfast and a lunch. Please note that, drinks, all entrance fees and other personal expenses are not included in the price of the tour.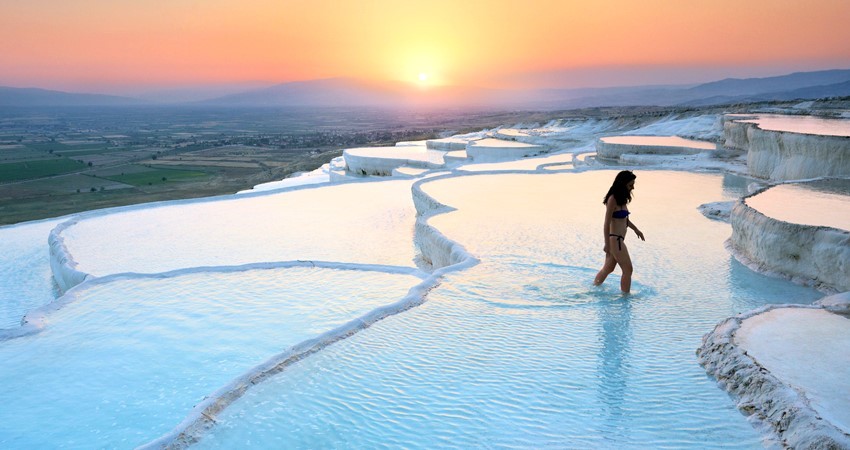 Firstly, although there are no special restrictions regarding participation, this tour is not suitable for guests with walking difficulties. Secondly, participants are instructed to bring a sun cream, sunglasses or a hat due to the high temperatures during the summer months. Thirdly, please wear comfortable clothes and shoes for the purposes of this excursion. Finally, do not forget to bring your camera in order to snap some beautiful photos and film some videos.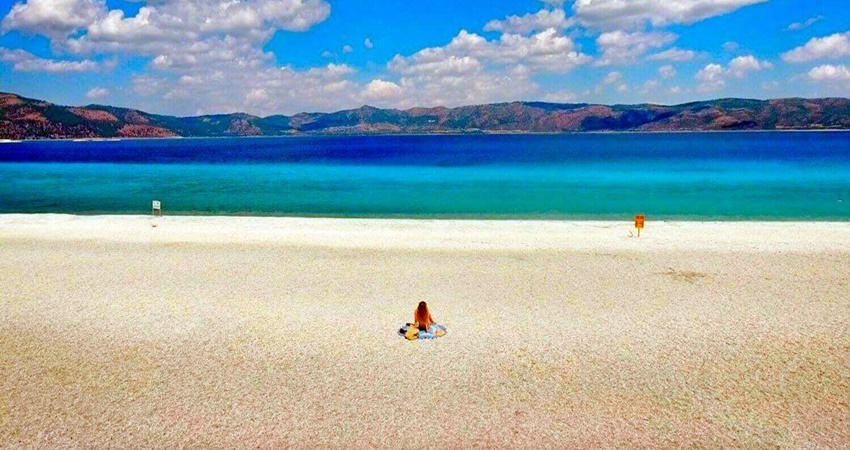 Many people believe that Salda Lake can be characterized as the Turkish Maldives. The lake is rich in minerals that provide an incredibly unique turquoise colour to the water. It is surrounded by white rocks and imposing mountains with pine trees. The flawless exotic atmosphere of the location, as well as the tranquillity of the landscape will impress you since the very first moments. The guide will explain everything you need to know about the lake and offer you some free time to explore the area as you wish. If you are interested, you may swim into the lake or walk around and snap some photos.
With a comfortable bus you will then arrive to Pamukkale, an area listed as an UNESCO site of world heritage. In Pamukkale there are two important sites, the Calcium Terraces and the ancient city of Hierapolis. The Calcium Terraces, also known as the Cotton Castle, is a white-washed mountain with terraces filled with thermal water. Visitors can swim into the terraces or walk around and admire the beauty of the mountain. The guide will then unfold the history of Hierapolis. The settlement was known for the nearby thermal springs and ruins include a theatre, houses, temples and roman baths