A great variety of fish and seafood is available in this popular resort town on the Mediterranean coast. Visitors as well as locals in Marmaris love fish and seafood. There are a number of small and luxury restaurants offering menu of dozens of fish delicacies ranging from inexpensive snacks to exotic meals at premium levels. As a resort town on the sea coast, Marmaris provides you fish and seafood in abundance at relatively low prices. Tourists can afford to taste the delicious fish steak or shrimp on the grill. Here are some of the popular places to find the best of the fish and seafood in the town.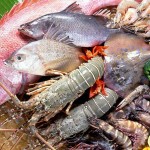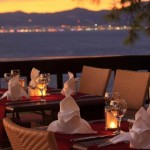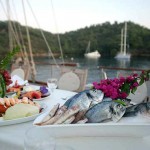 • Fellini
Located at Barbaros Cad No. 71, Fellini is most popular with the visitors. One can find here the largest selection of fish and seafood available in Marmaris. You will appreciate the outdoor terrace here and the menu is mostly Turkish and European.
• Drunken Crab
Drunken Crab is equally popular with both – the visitors and the locals. Located near the fortress at 53A, Bar Street; Drunken Crab is a cozy family restaurant offering European and Turkish cuisine. Grilled fish and seafood delicacies are a treat to relish.
• Nil
Located at 101, Yat Limani in the marina area, Nil offers you Turkish and Mediterranean cuisine in a homely yet romantic milieu.
• Jan de Vit
Located on a hill at Barbaros Cad No. 123, the restaurant has three levels and the terrace offers a beautiful view of the city and the marina as well. The menu is European and the prices are affordable too.
• Samdan
Located at Sumhuriyet bulvari 46, Siteler; Samdan offers you delicious meat and vegetable delicacies along with fish. The restaurant is popular with the tourists because of its good variety of seafood and signature delicacies.
How is fish and seafood served in Marmaris?
Most of the seafood restaurants in Marmaris have big refrigerators and ice bars. They offer customers to choose from an entire range of fish and seafood available from here. The same item is cooked and served to you within a few minutes. You can also take help from the waiter to choose your favorite fish food.
In Marmaris, one can try the fish prepared in various ways: traditionally fried in a pan or grilled, baked in oven, and marinated in spices. Seafood is served fried or boiled, and in a variety of salads or side dishes of fresh vegetables. Prices on the menu are not listed per serving, per kilogram, or the entire fish as a whole. Therefore, it is advised that you know the prices beforehand from the waiter to avoid a last minute surprise.