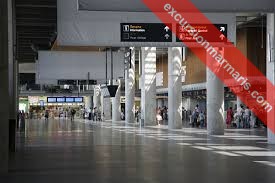 The nearest airport to Marmaris is DALAMAN international airport, which is 90 km away from the town , but there is also another airport BODRUM international airport which is 130 km away from Marmaris. Most of the travel companies arrange their airport transfers to the town but you can also check Marmaris Private Airport Transfer option.
Marmaris Airport
As Marmaris is a small holiday town with a small population and only very active in summer , Marmaris hasn't got its own airport. So if you are a holiday maker visiting Marmaris you have 2 airports to choose . First one is Dalaman Airport; Dalaman Airport ( DLM ) is the nearest airport to Marmaris. Bodrum Airport (BJV) is another option but pretty far away from Marmaris comparison to dalaman airport.
There are shuttle services are operated by two different companies HAVAŞ and MUTTAŞ. Shuttle services from Dalaman Airport are mostly dependent to arrival of flights. You have also another option like a taxi, which is available but you have to consider that the taxi service is more expensive than shuttle services.
There are also Private Airport Transfers from Dalaman to Marmaris starting prices like 30 £ per vehicle can be considered as the cheapest and fastest way to Marmaris.