Marmaris Buggy Safari
Boost your adrenaline with Marmaris Buggy Safari
The Buggy Safari forms an exciting, adventurous and alternative getaway from the crowds. During this 3-hour activity you will create strong bonds with your family members or friends as you need to cooperate and drive through the physical obstacles. Moreover, this activity will fill you with positive feelings, excitement and laughter. However, the most interesting highlight is that, you will be able to feel and enjoy some major adrenaline boosts that will make this experience a long lasting memory from your holidays.
Driving a buggy car is a safe activity, given that certain requirements are met. In what regards the cars used in this tour, participants can be sure that all the safety guidelines are met, without any exceptions. Upon arrival at the buggy car station, an English-speaking instructor will demonstrate how to use the safety equipment and let you know about the basic safety procedures. Buggy cars are able designed for two participants. In case of a child, it must be accompanied by an adult driver.
.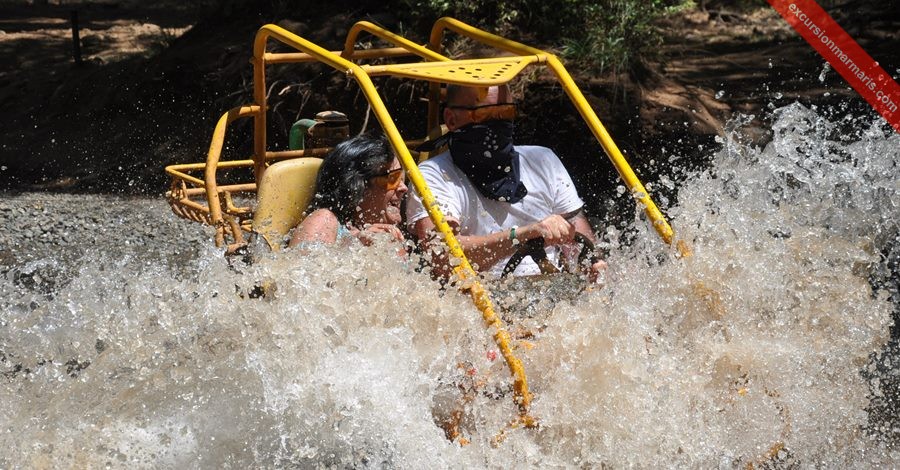 Buggy Safari is an amazing experience for everyone. In general, this activity is ideal for all those who wish to explore the countryside or for those who seek some excitement and adventure while on holidays. However, for safety reasons, people experiencing physical disabilities are not allowed to join the activity. Restrictions in participation are also placed for pregnant women.
Do I need prior experience?
Exploring the countryside of Marmaris with a buggy car will set your mind free and release your stress. In case you wish to participate but still worry about the absence of experience, we are happy to inform you that experience is not compulsory. In other words, this activity is ideal for both, beginners and experienced buggy car drivers. Once you arrive at the station, the professional instructors will explain everything you need to know about driving a buggy car. In addition, the instructors will demonstrate how to control the powerful engine during driving. Before the beginning of the actual ride, you will also have some time to test drive your buggy car. In case you still feel uncomfortable in driving, professional drivers can drive the car while you enjoy the ride.
Buggy Safari is available on a daily basis and has an approximate duration of 3 hours. The package price for this activity includes a two-way transfer service from and to your hotel in Marmaris. The transfers are made with fully air conditioned and comfortable cars in order to allow you enjoy the most of this experience. The price includes also an introductory briefing with an English-speaking instructor, all the necessary safety equipment and full insurance. Please note that the price does not include food, drinks, photos, videos and other personal expenses.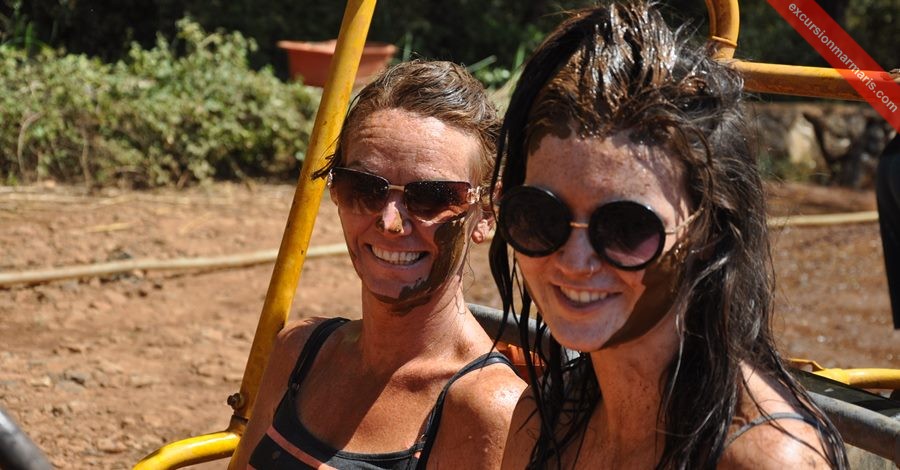 This activity is specially designed in order to offer you the maximum possible pleasure and joy. The members of our team are ready to pumper you and assist you to spend an incredible experience while driving your buddy car in dusty and wet off-road terrains. In this respect, the professional buggy car instructors who will accompany you during the ride will also be in charge to snap some photos and videos of you. With their professional camera they can make your memories long lasting. By the end of this experience, you can preview and purchase these photos and videos at an extra cost.
Distance between Marmaris and Buggy station
This alternative, half day experience, takes place on a daily basis during the morning. For your own comfort, members of our team will pick you up from your hotel in Marmaris and drive you towards the countryside, where the buggy car station is. The transfer takes approximately 20 minutes, as the buggy car station is not really far from the city centre. During this short ride, you can observe beautiful and picturesque landscapes as the car will be approaching the mountain.
For your own comfort, a protective sun cream, a hat and sunglasses are highly recommended. Due to the high temperatures that the area has during the summer months, these protective items can be really important. In addition, participants should wear comfortable clothes and shows in order to be able to move freely and enjoy their buggy car ride. Finally, as the terrain is dusty, wet and muddy you can also bring an extra set of clothes in case you wish to change.