Marmaris Family Buggy Safari
Our Marmaris Family Buggy invites you to have fun, and spend some hours full of laughter and joy. When booking this activity, you can expect to unfold the beauty of the mountains surrounding the city, while driving a buggy car. This experience is about to increase your enthusiasm, and boost your adrenaline levels, as the terrain is dusty and rocky. Drive over water banks, and mud, get messy, and make sure that this day will be like no other!
The price of our Marmaris Family Buggy includes two-way transfers from and to your hotel in Marmaris, as well as a full insurance for the duration of the activity. In addition, it includes instructions by professionals, and all the safety equipment you need. It is important to note that, the price does not include extra equipment such as protective face masks, professional photos, food, and drinks.
.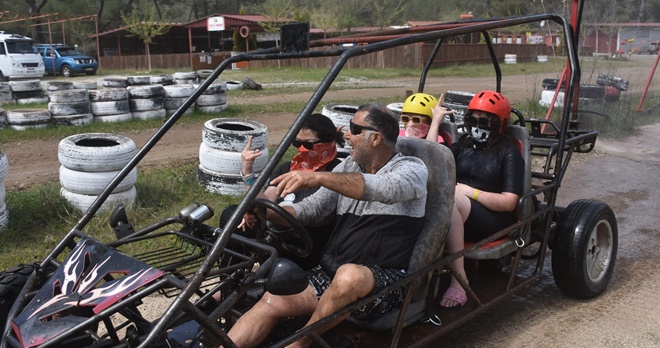 Marmaris Family Buggy is designed for families, or for friends who wish to share this experience together. In fact, the buggies have 4 seats, allowing you to drive the vehicle, while being accompanied by your children. As safety is our first priority, our vehicles meet all safety standards, are well-maintained, and the activity is made with medium speed. Therefore, this experience is listed as a family-friendly activity, as it provides the perfect conditions for fun family moments, and quality time away from the crowds.
Do I need prior experience?
Drive a 4-seat buggy car along a dusty, rocky, and muddy train in the mountains surrounding Marmaris, and get the best views over the area, while increasing your adrenaline boosts. If you think you can't do it, worry no more! To join this activity, you need no prior experience in driving buggy cars. Better still, you need no driving license. Professional instructors are about to provide information on how to drive and control your buggy car. They will, also, explain all safety information, and provide equipment. Indeed, what makes this activity special is that everyone can join!
Add some extra doses of adrenaline and fun to your holidays, by joining our Marmaris Family Buggy. To enjoy every single moment of this experience, please be aware that you need to wear comfortable clothes and shoes. A hat, sunglasses, and sun cream are also important, due to the high temperatures that the area has in summer months. Also, don't forget your camera, and your positive vibes!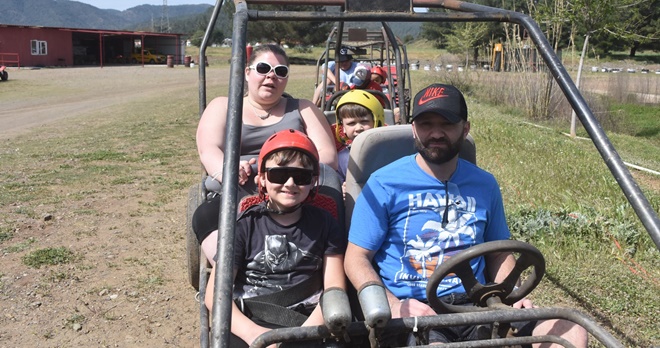 This activity is specially designed in order to offer you the maximum possible pleasure and joy. The members of our team are ready to pumper you and assist you to spend an incredible experience while driving your buddy car in dusty and wet off-road terrains. In this respect, the professional buggy car instructors who will accompany you during the ride will also be in charge to snap some photos and videos of you. With their professional camera they can make your memories long lasting. By the end of this experience, you can preview and purchase these photos and videos at an extra cost.
Distance between Marmaris and Buggy station
This alternative, half day experience, takes place on a daily basis during the morning. For your own comfort, members of our team will pick you up from your hotel in Marmaris and drive you towards the countryside, where the buggy car station is. The transfer takes approximately 20 minutes, as the buggy car station is not really far from the city centre. During this short ride, you can observe beautiful and picturesque landscapes as the car will be approaching the mountain.
For your own comfort, a protective sun cream, a hat and sunglasses are highly recommended. Due to the high temperatures that the area has during the summer months, these protective items can be really important. In addition, participants should wear comfortable clothes and shows in order to be able to move freely and enjoy their buggy car ride. Finally, as the terrain is dusty, wet and muddy you can also bring an extra set of clothes in case you wish to change.