Marmaris to Pamukkale Tours
When joining our Pamukkale by Night Tour from Marmaris, expect to immerse yourself into the natural beauty and history of the area. This tour begins with a pick-up service from your hotel in midday. During the day, you will visit the infamous Pamukkale Travertines, or Cotton Castle as it also known. In addition, you will visit the ancient city of Hierapolis and learn many interesting information about its history and importance. During the day, you will also visit an antique thermal pool, and a local stone workshop, where you can receive key insights about the local production. The tour finishes in around midnight when you arrive back at your hotel in Marmaris.
Our Pamukkale by Night tour from Marmaris is carefully designed to offer you the best possible experience. The price of this tour includes a pick up and drop off service from your hotel, as well as all transfers. Please note that all transfers are made with a fully air-conditioned and modern bus. In addition, the price includes professional guiding services, and entrance to the ancient city and Cotton Castle. Finally, the price includes a dinner at a local restaurant. Please note that entrance to Cleopatra's Pool and other personal expenses are not included in the price.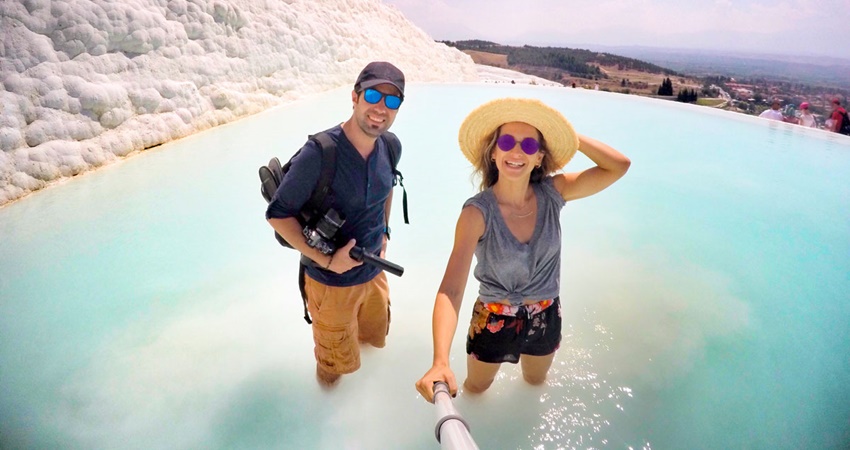 Can I swim in thermal springs?
Pamukkale is particularly famous for its thermal springs. This tour takes you to visit the famous Cotton Castle that has balconies with thermal water. In case you wish to experience on your own the benefits of thermal water, you can enter the antique thermal pool, also famous as the Cleopatra's Pool. However, please keep in mind that entrance to the pool comes at an extra cost.
This full day excursion to Pamukkale is a great option for people of all ages. As the tour takes place in the afternoon, expect fewer crowds, and thus a more comfortable and better sightseeing experience. The excursion is, also, ideal for families with children. Your little ones can unfold the history of the area, while having fun. Therefore, it is a great way to share precious, quality moments as a family.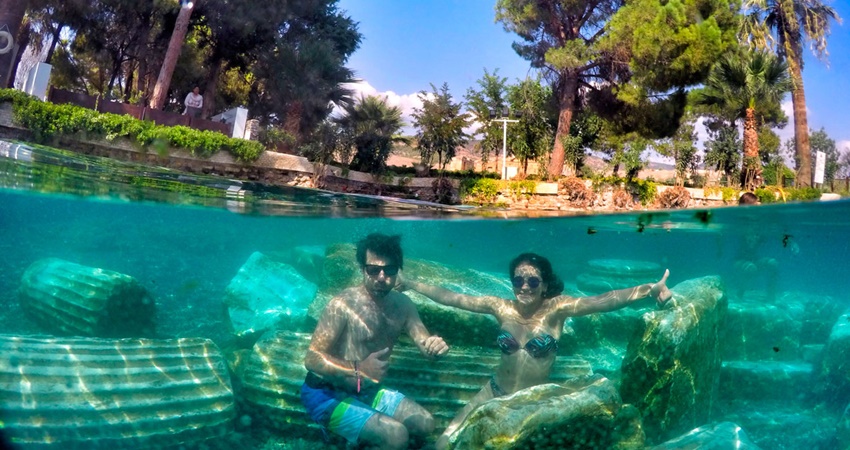 For our Pamukkale by Night tour all you need is your positive energy! In case you wish to swim in thermal waters, don't forget to bring your swimsuit and a towel. Also, it is important not to forget your camera, as Pamukkale is an exceptional picture-perfect setting.
The tour from Marmaris to Pamukkale has an approximate duration of 12 hours. According to the itinerary, the price includes pick up and drop off service from and to your hotel in Marmaris. Transportation with fully air conditioned bus and full insurance are also included. Moreover, the excursion includes the following: dinner in a local restaurant and a guided tour from an English-speaking professional guide. Participants must be informed that, drinks, entrance fees and other personal expenses are not included in the price.