Marmaris Turkish Bath
Marmaris Turkish bath is an incredibly relaxing activity. Thus, you can join at any day of your holidays. However, if you wish to have a deep tan, Turkish bath is highly recommended during the first days of your vacations. More specifically, the Turkish bath helps the revitalization of your skin. During the sauna phase your body will release the toxins and during the full body scrub all the dead cells of your skin will be removed. After that, your skin will be ready to enjoy the sun and receive a smoother and healthier tan.
Turkish bath is a ritual that was initiated during the Ottoman period. Since then, this practice became a ritual that survived through the ages. Nowadays, this bathing ritual is one of the many aspects of the Turkish culture. Its popularity is increased for both, locals and visitors. In Marmaris, there are multiple facilities where holiday makers can experience and enjoy this practice. In fact, joining a Turkish bath excursion can be seen as an alternative way to explore the culture and the lifestyle of the locals. The Marmaris Turkish Bath is probably the best getaway from the crowds and an option to upgrade and enhance your vacations.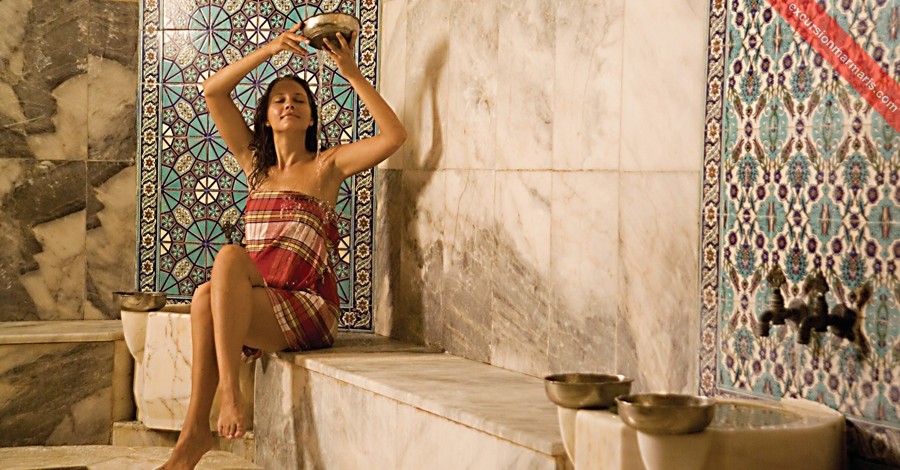 You can join in this activity daily and choose the time that suits you best. In general, this activity can be done at any time from morning to afternoon. For your comfort, a fully air-conditioned vehicle will pick you up from your hotel and take you to the hammam. The entire experience takes approximately 1 hour; During this time, you will enjoy sauna, full body scrub, foam and oil massage. At the end of this exhilarating experience, members of our team will take you back to your hotel.
Marmaris Turkish bath is an activity ideal for all. In general, it is recommended for solo travellers who wish to relax, couples seeking a romantic and revitalizing experience, as well as for groups of friends. The most interesting highlight however is that, Turkish bath is also ideal for families with small children. During this 2-hour experience, your children can enjoy the treatment and have some fun during the foam massage phase. Allow yourself to relax and receive the positive benefits of the Turkish bath while your kids are having fun.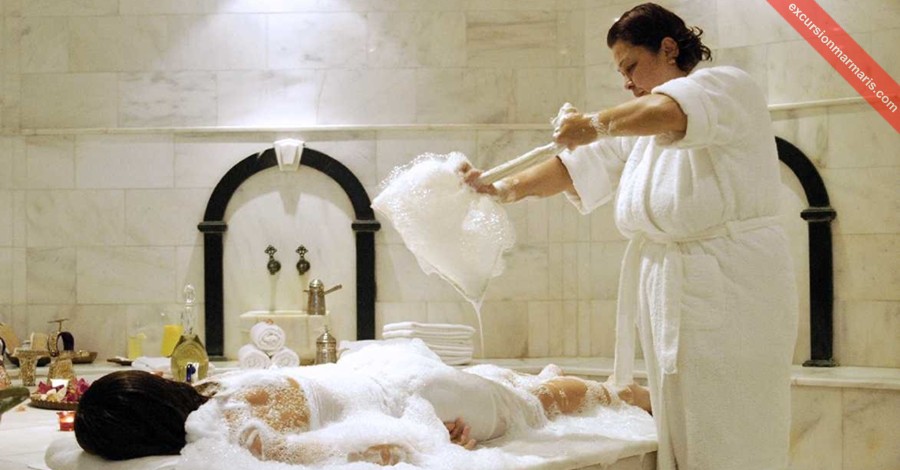 Except from the authentic and traditional Turkish bath experience, hammams offer also a variety of other services. More precisely, they offer a plethora of spa-like services, including massages, facial and body treatments. After the Turkish bath, those who wish can enjoy some more relaxing and revitalizing sessions there at an extra cost. The professional personnel of the hammam are able to enhance your experience by offering you a holistic and therapeutic treatment plan according to your skin type and your own personal needs.
Turkish bath is not only an incredibly relaxing activity, but also an alternative way to explore the culture and the traditions of the country that survived through the ages. With a total duration of 1 hours, your mind and body will be revitalized and energized to continue the holidays. This magnificent activity includes a two way transfer service from and to your hotel. A full insurance is also included as your safety is our number one priority. The price includes also a Turkish bath experience with sauna, body scrubbing, foam and oil massage. Please note that, any food, drinks, tips and other personal expenses are not included in the price. Finally, extra spa-services offered at the hammam have an extra cost.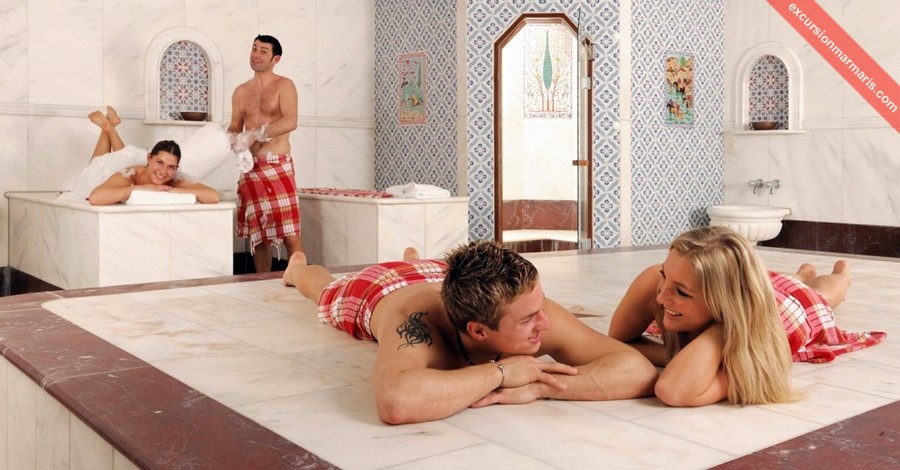 The facilities where Turkish bath takes place are also known as hammams. For the purposes of this relaxing activity, participants will be transferred to an amazing hammam that is known for maintaining its traditional and authentic character. Inside the facility, there is a flawless tranquil atmosphere as the dedicated personnel targets your relaxation and your rejuvenation. The hammam has multiple rooms, one for each part of the treatment. In addition, the hammam offers a variety of other relaxing services, other than the traditional ones.
Marmaris Turkish bath is an activity recommended for people of all ages. In general, there are no strict restrictions regarding participation. However, please note that, people experiencing asthma are not allowed to participate due to the sauna phase. On the day of the activity, please remember to wear your own swimsuit and comfortable clothes and shoes. Moreover, you are instructed to bring your own hair shampoo as you will need to clean your hair. If you wish to capture the moment and create long lasting memories, you may also bring your own camera and snap some photos before and after. During the treatment, you may store the camera at your own personal locker.