Aqua Dream Waterpark Marmaris
Biggest Waterpark in Marmaris
Aqua Dream Waterpark is the largest waterpark in Marmaris. This place has many interesting fun rides, water slides, wave pool, mini golf lawns and a snack bar as well. You will never feel alone here! Ultra-fun experience. Despite the many activities and excursions that holiday makers can join during their time in Marmaris, there is one particular excursion that promises a day full of laughter, fun and relaxation. The Marmaris Aqua Dream Waterpark excursion is a truly exciting activity ideal for people of all ages. The waterpark is an excellent alternative for those who wish to enjoy swimming in a more fun way. This excursion takes place every day, during the morning and is characterized as a full day activity as participants are able to enjoy the waterpark from the morning until the afternoon.
Slides in Aqua Dream Waterpark
Aqua Dream Waterpark is able to capture your attention since the very first moments and impress you with its enormous and imposing size. Within the waterpark's premises, visitors are able to find an incredible variety of slides and multiple pools, according to their interests. In what regards the slides, Aqua Dream Waterpark features slides for all. More specifically, you may find vertical slides, holes and slides which you can use as a group. In general, there are slides corresponding to different difficulty levels for both, those who wish to feel some adrenaline boosts and for those who want to relax.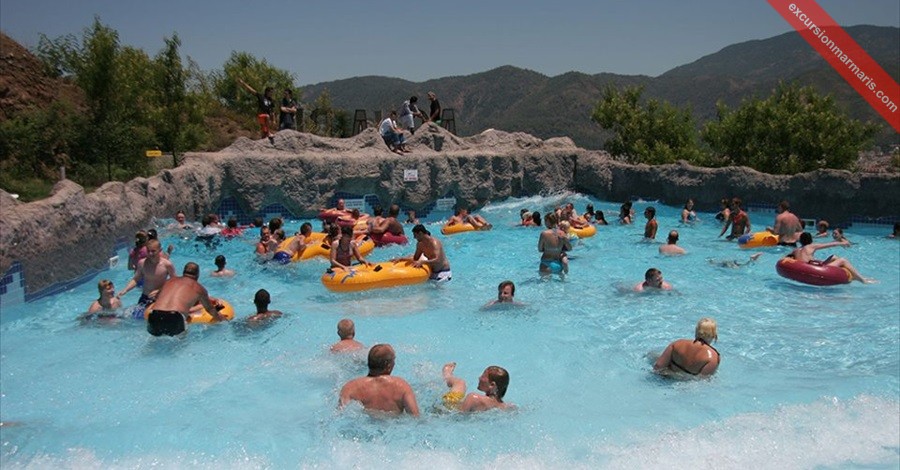 In what regards the pools, there are some quiet pools ideal for whamming and relaxation. Next to these pools, you can find comfortable sunbeds and umbrellas where you can enjoy some quality time, read a book or simply enjoy the sun. One of the most interesting and exciting highlights of the facility is the wave pool. Within this pool, you can enjoy interval waves with increased intensity and have some fun with your friends or family.
This full day excursion to Aqua Dream Waterpark targets to offer you a day full of fun, joy and pleasurable moments. Thus in order to assist you enjoy the most of your experience without any worries, your safety is our number one priority. The facility meets all safety requirements set by the relevant regulating authorities. The pools, slides and the rest of the common areas are well-maintain and pass through regular security and cleaning checks. In addition to that, Aqua Dream Waterpark has professional and fully licenced lifeguards who are in charge to observe visitors and assist if needed.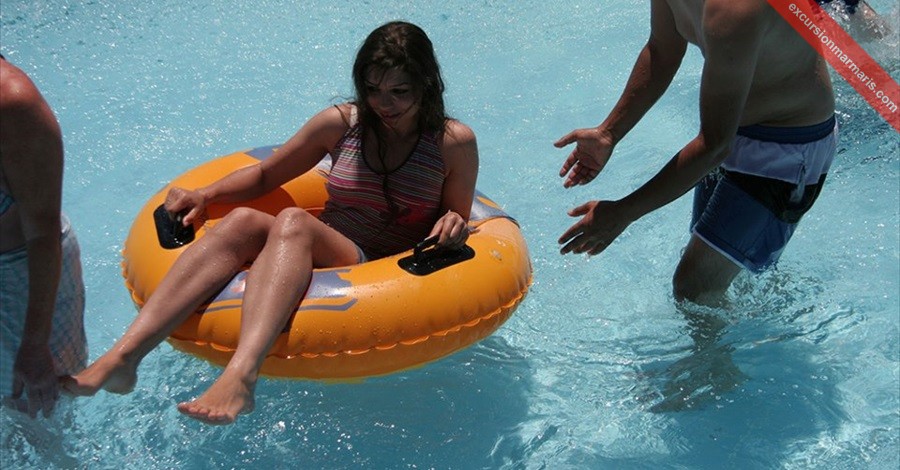 Visiting the Aqua Dream Waterpark is a great option for all, especially for families with small kids. The facility is known for having some ultra-fun and adrenaline boosting slides and pools. However, there are specially designed areas for children as well. More specifically, Aqua Dream has special slides and shallow pools where children can enjoy swimming and playing. Moreover, within the premises of the waterpark parents can find a lot of other entertainment options, such as playgrounds. The well-trained and experienced personnel of the waterpark are able to assist you and your children to enjoy an incredible and exciting day.
Aqua Dream waterpark is definitely something that will offer you long lasting memories from your holidays. This tour ensures safety and comfort in a beautiful setting, right in the city centre of Marmaris. For your own comfort, the price includes a two way transfer service from and to your hotel. In addition, a full insurance is included during the day. The package price includes also the entrance fee to the facility. Please note that, food, drinks and other personal expenses are not included in the price.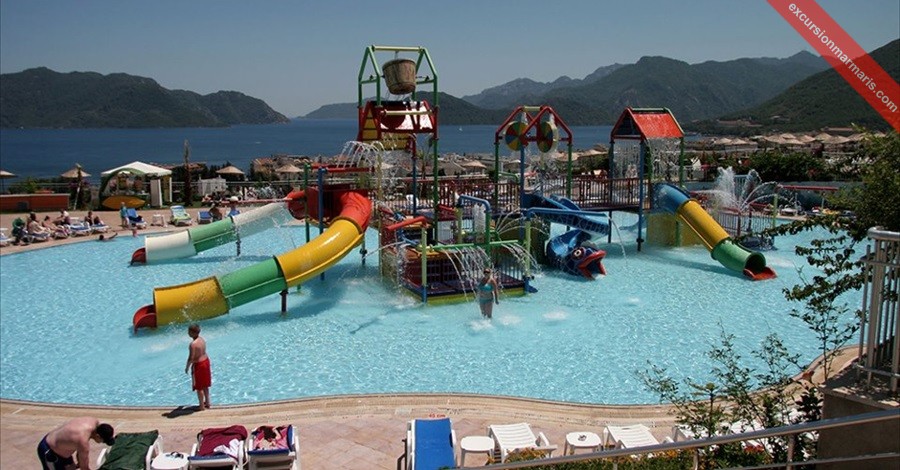 For this excursion there are no specific restrictions. In general, participation is ideal for all people of all ages. For safety reasons, people experiencing physical disabilities and pregnant women are not allowed to use the slides. In addition, children should make use of the specially designed areas and must be accompanied by an adult. Also do not forget to bring your own swimsuit, towel and comfortable clothes. Finally, due to the high temperatures in Marmaris during the summer months, a protective sun cream is highly recommended, as well as a hat and sun glasses.
Distance between hotels and waterpark
Aqua Dream is located in a short distance from the city centre of Marmaris and many hotels close in di. More precisely, the facility can be found at an area 5 minutes away from the vibrant city centre. For your own comfort, members of our team will pick you up from your hotel during the morning and drive you there.