Marmaris Atlantis Waterpark
Spend A Day in Atlantis Waterpark
The city of Marmaris has some waterparks that are popular for their unique thematic design, the variety of slides and the extra-fun atmosphere that they have. In fact, waterparks are great getaways from the crowds and an alternative entertaining option for people of all ages. Visiting a waterpark during your time in Marmaris is surely a great idea. This is because you can spend a day full of laughter, joy and relaxation with your friends or family. Splash into the water, increase your adrenaline levels, relax in a tranquil environment and create long lasting memories by visiting Atlantis Waterpark in Marmaris.
Free Hotel Service Atlantis Waterpark
A visit to Atlantis Waterpark is a great alternative between sightseeing and other typical tours. The tour takes place on a daily basis during the morning. A comfortable and fully air conditioned vehicle will pick you up from your hotel and drive you there. Upon arrival, you will be offered a pass that allows you to use every slide and pool within the facility. Atlantis Waterpark may not be the largest of its kind but, it is known for having some extraordinary thematic slides, pools and other activities. As this is a full day tour that finishes during the afternoon, you will be free to spend your time there as you wish. Get ready to explore what Atlantis Waterpark has to offer and entertain yourself with multiple activities.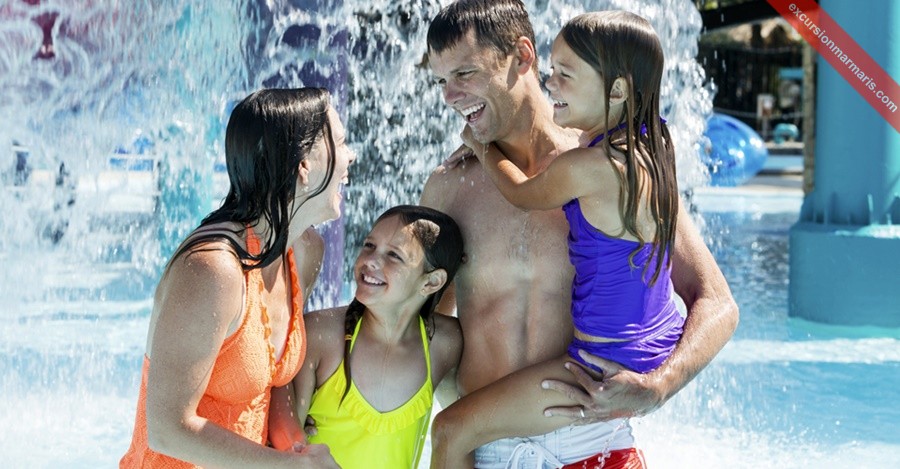 Among the most characteristic features of the Atlantis Waterpark is the variety of slides that has. More specifically, the facility has many slides with increased difficulty level for those who wish to experience some adrenaline boosts. For the others, there are many slow speed slides which allow you to enjoy incredible splashes into the pool while following the slow and relaxing flow of the water.
Marmaris Atlantis Waterpark is an incredible facility that targets visitors' relaxation and comfort. Therefore, visitors are able to find many pools to spend their time as they wish. Those who wish to enjoy some relaxing moments, can make use of the specially designed adult pools. Comfortable sunbeds and umbrellas are also available there. In case you wish to experience swimming in a more fun way, the wave pool is definitely what you need. This particular pool is specially designed to simulate real waves and gives visitors a sea-like feeling.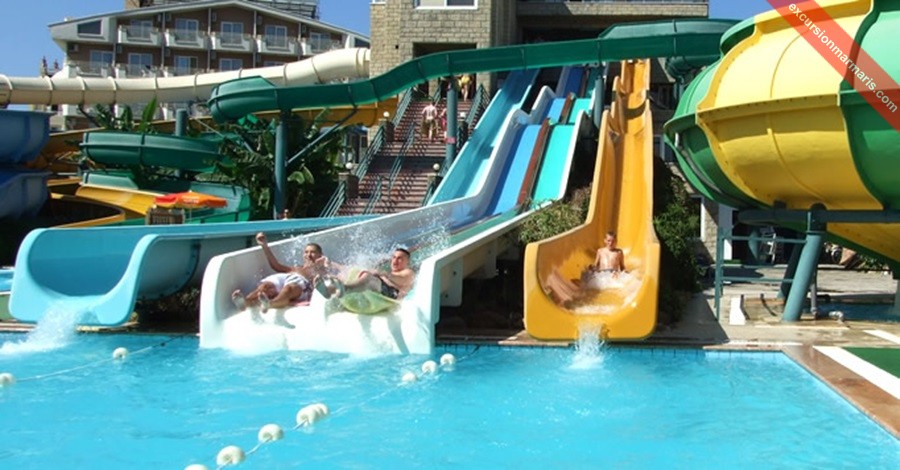 As mentioned earlier, Marmaris Atlantis Waterpark is an activity ideal for both, adults and children. In what regards the children, this activity is characterized as family and children friendly due to the high standards that are met. If you are a family with small children, there is nothing to worry about during your visit. The waterpark has specially popular with children areas, shallow pools and low-speed slides. There are experienced and professional lifeguards and other personnel who are in charge of taking care of your children and ensuring that they enjoy playing safely. Allow yourself to enjoy your day there and release the stress, while your kids are having fun in our specially designed areas.
Joining this magnificent activity is what can offer you a day full of joy and laughter in Marmaris. For your own comfort, the price of this activity includes a two-way transfer service from and to your hotel. It must be noted that, the vehicles are fully air conditioned, modern and comfortable. In addition, the package price includes a full insurance and a day pass to use all the facilities of the waterpark. Participants should note that, food, drinks, tips, and other personal expenses are not included in the price.
You are instructed to wear your own swimsuit and bring your own towel. In case you wish to store your personal items, the waterpark has personal lockers and you may ask for it at the entrance. However, you are highly instructed not to bring precious items with you. Due to the high temperatures during the summer months, please use a sun cream and wear a hat or sunglasses. Finally, do not forget to bring your camera in order to take some ultra-fun and beautiful photos of the waterpark and your loved ones.