The charming town of Turunc is surrounded by the blue waters of Mediterranean Sea and exploring its coastline will offer you a day full of excitement, joy and fun. The schedule of this boat tripincludes visits at some small neighbouring islands. Multiple swimming stops will take place during which you can simply jump into the sea and have some fun moments with your loved ones. During this boat trip, you will also stop at a fish farm and feed the fishes. Exportation of the caves and a visit at the spectacular Paradise Island is also included in the schedule. Do not forget to capture some nice photos during these stops and admire the breath-taking setting.
An all-inclusive experience
One of the most fascinating characteristics of this full day boat trip is the all-inclusive experience. By the moment you enter the boat and for the whole duration of the boat trip, you and your friends or family can enjoy an unlimited consumption of tea, coffee, soft drinks, beer and wine. Furthermore, the professional crew will prepare a BBQ lunch with typical local recipes and ingredients, in order to enjoy a delicious and mouth-watering meal on the boat. Please not that, if you want other drinks that are not mentioned, you can request from the boat's crew at an extra cost. The crew will be happy to assist you and make sure that you have everything you need. This all inclusive boat trip around the beautiful coastline of Turunc is definitely what you need for a fun and relaxing time.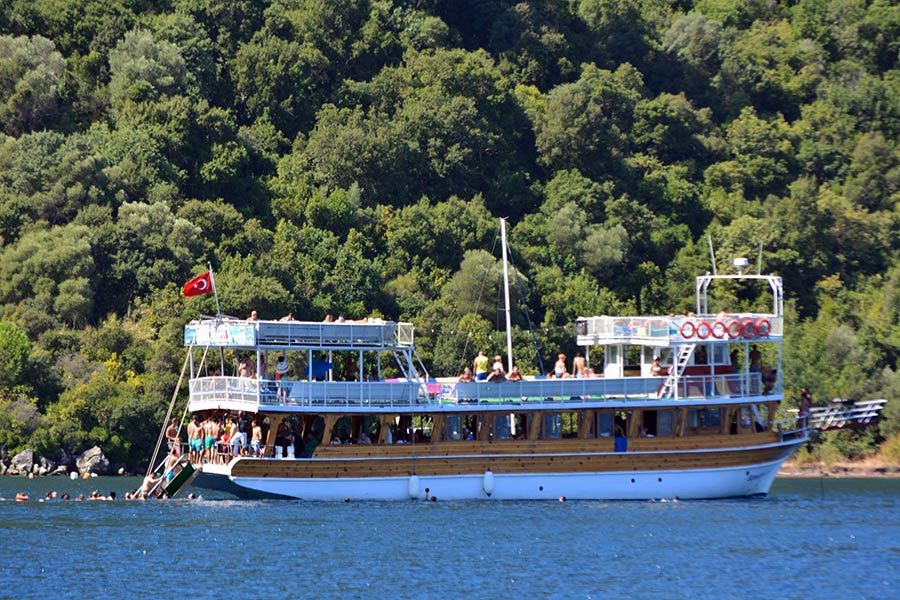 Turunc All Inclusive Boat Trip
is organized every day and invites you to join an ultra-exciting and rejuvenating exploration in the Mediterranean Sea. This full day excursion is ideal for all as it combines excitement, relaxation, adventure and an upgraded all-inclusive service. Solo travellers, couples seeking romance, groups of friends wishing to visit beautiful bays and families are welcome to join. In what regards the last category, this boat trip is characterized as a children-friendly full day excursion. The experienced crew of the boat will make sure that your kids are having fun with various entertaining activities such as games, animations, quizzes and story rounds. During this time, make sure that you enjoy some romantic and idyllic moments as a couple and let you kids have fun aboard.
In order to make your boat trip experience even more comfortable and enjoyable, the price includes a two-way transfer service from and to your place of accommodation in Turunc. Moreover, the price includes a freshly made and delicious BBQ lunch aboard and unlimited consumption of: tea, coffee, soft drinks, beer and wine. Please be aware that, other drinks, tips and other personal expenses are not included in the price.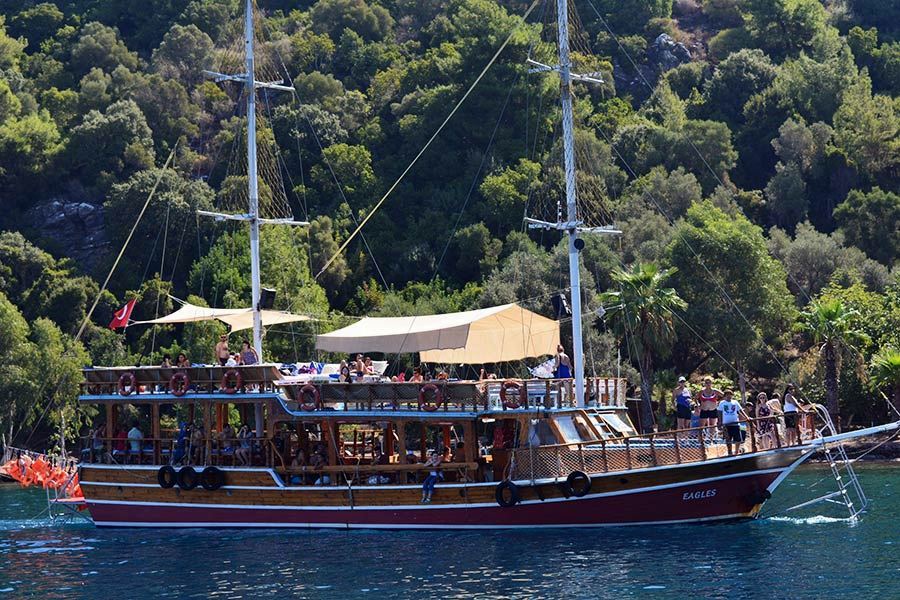 The boat trip has an approximate duration of 7 hours, during which you will visit multiple bays. Therefore, please do not forget to bring your swimsuit and a towel. During the summer months the area has high temperatures. For this reason please bring with you a sun cream, a hat or sunglasses to protect yourself and make this experience pleasurable. A camera is also a good suggestion as you may be interested to snap some nice photos.