Marmaris has got many beaches and they are all sandy. We are sure you will have a great time in Marmaris this summer. So here are the most famous beach in and around Marmaris.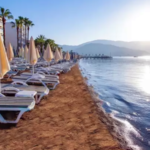 Marmaris Beach
The beach of Marmaris, located in the centre, is a city beach. It's free, there's no entrance fee and you can go there whenever you want. In high season they organize great beach parties. The beach is narrow and along the coast, you will find a boulevard with beautiful palm trees and this beach is sandy.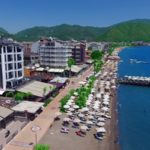 Uzunyali beach – Long Beach
The beach of Uzunyali, also known as Long Beach is located right next to the public beach of Marmaris. The sandy beach stretches 10 kilometres along the coast to Icemeler. On the boulevard, you can find a lot of cafes, restaurants, bars, and shops for sandals, sunglasses and souvenirs. This beach makes Marmaris the perfect place for sunbathers.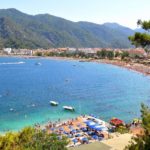 Icmeler beach
From Marmaris, you can be on Icmeler beach in no time. You can reach this popular beach (about eight kilometres from the city) easily by bus or car. Rent a parasol and sunbed and enjoy the six kilometres of fine soft sand. The beach is cleaned every day. There's a variety of water sport activities available or you can rent a boat and go fishing at sea. The clear water also makes Icmeler beach a perfect place for diving or snorkelling.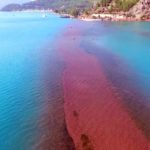 Kizkumu Beach
At about half an hour's drive from Marmaris you can reach the beautiful Kizkumu beach. Surrounded by pine forests you can spread out your towel on this peaceful beach. Special about this place is that the sea is shallow so you can walk deep into the sea.
Kizkumu ('girl's sand') owes its name to an old legend. The story goes that a young woman, who could not swim, wanted to cross the bay. She filled her dress with sand to make the crossing. Unfortunately, she lost her way and drowned when the sand had disappeared in the water. You can go there by Dolmus from the center of Marmaris our join our Jeep Safari Tour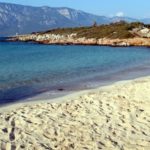 Cleopatra Beach
Many people will tell you that this is the most beautiful beach in Turkey: Cleopatra Beach on the island of Sedir Adasi. This beach is located in a breathtaking bay about twenty kilometres from Marmaris. The fine sand and turquoise water will give you that real tropical feeling. It's a fine combination of sea, sand, and sun. The Hellenistic queen of ancient Egypt, Cleopatra is said to have sunbathed on the beach's golden sand.